This Instant Pot Carnitas recipe is made in a fraction of the time thanks to the pressure cooker / Instant Pot. Pork butt is seasoned with warm spices, orange juice and lime juice and cooked until fall-apart tender. Mexican shredded pork carnitas can be served in many ways, from simple corn tortillas to burrito bowls.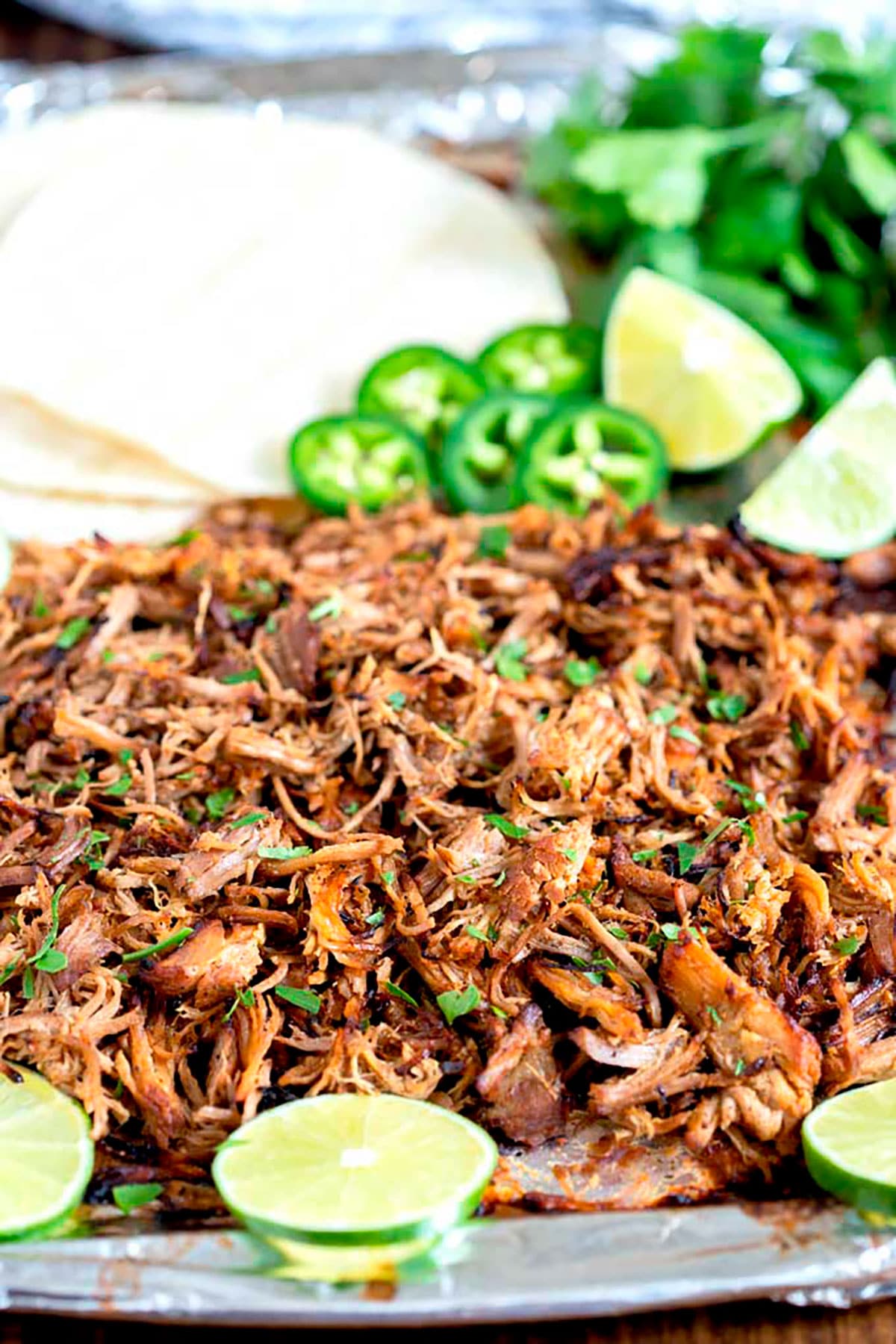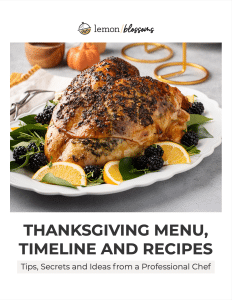 psst… Thanksgiving stress?
Not anymore!
Download our limited-time guide to hosting Thanksgiving, as guided by Chef Kathy.
Instant Pot Pork Carnitas Recipe
Incredibly tasty and juicy pork Carnitas is one of my favorite traditional Mexican dishes but, cooking carnitas on the stove top in a Dutch oven or regular pot can take a very long time. Time that I don't usually have available, especially during busy weekdays.
That's why I love making Instant Pot Carnitas! Cooking a tough cut of meat like pork roast at high pressure cuts the cooking time significantly and delivers flavorful fork tender meat you'll want to use for meal prep, tacos, burritos, quesadillas and more!
Don't worry! If you love the crispy edges of traditional carnitas we got you covered! This instant pot version has one simple extra step that makes the best crispy carnitas you'll ever have! And it only takes 2-3 additional minutes (that's not even enough time to pour yourself a cerveza!)
Why We Love This Recipe
Quick: Instant Pot Carnitas takes a fraction of the time it takes to cook the same dish any other way.
Easy Recipe: Simple ingredients. Easy prep. Mostly hands off cooking!
Budget Friendly: This pork carnitas recipe is a budget friendly meal and a great recipe to use when you need to feed a crowd without breaking the bank.
Healthy: Although authentic Mexican carnitas are crisp up with lard, we use the cooking liquid or pan juices to get the job done with amazing results.
Flavor and Quality: High pressure cooking seals in the flavors of this protein-rich, low-carb, gluten free and healthy dinner meal.
Make Ahead/Meal Prep/ Freeze: This is an excellent recipe that can be made ahead and freezes well.
Versatile: There are many different ways to serve crispy pork carnitas like tacos, salads, nachos, over rice, etc. Use your favorite toppings like pico de gallo, sour cream, chopped red onion, queso fresco, salsa verde, guacamole and more!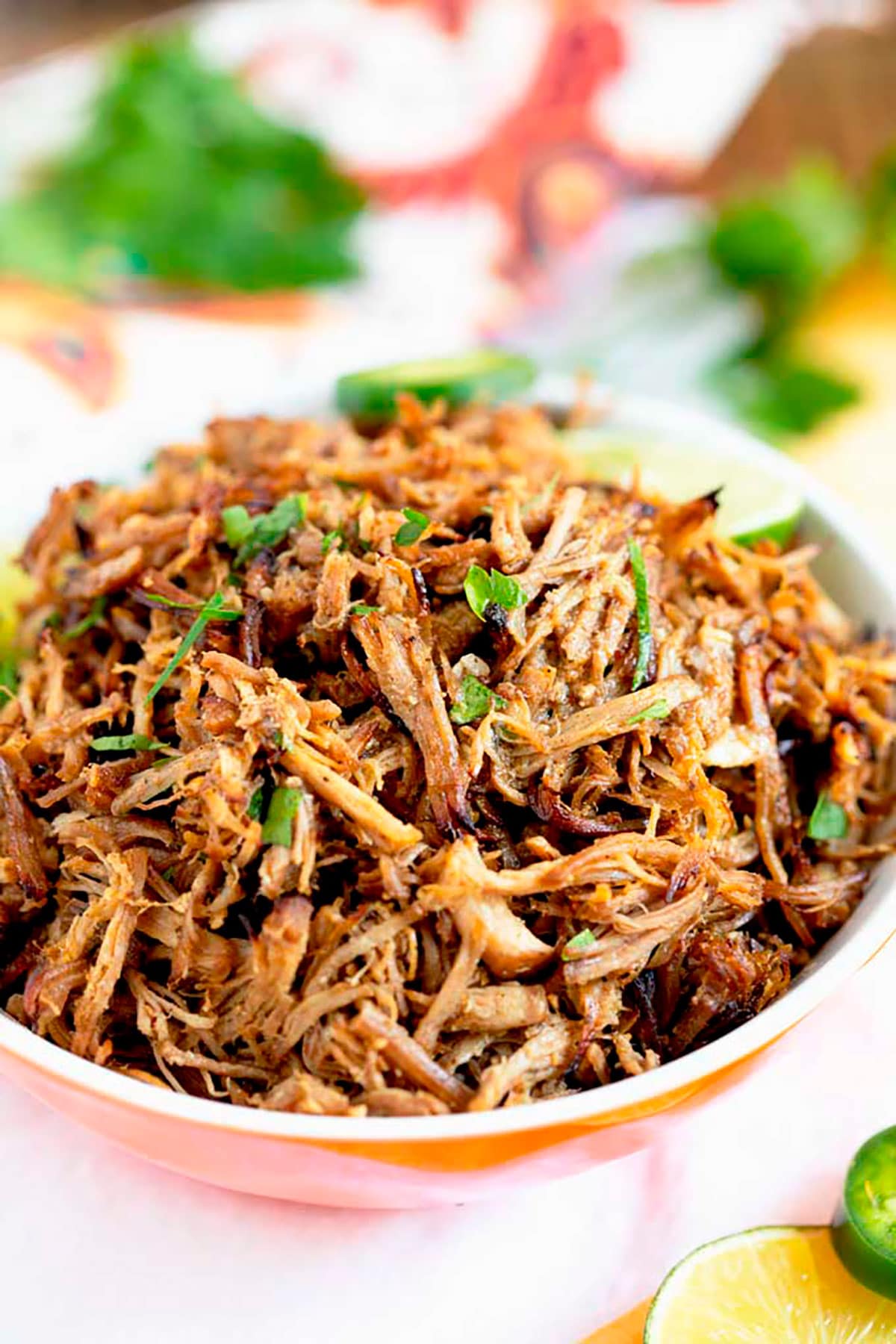 This is what our readers are saying….
Better Than Mom's Recipe
This is the best carnitas ever. Better than any restaurant and even my mom's. I hope she doesn't read this.
Theo
★★★★★
What's Carnitas?
Carnitas in Spanish means "little meats" which is what this tasty shredded pork or pulled pork dish looks like when is ready to be served.
Although recipes vary from household to household, authentic carnitas are traditionally made with a large piece of pork seasoned with a quick marinade made with onions and a mixture of spices such as cumin, chili powder and bay leaves and fresh citrus like orange juice and lime juice. The pork is cooked slowly in lard until fork tender, and then it's crisped up in a skillet with some extra lard. The result is a combination of juicy and tender shredded pork with some browned bits of crispy fried pork pieces.
Easy Instant Pot Carnitas Recipe Ingredients and Substitutions
Be sure to check the printable recipe card below for the complete ingredient's list and their exact quantities.
Pork: Boneless pork roast such as pork shoulder roast or pork butt aka Boston butt, cut into big chunks (about 2-inches) and trimmed from any excess fat.
Beer: Mexican beer, pilsener or lager beer works well. If preferred, you can substitute the beer with chicken broth or stock.
Orange Juice: Fresh orange juice is preferred as bottled juice has a high sugar content however, if bottled juice is all you have, go for it!
Lime Juice: Freshly squeezed. Bottled lime juice doesn't taste like the real citrus juice so I try not to use it.
Oil: Although I mostly cook with olive oil, I usually make pork carnitas with vegetable oil. Canola oil, olive oil, avocado oil and lard can be used as well.
Garlic: I use fresh garlic. can be used also. You can substitute fresh garlic with 1 tablespoon of garlic paste (which I always keep in my fridge) or with 2 teaspoons of garlic powder.
Spices / Seasonings: Chili powder, onion powder, dried oregano (use dried Mexican oregano if available), ground cumin. Salt and ground black pepper.
How to Make Carnitas in the Instant Pot?
If this is your first time making carnitas, don't worry! This is a super easy recipe. For the full recipe and detailed instructions on how to make this instant pot recipe, check the recipe card below.
Season the Pork: Pat the pork cubes dry with paper towels and season them with salt and pepper.
Sear the Meat: Click the sauté setting and heat the oil. Sear the pork until it browns on all sides. You may need to do this in 2 batches not to overcrowd the pot. Transfer the meat to a plate and press "cancel".
Deglaze the Pot: Pour the beer (or chicken broth), orange and lime juice over the seared pork. Deglaze the pot by scraping the bottom with a wooden spoon to remove any brown bits.
Cook on High Pressure: Add the spices and return the seared pork to the pressure cooker. Close the lid and cook on HIGH pressure for 60 minutes. Do a natural release for 15 minutes, then quick release the remaining pressure.
Reduce Cooking Liquid: With a slotted spoon, remove the pork from the pressure cooker. Click the saute function and reduce the cooking liquid for about 5 minutes then, press cancel.
Shred the Pork: In the mean time, shred the pork. Return the meat to the instant pot and toss it until the carnitas are well coated with the cooking liquid.
Broil (optional): Turn on the broiler. Transfer the pork to a baking sheet pan and spread the meat into an even layer. Spoon 2 to 3 tablespoons of cooking liquid over the meat. Broil for a few minutes until the pork edges begin to get golden brown and crispy. Serve.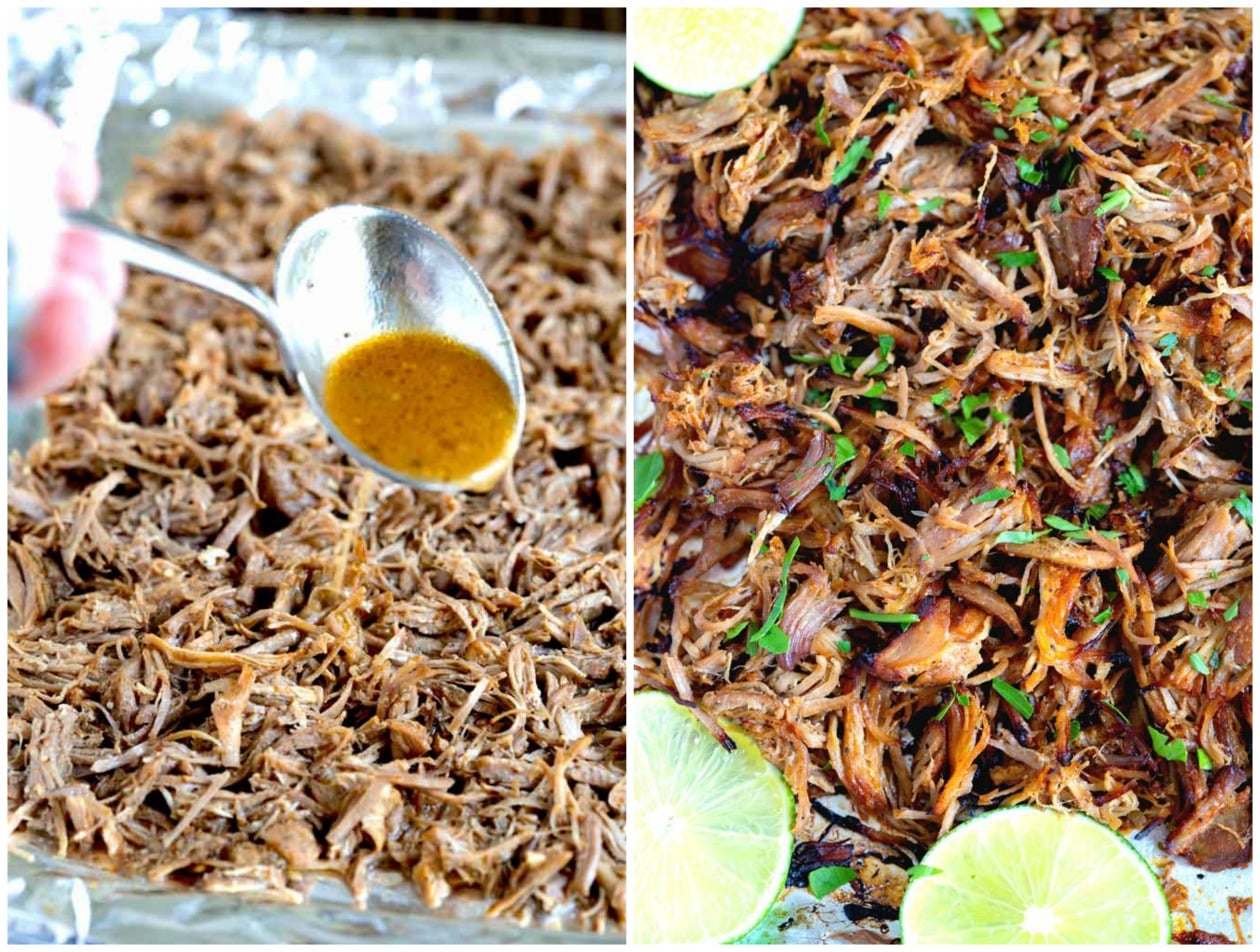 You have questions? We have answers!
What Is The Best Cut Of Pork To Make Carnitas?
Carnitas should be made with well-marbled pork with enough fat to remain moist while braised for a long period of time. Pork shoulder, pork butt or Boston butt are the best cuts to make this recipe.
Is Picnic Ham and Pork Shoulder The Same?
No, picnic ham and pork shoulder are not the same cuts. Picnic ham comes from the lower part of the shoulder which is tougher than the upper part sold as "pork shoulder". The upper part or pork shoulder is less used by the animal which makes it a bit more marbled and tender.
Should I Use Boneless Pork Shoulder or Bone-In Pork Shoulder to Make Carnitas?
Both boneless and bone-in pork shoulder can be used however, since the meat gets cut into chunks, using boneless pork meat makes this task a bit easier.
Why Is My Pulled Pork Tough In The Instant Pot?
If the meat is not fork-tender and cannot be easily shredded after cooking it in the Instant pot for 60 minutes at high pressure, then the pork needs to be cooked longer. Seal the pot and cook for an additional 6-8 minutes and release the pressure naturally for 10 -15 minutes.
What Is the Difference Between Carnitas and Pulled Pork?
The difference betweenCarnitas and Pulled Pork are the seasonings. Both dishes are made with pork shoulder, pork butt or Boston butt cooked until the meat is so tender that it can be shredded or pulled with a fork. Carnitas is a traditional Mexican dish seasoned with citrus juices and spices like cumin and chili powder. Pulled pork is usually seasoned with a dry rub and served tossed with BBQ sauce.
Can You Overcook Pork Shoulder In the Instant Pot?
Any meat can be overcooked whether you use an instant pot, crock pot, air fryer, oven or stove top however, pork shoulder is one of those cuts of meat that are hard to overcook or "mess up". Because of the marbling of the meat (that's the fat that gives the meat it's delicious flavor!), pork tends to stay moist when cook for long periods of time.
Is It Better to Slow Cook or Pressure Cook pork Shoulder?
Both methods work just fine! If you have time use a slow cooker or braised the pork slowly on the stove. If you are short on time and need to put dinner on the table quickly, nothing beats the pressure cooker! Because the meat is sealed in the Instant pot, the flavors really penetrate the meat making it delicious!
How To Serve Pork Carnitas?
Mexican Pork carnitas is an incredibly versatile and delicious meal that can be made ahead, and can serve a crowd without breaking the bank! Carnitas is the perfect recipe to make for birthdays or celebrations, for game night, during the holidays and a must on Cinco de Mayo!
We love making carnitas tacos with warm corn tortillas and Pico De Gallo served with a side of Mexican rice. Other serving ideas are:
Can I Make Carnitas In the Slow Cooker
Absolutely! Try this Slow Cooker Carnitas recipe and let us know how you like it!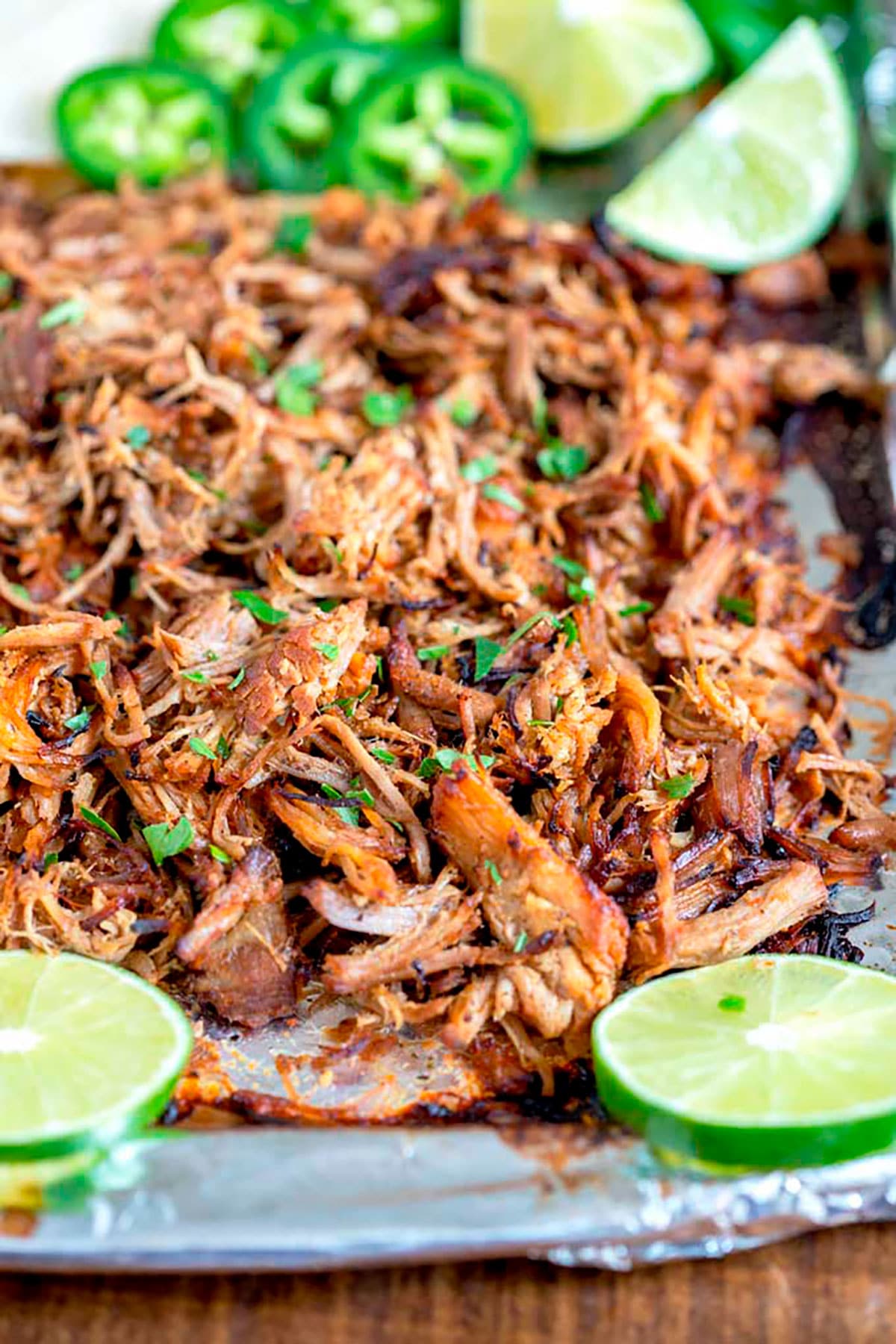 Making Ahead, Storage and Reheating
Make Ahead and Storage:
Instant Pot Carnitas can be made 2 days ahead. Keep the cooked shredded meat stored in an airtight container, covered with the cooking liquid, in the fridge until ready to serve.
You can also sear the pork the night before, keep it covered in the refrigerator overnight. Remove from the fridge and finish the cooking process.
Store leftovers in an airtight container in the refrigerator for about 4 days.
Freezing Carnitas:
Cool the meat completely. Divide the shredded Mexican pork into smaller portions and store in resealable freezer bags with some of the cooking liquid for up to 2 months. Thaw in the refrigerator overnight.
Reheating:
Reheat the shredded meat and juices covered, in the microwave until the meat is heated through.
To reheat carnitas in the oven, preheat the oven to 325ºF. Spread the carnitas on a baking sheet, and pour some of the cooking liquid over the meat. Cover with aluminum foil and reheat until warm through. As an optional step, turn on the broiler. Uncover the meat and broil it keeping the sheet pan about 6 inches from the heat source. Broiling only takes 2-3 minutes. Keep an eye on it to prevent the meat from burning!
Instant Pot Pork Carnitas Recipe Tips
For a spicy and smoky taste, stir in about a tablespoon of chipotle peppers in adobo sauce together with the beer and citrus juices.
You can make this recipe with frozen pork however, you need to omit the searing process and adjust the cooking time.
Substitute the beer in the recipe with chicken broth.
Broiling the meat is an optional step that only takes 2-3 minutes. Set the oven rack at about 6-inches from the heat source. When broiling, keep an eye on the meat to prevent it from burning!
Take A Look At Some Of Our Favorite Mexican Recipes:
Follow me on social media for more recipe ideas & inspiration! Pinterest Facebook Instagram My Newsletter
Best Instant Pot Carnitas Recipe
Instant Pot Pork Carnitas are mouthwatering tender and juicy. Cooked in the pressure cooker then broiled to golden crispy perfection.
Prep: 10 minutes
Natural Release: 15 minutes
Cook: 1 hour 25 minutes
Servings 8 people
Ingredients
1 (4-pounds) boneless pork shoulder roast trimmed and cut into 2-inch pieces
2 tablespoons canola oil or olive oil
1 (12-ounces) Mexican beer (Pilsner or lager beer)
1 cup fresh orange juice
1/2 cup fresh lime juice
5 garlic cloves, finely chopped
2 teaspoons salt
2 teaspoons ground black pepper
2 teaspoons chili powder
1 teaspoon onion powder
1 teaspoon dried oregano
1 teaspoon ground cumin
Chopped cilantro to garnish (optional)
Suggestions for Serving (optional)
Warm corn tortillas, chopped onions. chopped cilantro, salsa, crumbled Queso Fresco, lime wedges.
Instructions
Pat the pork dry with paper towels. Season the pork with salt and pepper.

Click the "sauté" function of the Instant Pot and heat about 1 tablespoon of oil. Sear the pork for about 3-4 minutes or until it browns evenly on all sides. You may need to do this in 2 batches not to overcrowd the pot. Transfer the seared meat to a bowl or plate and set aside. Heat the remaining oil and sear the rest of the meat. Add additional oil if needed. Remove from the pot and press "cancel" to turn off the heat.

Next, pour the beer, orange juice and lime juice into the pressure cooker and using a wooden spoon scrape the bottom of the pot to remove any browned bits stuck to the bottom. Stir in the rest of the ingredients and return the pork and any collected juices to the instant pot.

Close the lid and seal the pot making sure the valve is in the sealed position. Cook on HIGH pressure for 60 minutes. After the cooking time is done, allow the pressure to release naturally for 15 minutes then, release the remaining pressure and open the lid.

With a slotted spoon, remove the pork from the pressure cooker leaving the cooking liquid in the pot. Click the "saute" function and reduce the cooking liquid for about 5 minutes then, press cancel. Taste for seasoning.

Meanwhile, shred the pork. Return the meat to the instant pot and toss it until well coated with the cooking liquid. Press "cancel" to turn off the heat.
Crisp up the meat (Optional)
Turn on the oven broiler. The oven rack should be at about 6 inches from the heat source.

Transfer some of the pork to a baking sheet, spreading the meat into an even layer. Spoon about 2 – 3 tablespoons of the cooking liquid over the pork and broil until the edges of the pork begin browning, about 2-4 minutes. Remove the baking sheet from the oven and with a spatula, flip the meat over. Broil until your desired doneness (about 2-4 additional minutes or until crispy and golden brown). Remove from the oven.

Serve the carnitas pouring a bit of additional cooking liquid over the meat if desired. Garnish with chopped cilantro (optional).
Nutrition
Calories: 363kcal (18%)Carbohydrates: 8g (3%)Protein: 52g (104%)Fat: 11g (17%)Saturated Fat: 3g (19%)Cholesterol: 136mg (45%)Sodium: 715mg (31%)Potassium: 977mg (28%)Fiber: 1g (4%)Sugar: 3g (3%)Vitamin A: 220IU (4%)Vitamin C: 20.6mg (25%)Calcium: 37mg (4%)Iron: 2.5mg (14%)
* Please note that all nutrition information are just estimates. Values will vary among brands, so we encourage you to calculate these on your own for most accurate results.
This post has been updated to provide the reader with additional information. The recipe remains the same.