This Queso Fundido Dip is made with only a few ingredients and ready in 10 minutes! This gooey, melty and delicious queso dip is one of the easiest party dips ever!
If you love cheese as much as I do, you can check this Brie and Cranberries Baked in Puff Pastry or my Creamy Shrimp Scampi Dip recipe.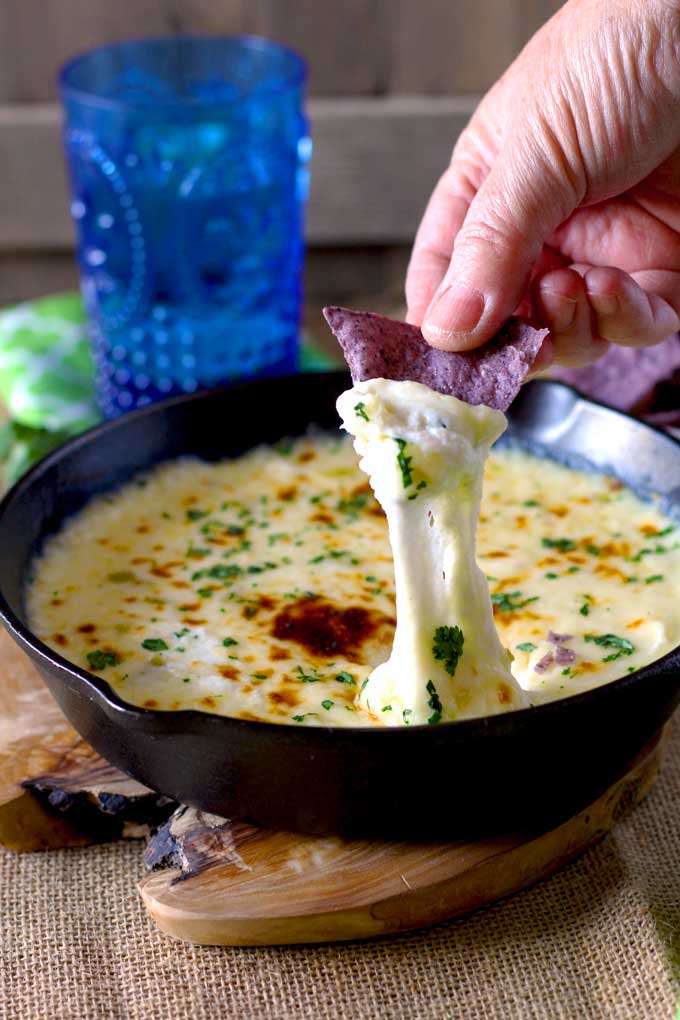 Everyone loves a good cheesy party dip! Whether you call it Queso, Fundido or cheese dip, one thing is for certain, it is always the first thing to disappear at any party! My Hot and Cheesy Crab Dip is always a big hit and the first appetizer to be gone at any gathering. I guess that is a good sign! Nothing better than having crowd pleasing easy appetizer recipes in your repertoire!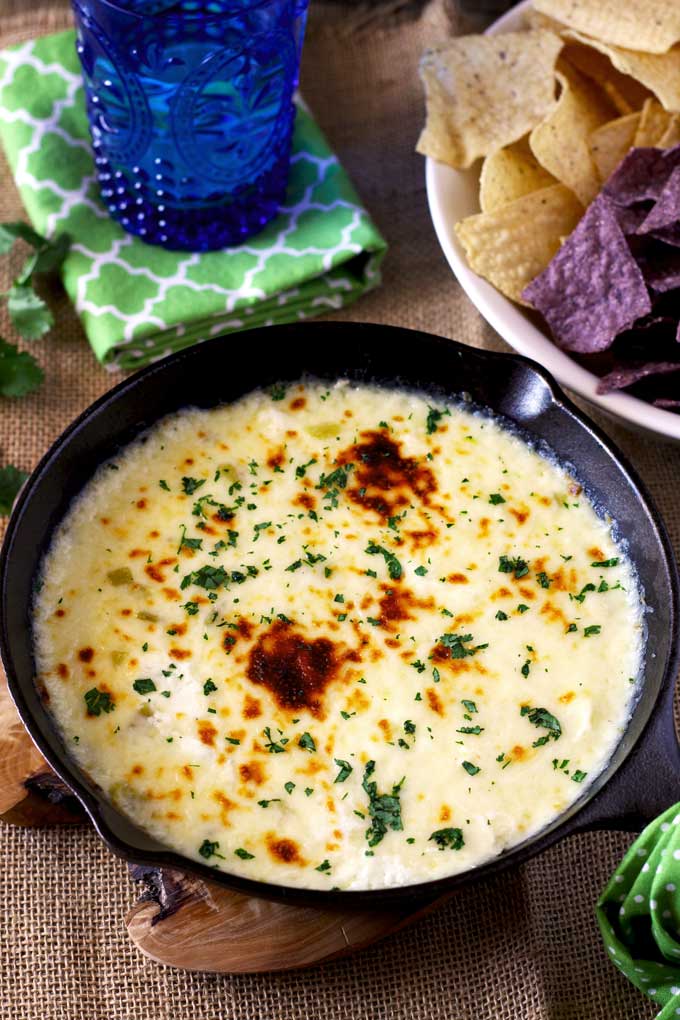 This Fundido recipe is my version of the Queso Fundido appetizer I had at Bobby Flay's Mesa Grill restaurant. I was blown away by their rich and tasty queso dip and I was determined to make it at home.
What makes this cheese dip recipe different is the addition of crumbled goat cheese. You may think, goat cheese in queso? Trust me, the combination of warm melty Monterrey Jack cheese with the subtle hint of tangy goat cheese is amazing! Definitely an easy "gourmet" version of the always popular queso.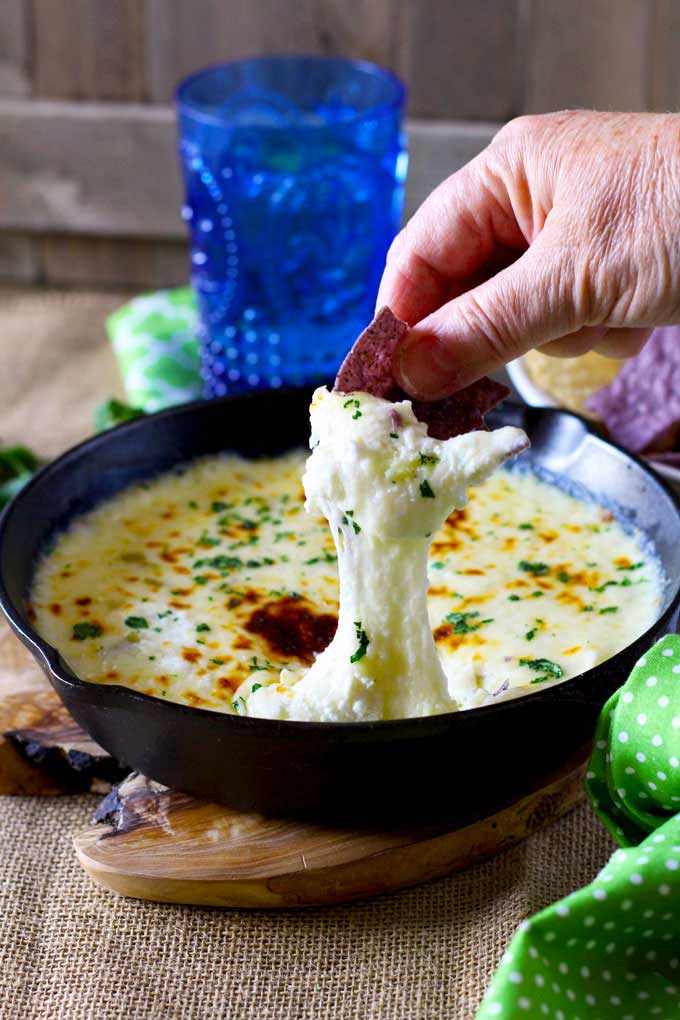 How To Make Queso Fundido
For this queso recipe, I start by making a simple roux.
What is a Roux? A roux is simply the mixture of a fat (in this case the butter) and flour. This is the base for making sauces, including cheese sauces.
After mixing the butter and flour in a skillet, I whisk in the milk and cook this mixture for a couple of minutes or until slightly thicken. Then, I mix in the Monterrey Jack Cheese and roasted jalapenos. The cheese sauce will become creamy and you will have a hard time from dipping a piece of bread or tortilla chip in it! Self control is of the most importance here!!
Next, fold in the goat cheese crumbles. Just a quick stir will do. You want to keep some of the goat cheese crumbles intact so when you dig into the warm cheese dip you may get a little goat cheese surprise!
You can either bake or broil this queso dip until the top is golden brown.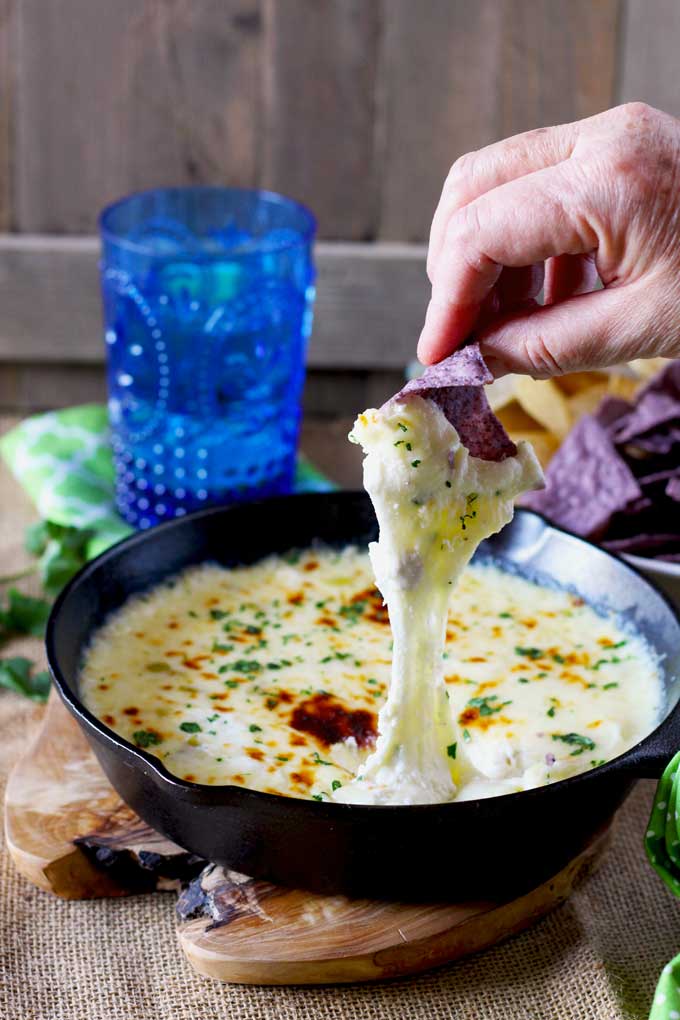 Queso Fundido Dip Recipe Tips
Use whole milk for this cheese dip recipe. Whole milk makes this party dip richer and creamier than low fat milk. However, if low fat milk is all you have, go ahead and use it. Just remember the result won't be as decadent and rich.
Use a log of goat cheese and crumble it yourself.  Sometimes already crumbled goat cheese is a bit dry (great for a salad but not so much for a warm dip.)
When mixing the melted Monterey Jack cheese queso with the goat cheese, do not over mix.  A quick stir is all you need!
If you use the broiler, keep an eye on the dip as it broils. It gets golden brown pretty fast!
This recipe uses chopped roasted mild canned jalapenos. If you would like this queso spicy, add hot jalapenos.
Use a skillet that is oven safe!
Follow me on social media for more recipe ideas & inspiration! Pinterest Facebook Instagram My Newsletter
Queso Fundido Dip
This Queso Fundido Dip is made with only a few ingredients and ready in 10 minutes! This gooey, melty and delicious queso dip is one of the easiest party dips ever!
Prep: 5 minutes
Cook: 5 minutes
Total Time 10 minutes
Servings 4 servings
Ingredients
1 tablespoon unsalted butter
1 tablespoon all-purpose flour
1 cup whole milk
12 ounces Monterey Jack cheese,shredded
¼ teaspoon salt
1/8 teaspoon black pepper
1 – 2 tablespoons chopped roasted jalapenos
4 ounces goat cheese
Chopped cilantro for garnish
Tortilla Chips to serve
Instructions
Preheat the oven to 400 degrees Fahrenheit OR preheat the broiler

In a medium saucepan over medium heat, melt the butter. Whisk in the flour and cook for about one minute. Whisk in the milk and cook for about 3 minutes or until slightly thickened.

Remove from the heat and immediately add the shredded Monterrey Jack cheese. Mix and season with salt and pepper. Add the chopped roasted jalapenos. Crumble the goat cheese on top and mix it gently. Don't over mix.

Pour the cheese mixture in an 8-inch cast iron pan or baking dish.
If Baking:
Place the pan in the preheated 400 degrees oven and bake for about 12-15 minutes or until the top starts to get golden brown
If Broiling:
Put the pan under the broiler and broil until the top is golden brown. Watch it! It won't take long!!

Remove from the oven and garnish with chopped cilantro. Serve hot with tortilla chips for dipping.
Nutrition
Calories: 462kcal (23%)Carbohydrates: 5g (2%)Protein: 28g (56%)Fat: 36g (55%)Saturated Fat: 23g (144%)Cholesterol: 102mg (34%)Sodium: 732mg (32%)Potassium: 149mg (4%)Sugar: 3g (3%)Vitamin A: 1170IU (23%)Vitamin C: 4.1mg (5%)Calcium: 743mg (74%)Iron: 1.2mg (7%)
* Please note that all nutrition information are just estimates. Values will vary among brands, so we encourage you to calculate these on your own for most accurate results.