This Grilled Shrimp BLT Panini is so flavorful! Perfectly grilled shrimp with a delicious and creamy herb aioli elevate the classic BLT to new levels!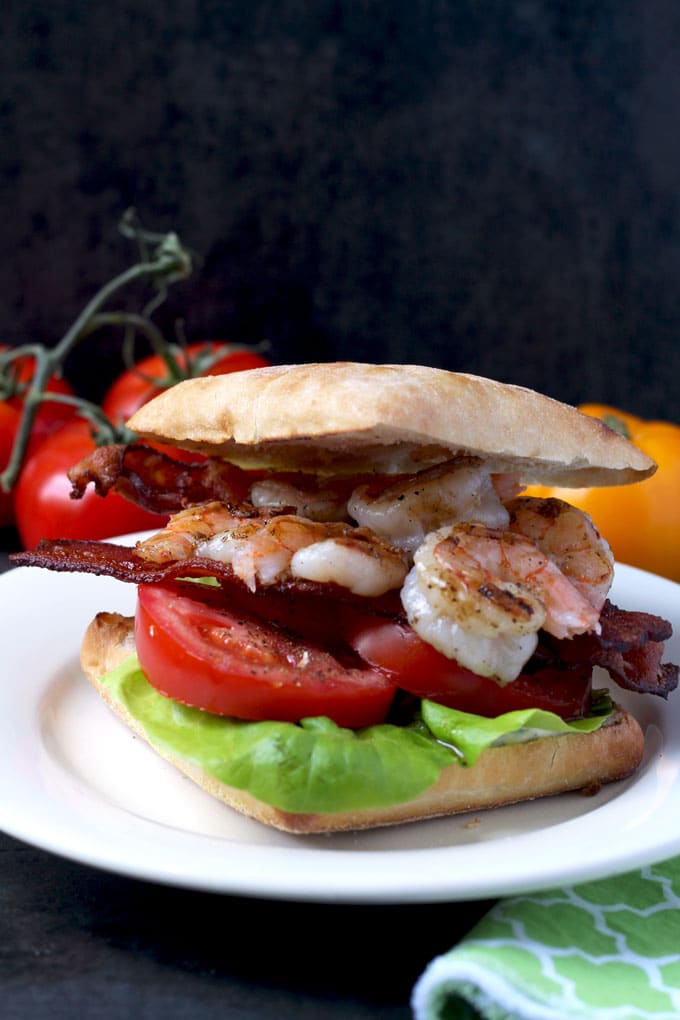 Every time I ask my family "what do you want for dinner?" (yes, sometimes even chefs need ideas!), they always come up with a whole list of items but they hardly ever agree on the same dish.
My oldest son always wants some type of Mexican concoction wrapped in a tortilla, while my little one wants raw vegetables and
chocolate. My mom wants seafood and wine and the hubs tells me – "I like everything you make so I can't help you" (Isn't he sweet?) Then as a default he says pizza, then he changes his mind, then he remembers… The Bistro's Grilled Shrimp BLT Panini with Herb Aioli.
All of the sudden, as if you could see a beam of light shining from heaven and hear a choir of angels sing _they all agree on something!!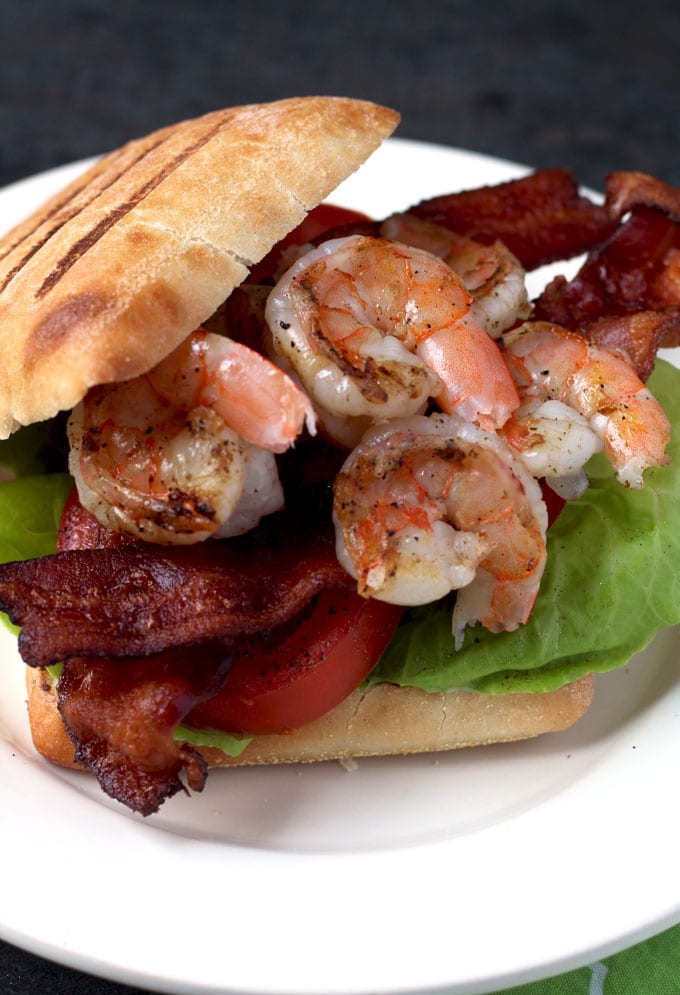 I created this recipe for a Bistro I used to work at as an Executive Chef. It was one of our best sellers and there's a reason for it, the secret is in the sauce the aioli! Seriously guys, I can't say enough about it (except for make extra and slather it on everything!)
Super easy to make, it only requires a few ingredients – mayonnaise (I use store bought), garlic, basil, capers, scallions (green onions) and a splash of lemon juice. Done!
Then there's grilled to perfection and succulent shrimp. Is there anything that cooks faster than shrimp???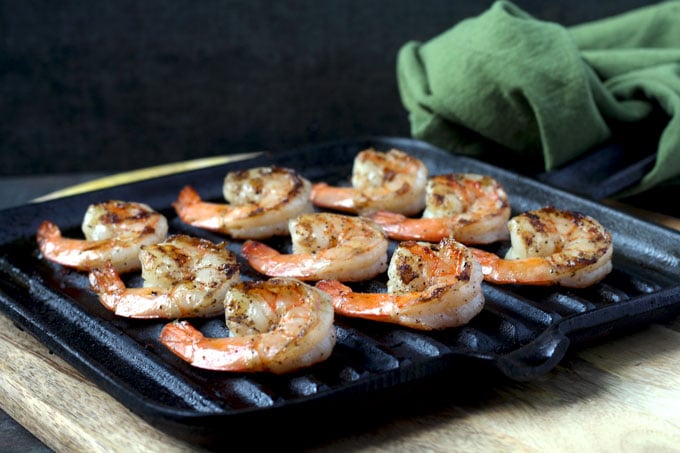 Since we are still living in our temporary apartment (feels like forever!) and my kitchen is the size of a very small closet (feels like a shoebox!) I used my grill pan to cook these beauties but you can use an outdoor grill. A cast iron skillet will work as well.
Then, of course, there's the crispy bacon, cooked to perfection and mess free. You can read all about it here How to Perfectly Cook Bacon in the Oven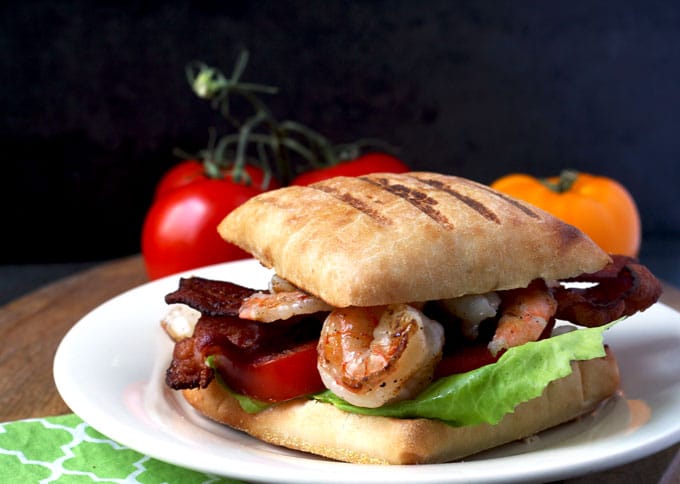 Fresh lettuce leaves, ripe tomatoes, yum! I'm surprise I didn't add avocado to it – now, that's an idea!
So until I ask my family again "what's for dinner?", let's just enjoy this flavorful and easy to make Grilled Shrimp BLT Panini (and don't forget to make extra herb aioli, you won't regret it!).
Kathy's Notes
Follow me on social media for more recipe ideas & inspiration! Pinterest Facebook Instagram My Newsletter
Grilled Shrimp BLT Panini with Herb Aioli
This Grilled Shrimp BLT Panini is so flavorful! Perfectly grilled shrimp with a delicious and creamy herb aioli elevate the classic BLT to new levels!
Prep: 10 minutes
Cook: 20 minutes
Total Time 30 minutes
Servings 6 servings
Ingredients
1 lb large shrimp peel and deveined, tails off
2 tablespoons olive oil
6 ciabatta rolls
12 lettuce leaves
3 tomatoes, sliced
12 slices of bacon cooked to crispy perfection
For the Aioli
1/3 cup mayonnaise
1 clove garlic, grated
Juice of half lemon
3 tablespoons drained capers, roughly chopped
2 tablespoons chopped basil
1 tablespoons chopped scallions
Instructions
For the herb aioli, in a bowl combine the mayonnaise, garlic, lemon juice, capers, basil and scallions. Add salt and pepper to taste. Mix well. Cover and refrigerate until ready to use.

Preheat a grill or a grill pan to medium high. Toss the shrimp with the olive oil and season with salt and pepper. Cook the shrimp on the grill 2 -3 minutes per side or until cooked through and opaque at the center. Remove from the grill.

Cut each ciabatta roll half lengthwise and toast them lightly on the grill or grill pan.

To assemble, spread both sides of the ciabatta bread with some of the herb aioli. Working with the bottom slice of the ciabatta bread, stack 2 lettuce leaves and 3 tomato slices. Season the tomatoes with salt and pepper. Top with shrimp (about 6 pieces) and 2 bacon slices per sandwich. Top with the other half of the bread. Enjoy!
Nutrition
Calories: 507kcal (25%)Carbohydrates: 31g (10%)Protein: 26g (52%)Fat: 30g (46%)Saturated Fat: 7g (44%)Cholesterol: 220mg (73%)Sodium: 1318mg (57%)Potassium: 374mg (11%)Fiber: 1g (4%)Sugar: 2g (2%)Vitamin A: 4125IU (83%)Vitamin C: 20.7mg (25%)Calcium: 135mg (14%)Iron: 2.4mg (13%)
* Please note that all nutrition information are just estimates. Values will vary among brands, so we encourage you to calculate these on your own for most accurate results.