This Caramel Apple Pie Party Mix is loaded with caramelized pecans, pretzels, dried apples and caramel chips. This snack mix is a bit crunchy, a bit sweet and as delicious as homemade apple pie!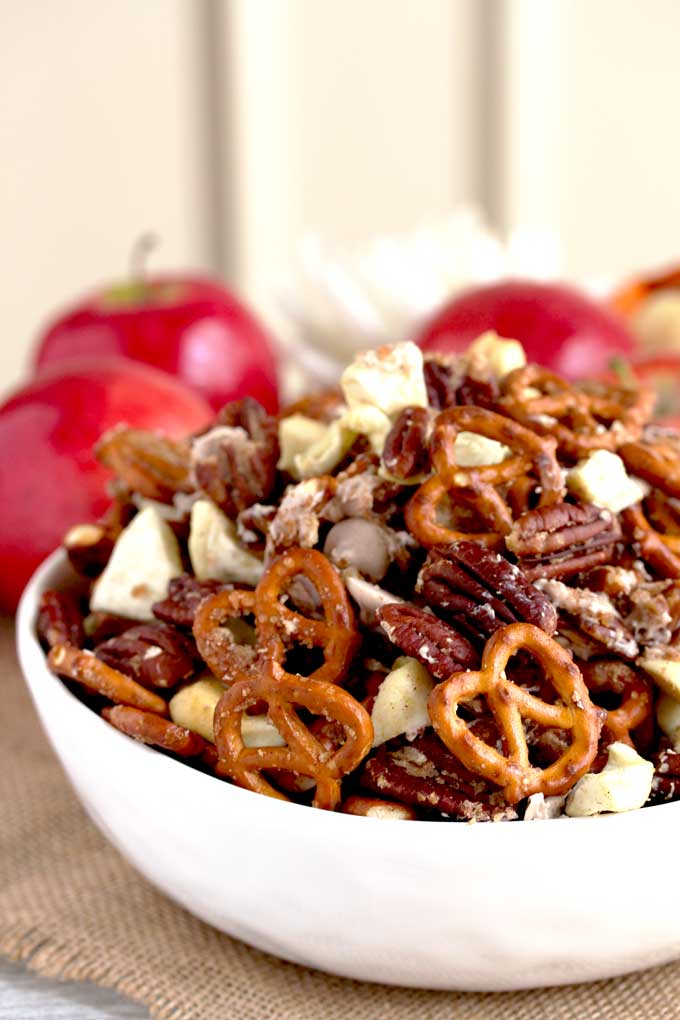 I've joined forces with many talented foodie friends to put together a list of recipes of all things apple. This recipe is one of over 200 recipes that will be published this week. There is also a  giveaway for 7 amazing prizes. You can find a link for the giveaway below! If you haven't yet, take a quick look at my other #AppleWeek recipes:
Apple Upside Down Cake
Skillet Apple and Sausage Stuffing
If you love caramel apple pie, you will love this easy to make and always addicting party mix! Every time we serve this snack mix it seems to be the first thing to disappeared! I am not surprised – I can certainly sit and eat a whole bowl by myself. Yes it's that good!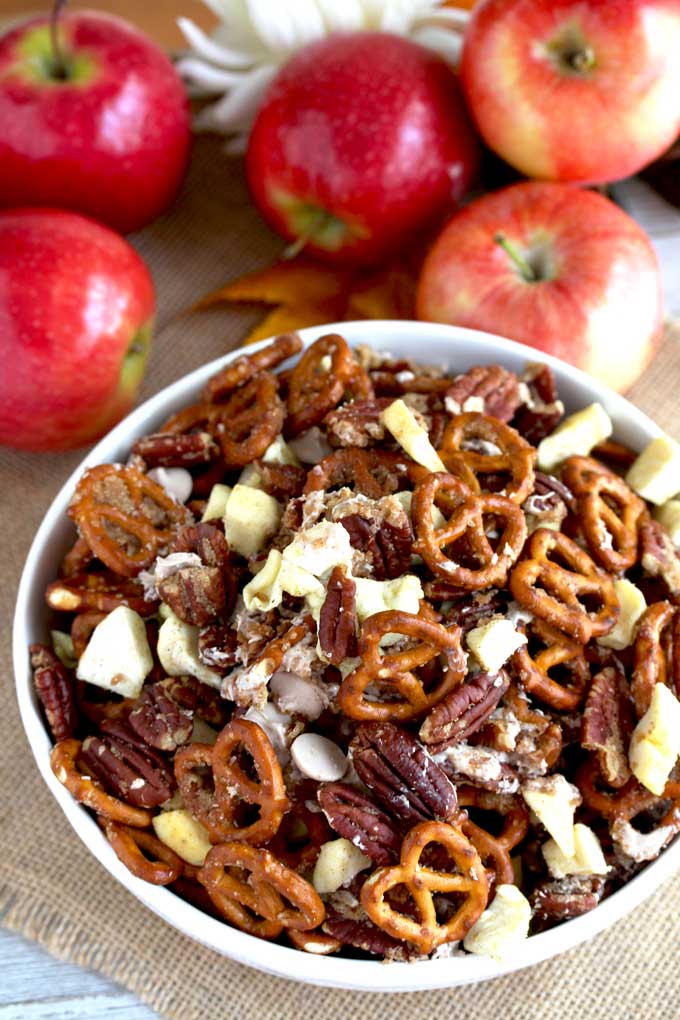 CARAMEL APPLE PIE PARTY MIX INGREDIENTS:
PECANS
PRETZELS
BUTTER
BROWN SUGAR
DRIED APPLES
CINNAMON
GRANULATED SUGAR
CARAMEL MORSELS
This Caramel Apple Pie Trail Mix is so easy to make. I enlisted the help of my little one who always loves to join me in the kitchen. He was in charge of mixing the ingredients that coat the pecans and pretzels.  Brown and granulated sugars, melted butter, cinnamon and a pinch of salt (that was his favorite ingredient!).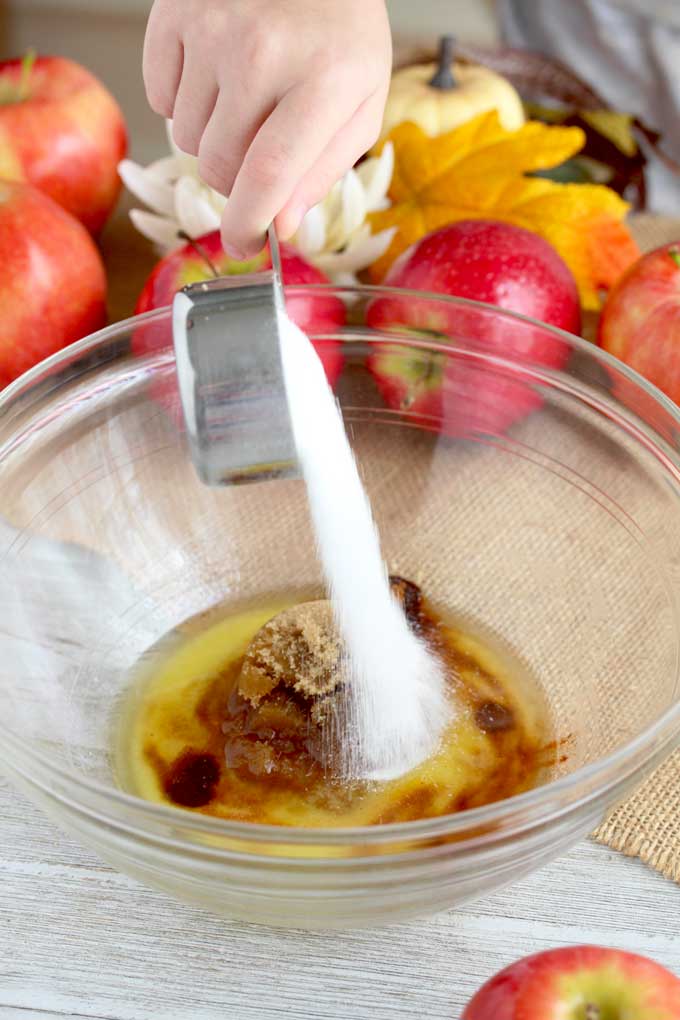 The pretzels and pecans get coated with the delicious sugary mixture (that smells amazing!!). Then it's baked for about 12 – 15 minutes.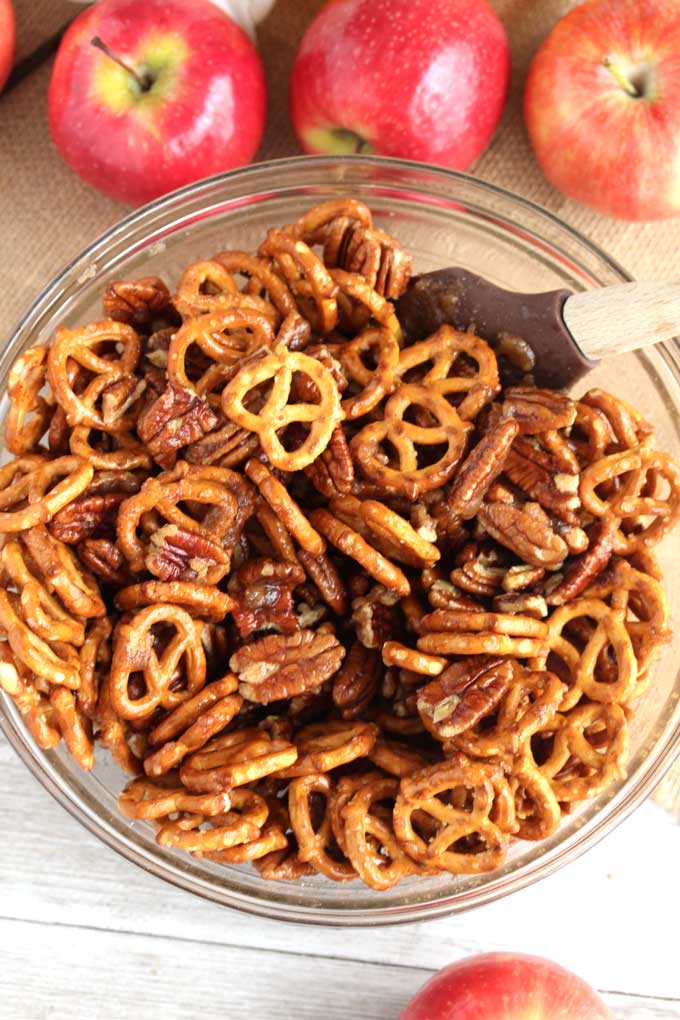 After removing the pretzel/nut mixture from the oven, let it cool before mixing with the rest of the ingredients. I must admit, waiting was hard for me to do. I wish I could blame my son for it but no, I was the most impatient person in the kitchen! I wanted to mix everything and start eating – the incredible aromas of toasty nuts, brown sugar, butter and cinnamon were absolutely wonderful!!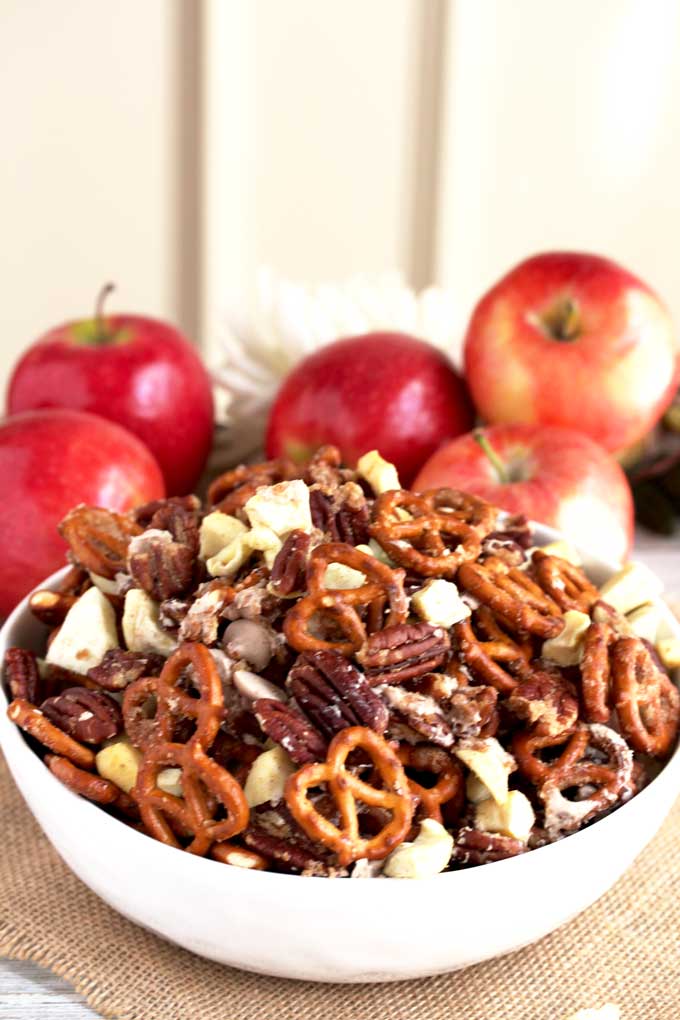 If you are like me, and cannot wait for the mixture to be completely cool before adding the rest of the ingredients, please know that your caramel morsels may melt a bit and the party mix may get a bit messy  (yeah like melty caramel is ever a problem!)
Serve this delicious snack mix as part of appetizers at a cocktail party, for movie nights, tailgate parties or simply on a fall  afternoon! Enjoy!
---
WANT TO TRY THIS CARAMEL APPLE PIE PARTY MIX?
PIN IT TO YOUR SNACK, APPETIZER OR FALL BOARD!!
FIND ME ON PINTEREST FOR MORE DELICIOUS RECIPES!
---
ENTER FOR A CHANGE TO WIN PRIZES FOR #APPLEWEEK HERE
TAKE A LOOK AT ALL THE OTHER WONDERFUL APPLE RECIPES POSTED TODAY!
Wednesday Recipes: