Apple Upside Down Cake – Caramelized cinnamon apples are baked in a light and tender vanilla sour cream cake. This Apple Cake is a simple and delicious apple dessert perfect for fall season or any time of the year.
I love apple desserts any time of the year, especially simple recipes like this apple cake which is the "apple version" of the classic pineapple upside down cake. The tender and fluffy cake is baked on top of sweet and delicious sliced caramelized cinnamon apples, then flipped to reveal the most gorgeous and tasty apple topping.
This amazing apple cake is not overly sweet so if you are looking for an excuse to have cake for breakfast, this is the cake to bake! Of course, it is a great dessert as well. Serve it with some ice cream and enjoy a heavenly treat sure to become a new favorite
This simple apple cake recipe uses the most basic ingredients and it's very easy to make. You don't even need a mixer to make this easy dessert! That is always a plus when making a cake from scratch!
How To Make Apple Upside Down Cake
To make this apple cake recipe simple, I divide it into 2 simple parts:
The Cinnamon Apple Topping
The Cake Batter
How To Make the Cinnamon-Apple Topping:
Gather your ingredients:
Apples – peeled, cored and sliced
Butter – unsalted
Lemon Juice – Freshly squeezed
Brown Sugar – I use light brown sugar
Cinnamon – Ground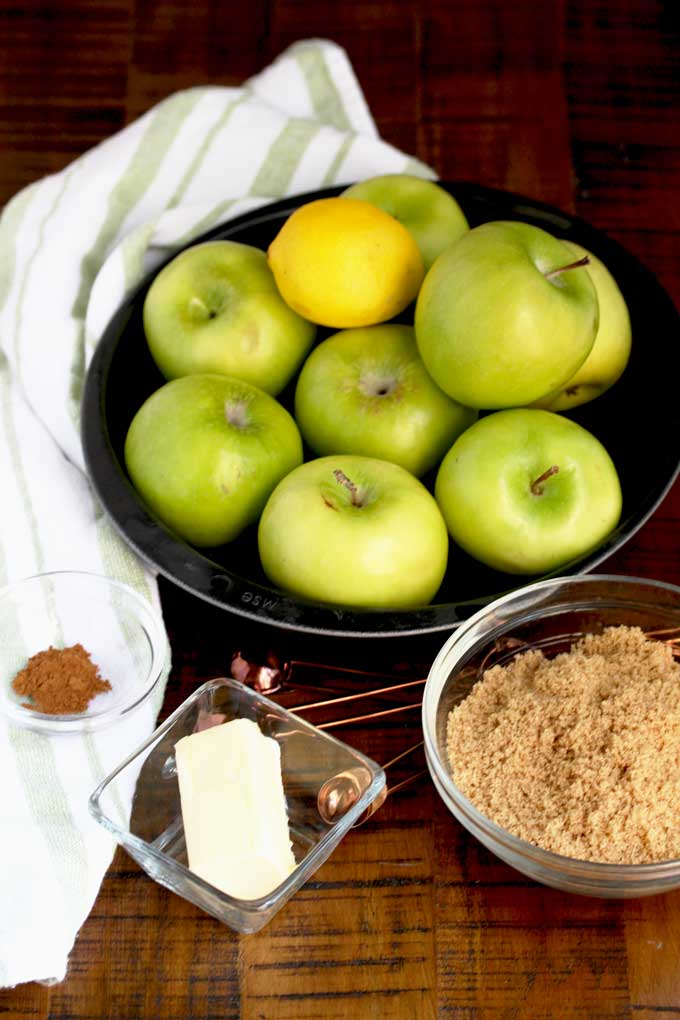 Make the Apple Cinnamon Topping:
Peel, core and slice the apples thinly – it doesn't have to be perfect, actually having different thickness (1/4-inch to 1/2-inch) makes it more interesting as some apples will turnout softer and sweeter than others.
Saute the apple slices in melted butter, lemon juice, brown sugar and cinnamon until they start to caramelize. Remember, they will cook more in the oven.
Transfer the apple mixture to a prepared baking pan. I don't arrange the apples in any particular way because I like a "rustic" look.
Make the Cake Batter:
To make the cake batter, all you need is 2 mixing bowls and a whisk!
Mix the dried ingredients in a medium bowl.
Whisk both sugars and the eggs. Slowly whisk in the melted butter. Then, whisk in the sour cream and vanilla.
Now it's time to combine the dried and wet ingredients. I like to add the flour mixture into the wet ingredients in two or three batches, just so it is easier to mix.
Mix well to combine but don't over mix it so the cake turns light and fluffy.
Top the caramelized apple mixture with the cake batter and bake!
IMPORTANT TIP: Make sure your pan is 2-inches deep so there's enough room for the cake batter.
Frequently Asked Questions about Apple Upside Down Cake
What type of apples should I use to make apple cake?
When baking, I like to use a combination of different types of apples. I like how different they all bake. Some are sweeter or crispier than others, some are soft and tart. I think the combination of flavors and textures makes for an interesting apple cake. Of course, you can use just one type of apple if you prefer.
Granny Smith, Honey Crisp, Jonathan or Jonagold, Braeburn and Honey Crisp are great options for baking, I often bake with Galas because it's the apple I usually have at home.
How do I test the cake for doneness?
The best way to check if your cake is done is with a skewer or wooden toothpick. Some ovens run hotter than others so baking times may be different depending on your particular oven temperature. Insert a sewer or toothpick in the middle of your apple cake. The toothpick should come out clean, although a couple of crumbs may cling to the skewer. This is a good sign. It means your cake is moist and perfectly baked.
Keep in mind when testing, that this easy cake has caramelized apples smothered in a warm cinnamon syrup – for this reason, the skewer may have a little bit of the sticky gooey brown sugar on the tip.
Notes and Tips about this Apple Upside Down Cake
After baking, cool the pan for about 20 minutes before unmolding.
Run a knife around the sides of the cake to loosen any bits of caramel sugar stuck in the pan. Then flip.
Serve this apple dessert with some caramel or vanilla ice cream.
Apple Week has been set up and planned by Carlee, from Cooking with Carlee. She has done such a fantastic job coordinating this week's participants and gathering amazing sponsors for the giveaway!!! Take a look at other apple recipes below the recipe card.
---
WANT TO TRY THIS APPLE TREAT?
PIN IT TO YOUR DESSERT, CAKE OR FALL BOARD!!
FIND ME ON PINTEREST FOR MORE DELICIOUS RECIPES!
Follow me on social media for more recipe ideas & inspiration! Pinterest Facebook Instagram My Newsletter
Apple Upside Down Cake
Apple Upside Down Cake features a caramelized cinnamon apple topping that is baked right into a light and fluffy vanilla sour cream cake. This Apple Upside Down Cake is a delicious fall dessert that everyone will love.
Prep: 20 minutes
Cook: 35 minutes
Total Time 55 minutes
Servings 8 servings
Ingredients
FOR THE TOPPING
4 tablespoons unsalted butter, plus extra for greasing pan
4 apples, peeled and cored
⅔ cup packed light brown sugar
2 teaspoons lemon juice
1/4 teaspoon cinnamon
Instructions
TO MAKE THE TOPPING:
Butter bottom and sides of a 9-inch round, 2-inch-deep nonstick cake pan; set aside. Adjust oven rack to lowest position and heat oven to 350 degrees.

Slice the apples into thin slices (1/4 to 1/2 inch thick).

Heat the butter in a large skillet (about 12-inch) over medium high heat. Add the apple slices and cook for a couple of minutes. Add the brown sugar, lemon and cinnamon and mix well so all the apples are coated. Cook for about 3-4 minutes stirring constantly or until the apples start to caramelize.

Transfer the apple mixture to the prepared pan and lightly press into even layer. Set aside while preparing cake.
FOR THE CAKE:
In a medium bowl, whisk the flour, baking powder and salt together. Set aside.

In a large bowl, whisk the granulated sugar, brown sugar, and eggs until well combined. Slowly whisk in the melted butter and mix well. Add the sour cream and vanilla; whisk until combined. Add flour mixture and whisk until just combined.

Pour batter into the pan and spread evenly over the apples. Bake until cake is golden brown and toothpick inserted into center comes out clean, 35 to 40 minutes.

Cool pan on a wire rack for 20 minutes. Run a paring knife around sides of the cake to loosen. Unmold the cake and let it cool 20 minutes. Serve.
Chef's Tips
APPLES: Granny Smith, golden delicious and honey crisp are good options.
Nutrition
Calories: 443kcal (22%)Carbohydrates: 68g (23%)Protein: 3g (6%)Fat: 18g (28%)Saturated Fat: 11g (69%)Cholesterol: 86mg (29%)Sodium: 183mg (8%)Potassium: 233mg (7%)Fiber: 2g (8%)Sugar: 53g (59%)Vitamin A: 635IU (13%)Vitamin C: 4.8mg (6%)Calcium: 77mg (8%)Iron: 1.3mg (7%)
* Please note that all nutrition information are just estimates. Values will vary among brands, so we encourage you to calculate these on your own for most accurate results.
Apple Week is finally here! I am so glad I've joined some of my amazing foodie friends to bring you lots of delicious apple recipes.
TAKE A LOOK AT ALL THE OTHER WONDERFUL APPLE RECIPES POSTED TODAY!