This Homemade Pumpkin Pie recipe is made with a buttery, flaky pie crust filled with rich and creamy pumpkin spice filling and topped with delicious Maple whipped cream. This easy pumpkin pie recipe is the perfect addition to your fall dessert table!
Pumpkin pie is one of the most iconic fall treats and a must have Thanksgiving dessert. This easy recipe for homemade pumpkin pie delivers both on pumpkin spice flavor and silky smooth texture. And if I may say so myself, it delivers on cuteness as well!
Homemade Pumpkin Pie
Pumpkin Pie Crust
This pumpkin pie recipe starts with a melt-in-your-mouth flaky buttery crust made from scratch. The pie dough is made with a combination of butter and shortening for the best texture and flavor.
I used to be intimidated by pie making until I found the perfect foolproof homemade pie crust recipe. In this post How To Make Pie Crust, you will find all my tips and step by step photos for making pie crust. From mixing and rolling out pie dough to crimping and blind baking pie crusts!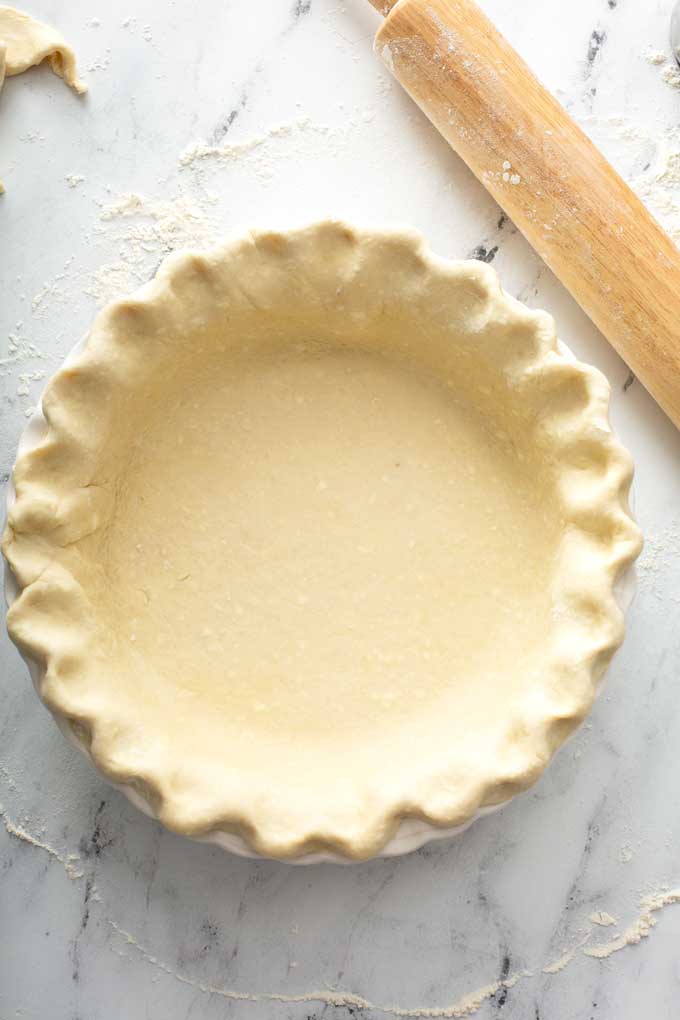 Pumpkin Pie Filling
The pumpkin filling is made with canned pumpkin instead of fresh pumpkin. When I tested the pie filling recipe with fresh homemade pumpkin pure, the pie filling wasn't as smooth and light as the pumpkin pie filling made with canned pumpkin puree.
To me, the best pumpkin pie has a perfectly creamy and smooth consistency so I decided to stick with canned pumpkin. Fresh pumpkin puree is also not as thick as the one in the can. If you decide to use homemade pumpkin puree, you may need to adjust the baking time.
Both whole milk and heavy cream are added to the pumpkin pie mix, making the consistency rich and decadent.
No pumpkin dessert is complete without some warm pumpkin pie spices. In this homemade pumkin pie I use cinnamon, ginger and nutmeg. Something you may not always find in a classic all American pumpkin pie is orange zest. A little bit of zest brightens up the filling making it completely irresistible
.
Maple Whipped Topping
I top this perfect pumpkin pie with a dollop of maple whipped cream. The maple cream recipe is as easy to make as it is delicious! If you have vanilla beans at home, this is the perfect time to use them. Otherwise, stick with vanilla extract.
How To Make Pumpkin Pie
Mix the Pumpkin Pie Filling: In a large mixing bowl, whisk the eggs until they are light-colored and fluffy. Stir in the pumpkin puree, brown sugar, granulated sugar, cinnamon, ginger, nutmeg, salt, orange zest, cream and milk. Mix until the ingredients are thoroughly combined.
Fill the Pumpkin Shell: Pour the pumpkin filling into the partially baked pie shell.
Bake: In a preheated oven, bake the pie for 55 to 60 minutes or until the filling is just set in the middle. It should be slightly wobbly.
Cool: Take the pie from the oven and set on a rack to cool completely. The wobbly center will set while the pie cools.
Serve: You are ready for the best pumpkin dessert! Serve a slice of pie topped with maple whipped cream and enjoy!
You have questions? We have answers!
Can I Use Fresh Pumpkin For This Pie Recipe?
When I tried this recipe with fresh pumpkin instead of canned pumpkin, the texture was a little bit grainy. Fresh pumpkin is also not as thick as canned pumpkin so you may need to bake the pie longer.
How Can I Decorate My Pie?
A decorated pie makes your Thanksgiving table more beautiful. I like using the leftover pie crust to cut out different shapes like leaves or small pumpkins, then bake them separately and use them to decorate my pies.
You can also pipe the maple whipped cream on the pie using different piping tips.
When Baking Pumpkin Pie, Do You Bake The Crust First?
When making pumpkin pie from scratch, I partially bake the crust before adding the pie filling. This is called blind-bake. Pre-baking or blind-baking pie crust is essential when your pie filling is a bit wet, like in the case of pumpkin pie or any other custard pie.
How To Avoid Cracks In Pumpkin Pie
The secret to avoiding cracks in pumpkin pie is to prevent over baking. The pie should be baked for 55 to 60 minutes. The center should be just set and slightly wobbly. The filling will continue to set while the pumpkin pie cools.
Can You Freeze Pumpkin Pie?
Yes, you can definitely freeze pumpkin pie. If you are making pies for the holidays or any other occasion, you can make them ahead of time. Thanksgiving pie making has never been easier! You can freeze pumpkin pie for up to 3 months. Pie crust also freezes well and can be kept frozen for 3 months.
Wrap your baked pie tightly with a couple of layers of plastic wrap. I also like to wrap it with a layer of aluminum foil and then place the wrapped pie in a resealable freezer bag or in an airtight container.
Can I Make Pumpkin Pie Ahead Of Time?
Absolutely! Besides the ability of freezing the pie, you can also make the rich creamy filling the night before. Keep the pumpkin filling in an airtight container in the refrigerator for up to 24 hours.
You can also make the pie dough ahead of time.
Homemade Pumpkin Pie Recipe Tips
Make sure you don't over bake the pie. The center will be a little wobbly but it will set while your pumpkin pie cools.
For an elegant presentation, place the maple whipped cream in a piping bag and decorate the pie.
You can substitute the spices in the recipe with about 1 teaspoon of pumpkin spice.
To make the pie decorations, roll out the dough to about 1/8-inch thick and cut into any shape with cookie cutters. Bake for about 8-10 minutes or until golden brown.
Take A Look At These Other Pumpkin Recipes:
Follow me on social media for more recipe ideas & inspiration! Pinterest Facebook Instagram My Newsletter
Homemade Pumpkin Pie with Maple Whipped Cream
This Homemade Pumpkin Pie recipe is made with a buttery, flaky pie crust filled with rich and creamy pumpkin spice filling and topped with delicious Maple whipped cream. This easy pumpkin pie recipe is the perfect addition to your fall dessert table!
Prep: 30 minutes
Cook: 1 hour 15 minutes
Total Time 1 hour 45 minutes
Nutrition
Calories: 356kcal (18%)Carbohydrates: 31g (10%)Protein: 4g (8%)Fat: 25g (38%)Saturated Fat: 13g (81%)Cholesterol: 116mg (39%)Sodium: 244mg (11%)Potassium: 113mg (3%)Fiber: 1g (4%)Sugar: 19g (21%)Vitamin A: 806IU (16%)Vitamin C: 1mg (1%)Calcium: 69mg (7%)Iron: 1mg (6%)
* Please note that all nutrition information are just estimates. Values will vary among brands, so we encourage you to calculate these on your own for most accurate results.