This Chinese-style Beef Stir Fry combines thin pieces of tender beef steak with an array of colorful, crunchy fresh veggies bathe in the absolute best, savory-sweet beef stir fry sauce. This nutritious meal comes together quickly and is a great alternative to takeout!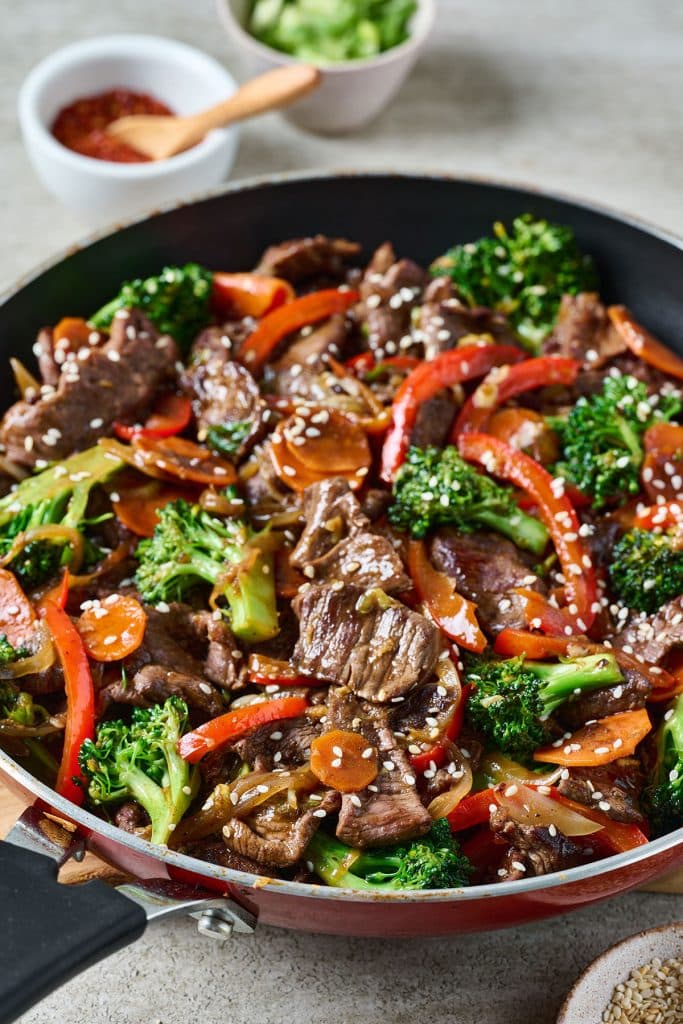 Beef Stir Fry Flavor Profile
This easy beef stir fry recipe is made with thin strips of velvety tender, lean flank steak, seared to perfection, crisp-tender bell peppers, broccoli, onions, carrots and green onions are coated in a flavorful homemade brown sauce.
The sauce is made with soy sauce, sesame oil, fresh ginger and a touch of honey. The cooking technique and the aromatic, savory, lightly sweet sauce is just like the authentic stir fries served at Chinese restaurants.
Why This Steak Stir Fry Recipe Works?
Flavorful, Juicy, Tender Steak: A quick marinade and an easy classic Chinese cooking technique called "velveting beef" guarantees rich flavor, super tender steak and prevents overcooking.
Versatile: Use a different cut of beef and your favorite vegetables. This is a "use what you have" type recipe.
Better For You: Healthy and nutritious. This recipe uses less oil than what restaurants use. Honey instead of sugar and for those of you who don't like MSG, I got your back! Make it gluten-free by using tamari.
Fast, One-Pan Easy Dinner: A large skillet or a large wok, high heat and 30 minutes is all you need. a great weeknight dinner option.
What Cut of Beef is Good For Beef Stir-Fry?
For best results, use a tender cut of meat, here are a few options:
Flank Steak: Slice the steak thinly, cut across the grain (muscle fibers) that run along the length of the beef).
Skirt Steak: The loose fibers of this steak cut, picks up on the flavors of the marinade quickly. It's also easy to slice.
Sirloin Steak: (top sirloin) is a popular and affordable lean cut of meat. Cut it against the grain.
Strip Steak or Rib-Eye: These expensive cuts of meat are melt-in-your-mouth tender. They cook very quickly (they overcook quickly too).
Ingredients and Substitutions
You can use any variety of fresh vegetables. This recipe is perfect for when you need to use up all your fridge leftovers.
Not all ingredients are listed here. For the complete list of ingredients and their quantities, check the recipe card below.
For the Beef and Stir Fry
Beef: Flank steak is my favorite cut followed by skirt steak. Top sirloin is also an affordable option.
Marinade: Marinate the steak quickly with regular soy sauce, light soy sauce or low sodium soy sauce. use tamari for a gluten-free option. Cornstarch (to velvet the beef) and black pepper. Cornstarch can be replaced with baking soda (only in the marinade – not in the sauce).
Veggies: Broccoli florets, red bell pepper, sliced onions, sliced carrots, scallions or green onions. For other vegetables onions check below.
Oil: In Chinese cooking stir fries are cooked in a hot pan with a neutral oil like vegetable oil or any another high smoke point oil. Avocado oil, grapeseed and canola oil can be used.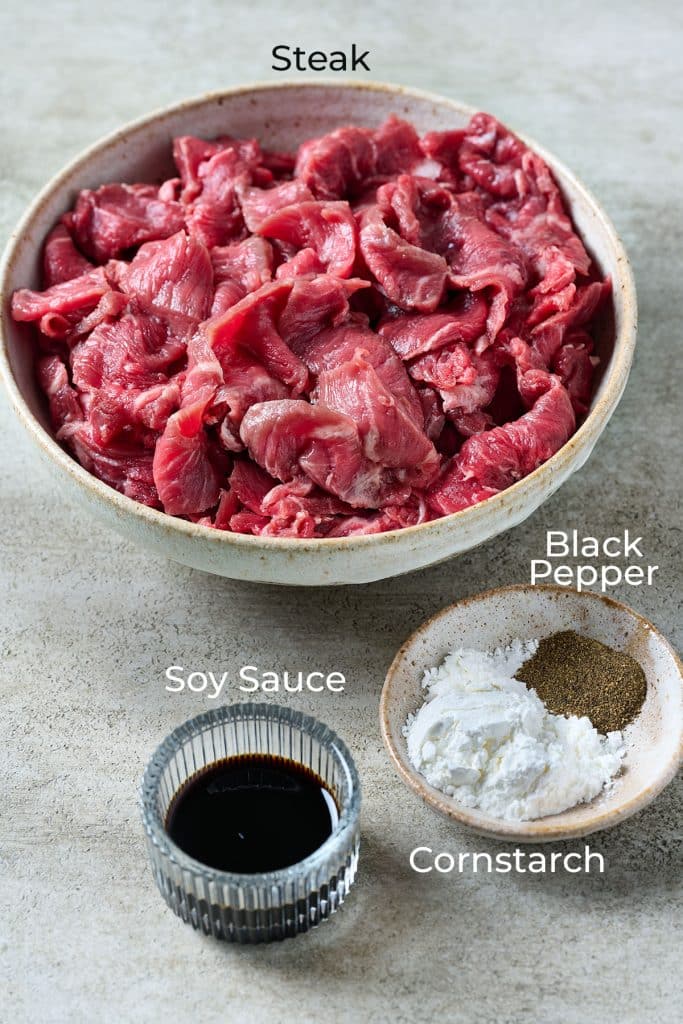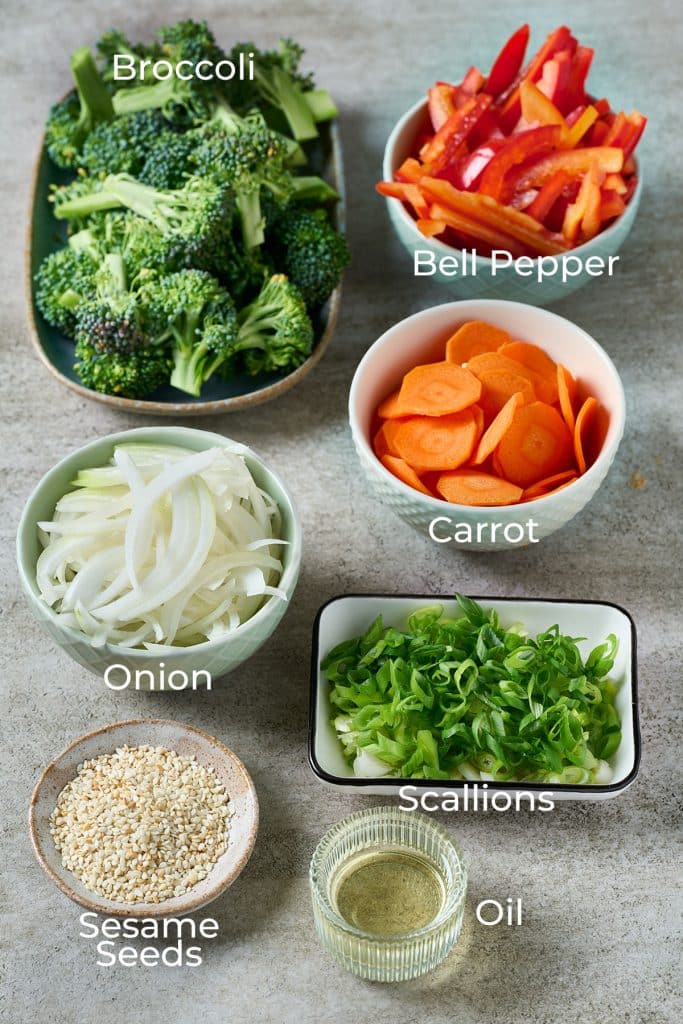 What Veggies are Best for Stir Fry?
Besides onions, carrots, bell peppers in any color, and broccoli florets, some of the best veggies to use on a stir fry are mushrooms (shiitake, white or cremini), snow peas, bean sprouts, baby corn, baby bok choy and asparagus. Other ingredients like water chestnuts, Chinese cabbage, snap peas, green beans, zucchini and eggplant also add flavor, great texture and even a bit of crunch (I'm looking at you water chesnuts)
The Best Stir Fry Sauce Ingredients
Fresh Ginger and Fresh Garlic: These two aromatics are essential when making any Chinese style recipe like chicken stir fry, beef and broccoli stir fry, etc. Garlic paste and ginger paste are the next best options.
Rice Wine: Shaoxing wine is a rice wine used in most Chinese restaurants. This ingredient can be substituted with rice wine vinegar, mirin or with dry sherry (a cooking wine – not the same as sherry vinegar). Alternatively, apple cider vinegar can be used.
Soy Sauce: Possibly the main ingredient in this Asian recipe. Regular soy sauce, light soy sauce or low sodium soy sauce can be used. Gluten-free tamari is a good substitute.
Toasted Sesame Oil: This flavorful oil adds a delightful nuttiness and Asian flare to the dish. Unlike regular sesame oil, toasted sesame oil is darker in color (like maple syrup). It's flavor is also stronger. A little bit goes a long way. .
Broth: I use chicken broth or vegetable broth or water (pictured below).
Cornstarch: This ingredient is used as a sauce thickener. Arrowroot powder can be used as well.
Honey: Alternately, light brown sugar (picture below) or dark brown sugar can be used.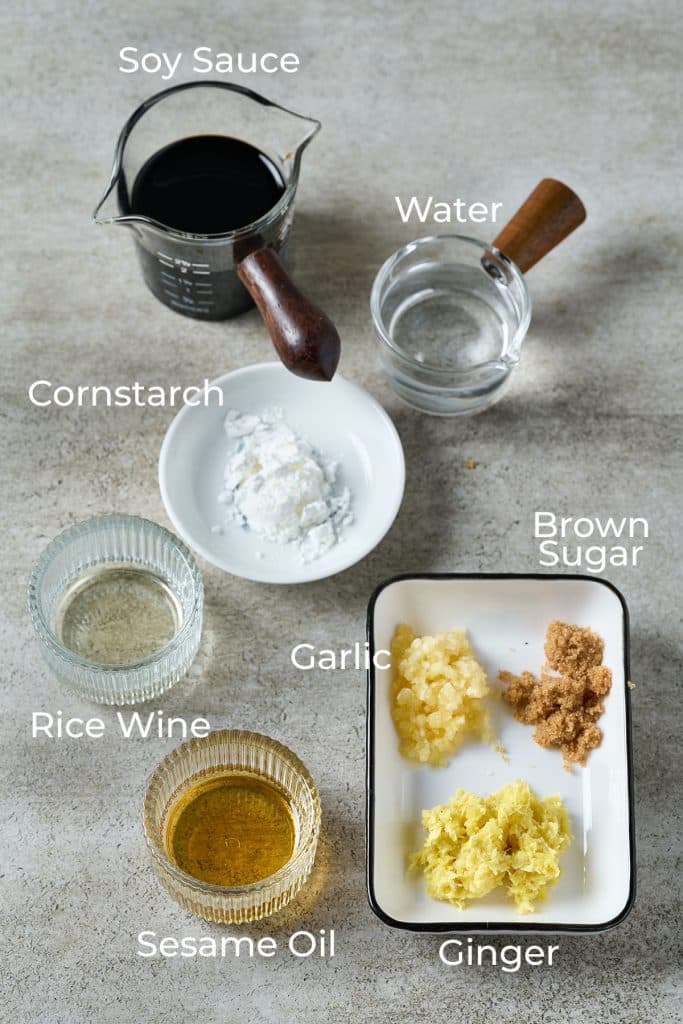 How to Make Beef Stir Fry Step by Step
After slicing the meat and chopping the veggies, the rest of the recipe comes together quickly. Do all your prep work before you start cooking.
Marinate the Beef: Combine the meat with the soy sauce, black pepper and cornstarch. Marinate for a minimum of 15 minutes and as long as 4 hours. If refrigerated, let the meat sit at room temperature for 15-20 minutes before cooking it so is not "refrigerator cold" when stir frying.
Make Stir Fry Sauce: Combine the marinade ingredients and set aside.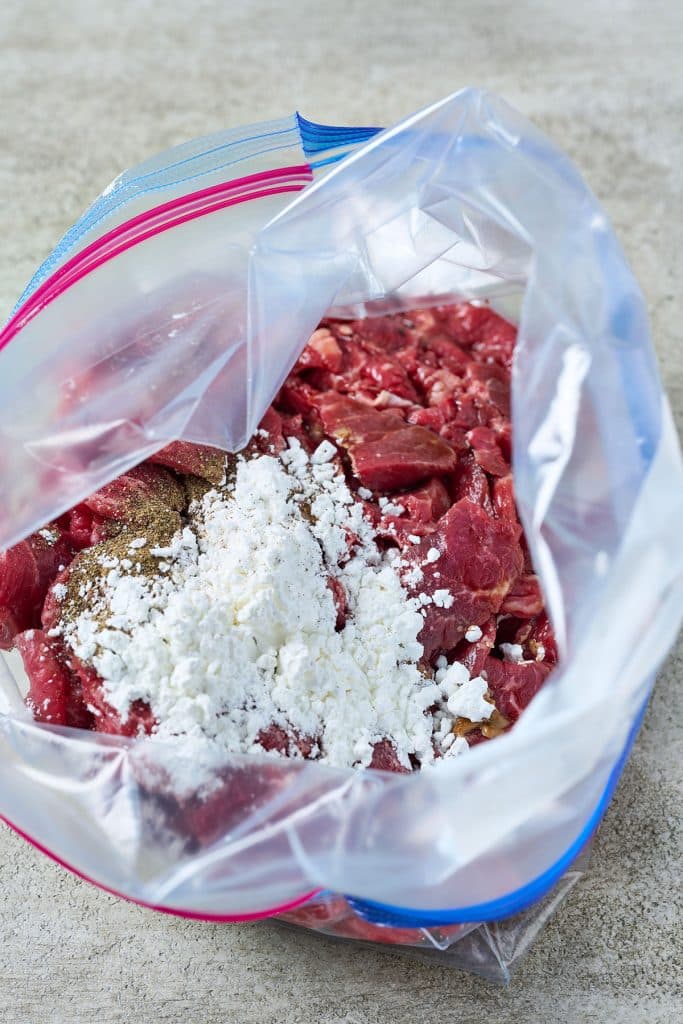 Stir Fry the Beef: In a large wok or skillet heat one tablespoon of oil over high heat. Cook the meat in batches, spreading it out in a single layer. Cook until lightly golden brown on one side 2-3 minutes. Toss and continue to cook, stirring frequently for about 1-2 minutes. The steak doesn't have to be fully cooked at this point. Transfer to a bowl.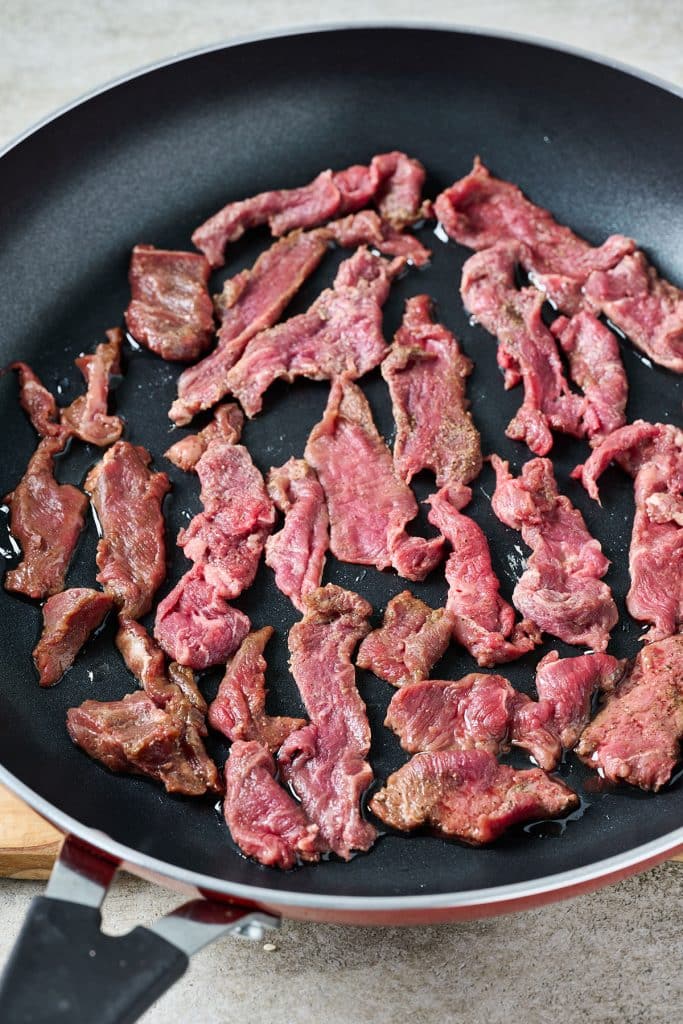 Stir Fry Veggies: Add the remaining oil and when hot, stir fry the onions, bell peppers and carrots for about 3-4 minutes. Then, add the broccoli and cook briefly.
Return the steak and any collected juices to the wok or skillet.
Pour in the stir fry sauce and sauté tossing and stirring frequently. add the scallions and sauté until the sauce thickens. Garnish with sesame seeds (optional). Serve immediately.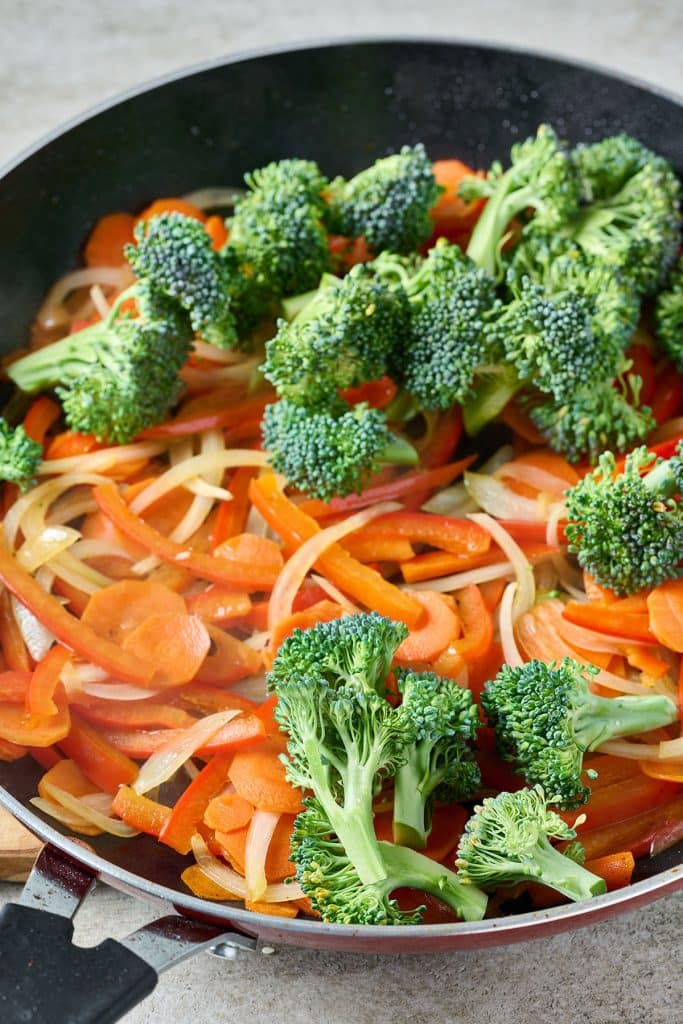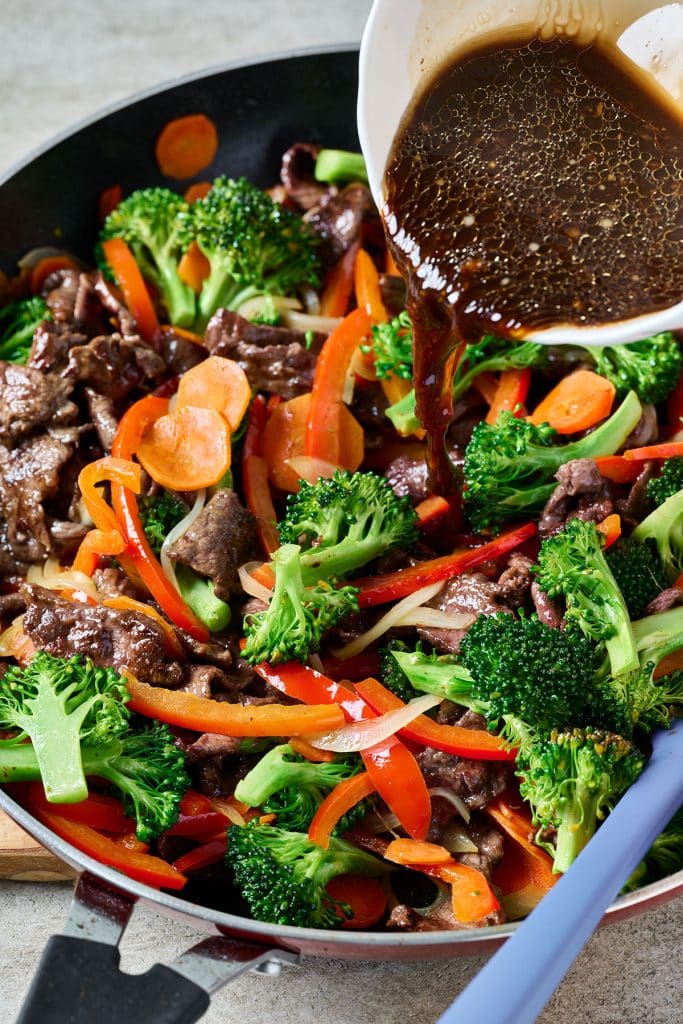 Tips for Making the Best Stir Fry
Always ready for action: Get ready! Prep and gathered all your ingredients (mise en place) before you start cooking. Stir fries are meant to be cooked quickly over high heat so having everything ready is key!
It is hot, hot, hot: A stir fry is a cooking technique that uses high heat to quickly cook food. However, if you are not a seasoned cook, I suggest cooking the steak and veggies over medium-high heat instead. No one will know!
Keep it moving: Besides high heat, a stir fry requires constantly tossing (or stirring) the ingredients. This prevents them from burning or scorching.
Perfect veggies: Cooking the vegetables that take longer to cook first, followed by veggies that cook quickly, prevents mushy veggies.
This is a NO: Although frozen vegetables can be used, I encourage you to choose fresh ingredients. Fresh veggies will taste infinitely better and will also keep their texture and shape.
Even Steven: Cut ingredients into small and uniform pieces for even cooking. In this case, size matters.
Wok-ing pleasures: One of the benefits of using a wok is the ability to keep ingredients that need a lot of heat at the bottom of the wok, while pushing ingredients that don't need as much heat to the sides.
Solutions to your problem: if your stir fry seems a bit dry, you can add additional broth. If it seems too salty, you can add water.
Swaps: To swap veggies, you will need 3-4 cups of any vegetable or combination of vegetables of your choice.
How to Make Beef Stir-Fry Meat Tender?
When making stir fry, the secret to extra tender melt-in-your-mouth beef or steak is using a technique called velveting. Velveting, a method used in Chinese cooking consist of marinating meat with cornstarch or baking soda. This effective and simple method tenderizes tough cuts of beef while creating a thin and velvety layer that keeps the meat juicy, preventing overcooking. The velveting method is used for proteins like chicken and pork also.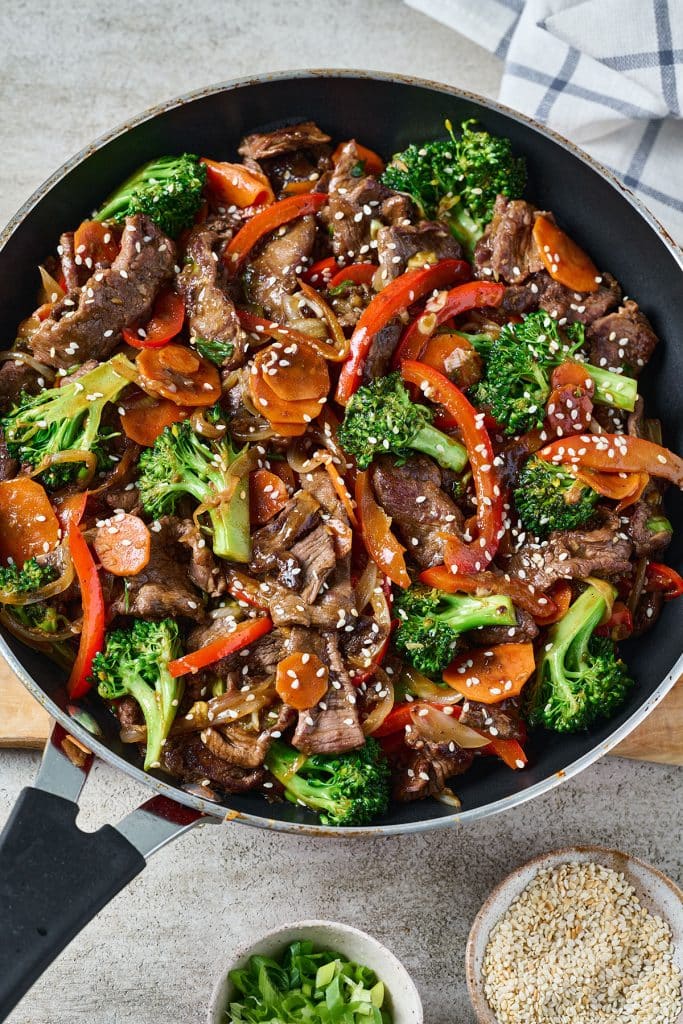 What's the Secret to the Best Stir Fry?
Use the Chinese velveting technique by adding cornstarch or baking soda to marinate the beef. Velveting tenderizes the beef and keeps it juicy.
Cut your ingredients evenly and in small pieces.
Use a wok, over high heat and toss the food while it cooks to prevent it from burning.
Can I Make Stir Fry with Frozen Veggies?
Yes, you can use frozen veggies although it's not ideal. Frozen vegetables have extra moisture and won't have the same crisp-tender texture than when using fresh ingredients. If you (must) use frozen veggies, thaw them completely and pat them dry as much as possible before cooking them.
What to Serve with Beef Stir Fry?
This healthy and nutritious steak stir fry is packed with lean protein and veggies. You can serve it over white rice, brown rice, quinoa and noodles. For a low-carb option, serve it with cauliflower rice.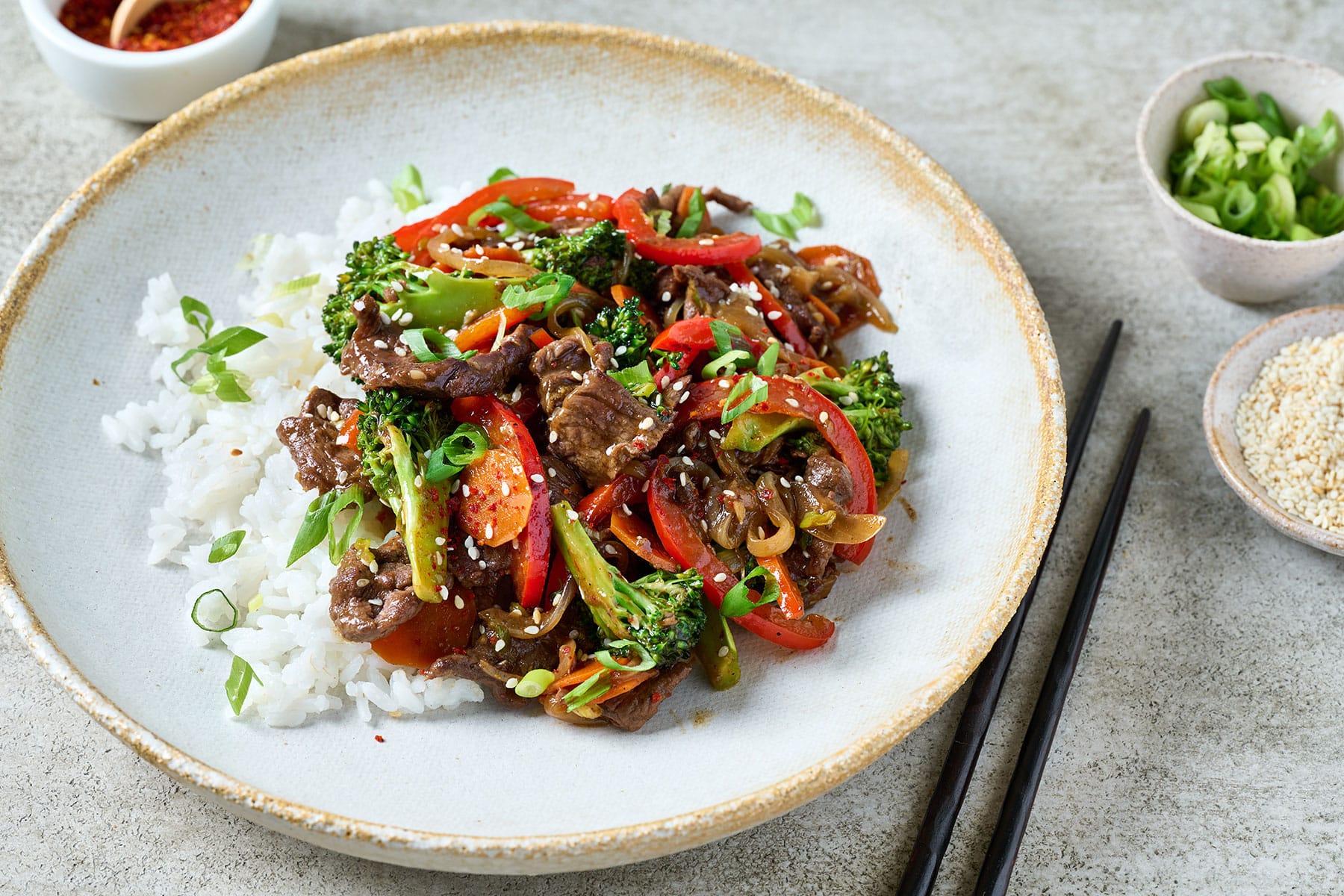 Making Ahead, Storing, Freezing and Reheating
Make it Ahead (Ideal for Meal Prep)
Slice the beef a day ahead and store it in the refrigerator.
Chop the veggies a day ahead. To keep the veggies super fresh, cover them with a piece of dump paper towel and store them in a resealable bag or air tight container the refrigerator.
Combine the sauce ingredients a day ahead and store it in a lidded jar or airtight container in the refrigerator
Storing
Store any leftovers in an airtight container in the refrigerator for 3 days.
Freezing
You can freeze stir fries but you need to keep in mind that after thawing, the texture of the vegetables won't remain the same. they will get mushy because of the excess moisture.
When reheating, you risk overcooking the steak.
To freeze, store in a freezer-safe container in the freezer for a month.
Reheating
Reheat in a wok or skillet over medium-heat, tossing as needed. You can add a little bit of broth if the stir fry seems a bit dry.
Reheat briefly in the microwave, covered until warm through.
Take a Look At These Other Asian Recipes
Follow me on social media for more recipe ideas & inspiration! Pinterest Facebook Instagram My Newsletter
Easy Beef Stir Fry
This Chinese-style Beef Stir Fry combines tender beef steak with an array of colorful, crunchy fresh veggies coated in the absolute best, savory-sweet beef stir fry sauce. This nutritious meal is made in one-skillet or wok and comes together in 30-minutes. Gluten-free adaptable. Use your favorite veggies.
Prep: 15 minutes
Cook: 15 minutes
Total Time 30 minutes
Servings 4 servings
Ingredients
Beef and Marinade
1 pound flank steak, skirt steak or top sirloin cut against the grain, bite-sized pieces
1 tablespoon soy sauce or tamari (regular, light or low-sodium)
1 tablespoon cornstarch (or arrowroot)
1/4 teaspoon ground black pepper
Stir Fry Sauce
1/4 cup soy sauce or tamari regular, light or low-sodium
2 tablespoons chicken broth, veggie broth or water
2 teaspoons rice wine (like Shaoxin) or rice vinegar (mirin, rice wine vinegar or Sherry wine)
2 teaspoons honey or brown sugar
2 teaspoons toasted sesame oil
3 cloves garlic cloves minced or grated
2 teaspoons fresh ginger peeled, minced or grated
1 teaspoon cornstarch
The Rest:
2 tablespoons vegetable oil, divided, or more if needed (avocado oil, grapeseed oil or canola)
1 small to medium onion sliced
1 small to medium red bell pepper cored, seeded and cut into thin slices
1 carrot peeled and sliced thinly
1 1/2 cups broccoli florets
2 scallions sliced thinly
Sesame seeds for garnishing (optional)
Steamed rice (optional)
Instructions
In a medium bowl or a resealable plastic bag toss together the beef, soy sauce, ground black pepper and cornstarch (this ingredient is used in Chinese cuisine to "velvet" the meat, which tenderizes the meat, keeping it juicy and preventing overcooking). Set the marinated meat aside for 15 -30 minutes. Or allow to marinate for up to 4 hours in the refrigerator.

In a small bowl whisk together the stir fry sauce ingredients. Soy sauce, broth or water, honey or brown sugar, sesame oil, garlic, ginger and cornstarch. Set aside.

In a large wok or large skillet heat 1 tablespoon of oil over high heat (or medium-high heat). Cook the beef in 2 batches, not to overcrowd the wok or skillet.

When the oil is hot, add half of the marinated beef, spreading it on a single layer for even cooking. Sauté for about 2-3 minutes or until lightly golden brown on one side. Toss and continue cooking, stirring frequently for about 1-2 minutes. The steak doesn't have to be fully cooked at this point. Transfer to a bowl and then, sauté the remaining batch (add additional oil if needed). Transfer the steak to the same bowl. Set aside.

Heat the remaining oil. Stir in the onions, red bell pepper and carrots and sauté, stirring often for about 3-4 minutes or until the onions are translucent and the carrots are crisp.

Stir in the broccoli and cook, tossing frequently for about 2 minutes or until crisp tender.

Add the steak back into the wok or skillet with any collected juices. Toss to combine

Pour in the prepared stir fry sauce, and cook for about 2 minutes tossing and stirring frequently. Stir in the scallions and cook, tossing and stirring until the sauce slightly thickens. Remove from the heat and garnish with sesame seeds.Serve immediately with steamed rice (optional)
Chef's Tips
You can use flank steak, sirloin steak, skirt steak, ribeye or New York strip steak.
To slice the steak easily, freeze it for about 30 minutes before slicing it.
You can marinate the steak overnight.
You can use 3 to 4 cups of vegetables of your choice (broccoli, baby corn, snow peas, sugar snap peas, mushrooms, carrots, etc.)
Substitute the fresh garlic cloves, minced with 2 teaspoons garlic paste.
Substitute fresh ginger with ginger paste.
Nutrition
Calories: 301kcal (15%)Carbohydrates: 14g (5%)Protein: 28g (56%)Fat: 15g (23%)Saturated Fat: 4g (25%)Polyunsaturated Fat: 5gMonounsaturated Fat: 5gTrans Fat: 0.04gCholesterol: 68mg (23%)Sodium: 1147mg (50%)Potassium: 682mg (19%)Fiber: 2g (8%)Sugar: 6g (7%)Vitamin A: 3401IU (68%)Vitamin C: 58mg (70%)Calcium: 64mg (6%)Iron: 3mg (17%)
* Please note that all nutrition information are just estimates. Values will vary among brands, so we encourage you to calculate these on your own for most accurate results.