Baked Korean Chicken Wings are easy to make and perfect for game day. But these baked chicken wings are not tossed in buffalo sauce, these crispy chicken wings are coated in the best sweet and spicy sticky sauce made with ingredients like spicy gochujang sauce, soy sauce, honey and sesame oil.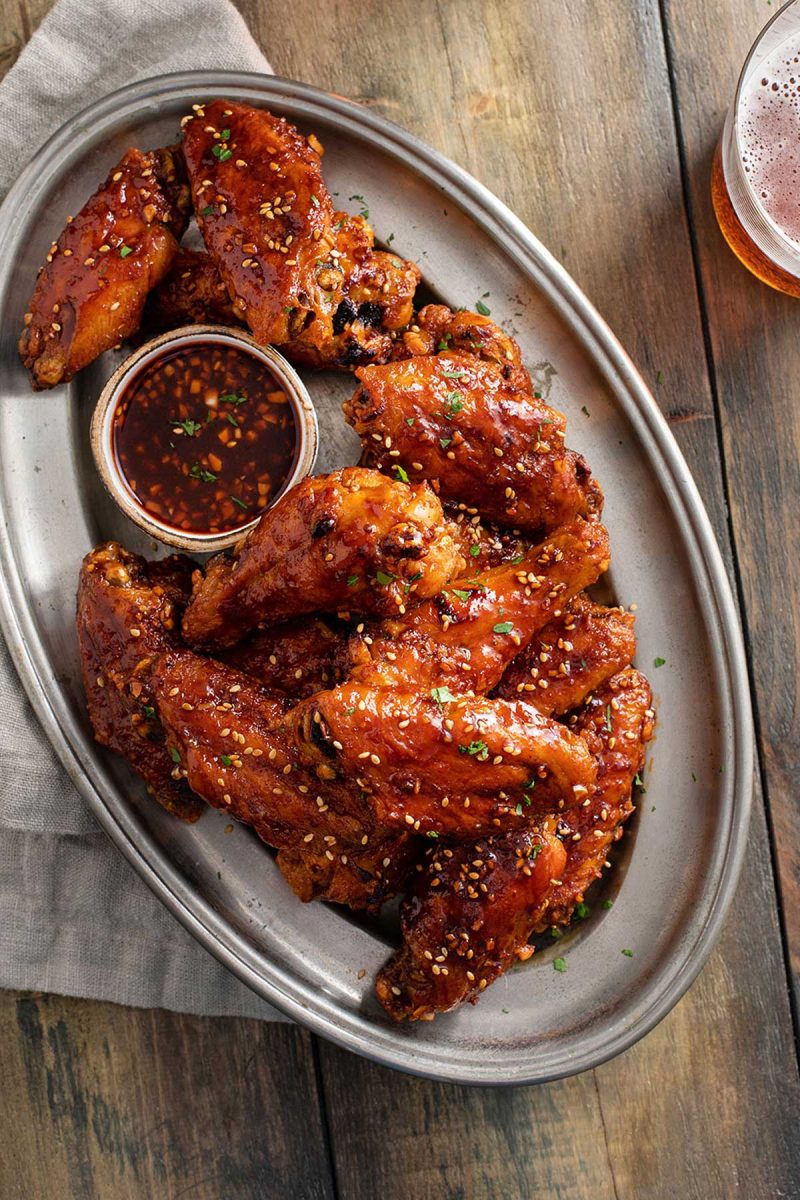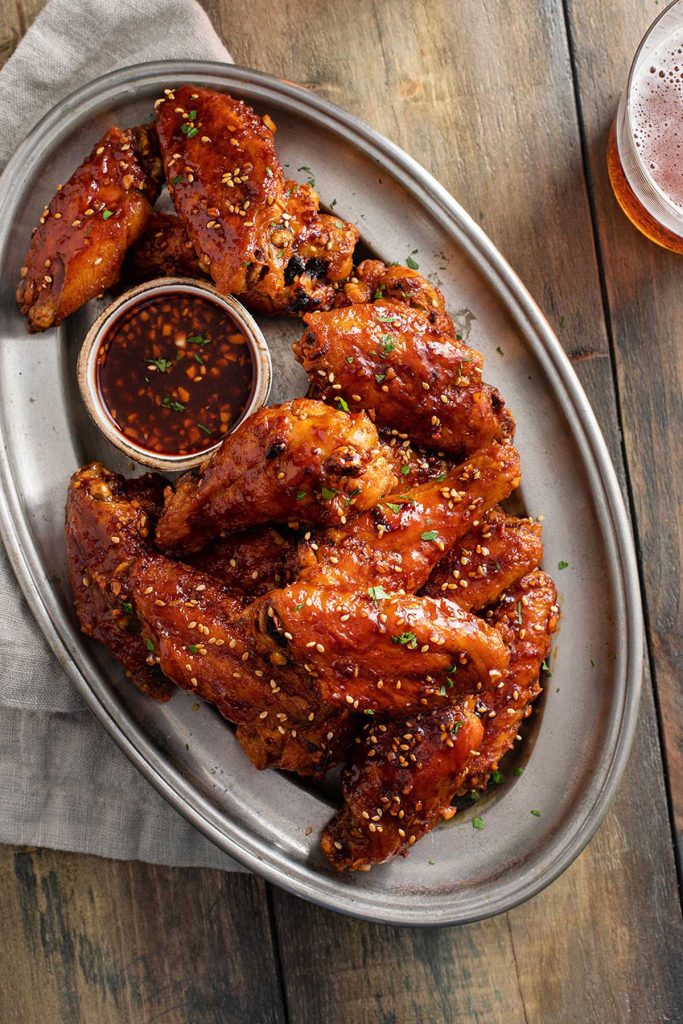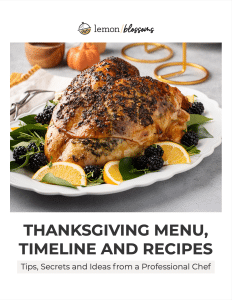 psst… Thanksgiving stress?
Not anymore!
Download our limited-time guide to hosting a smooth Thanksgiving, as experienced & perfected by Chef Kathy.
Crispy Baked Chicken Wings Korean-Style
I must admit, buffalo wings have always been my favorite type of hot wings. Since I love Korean food and this finger lickin Korean Fried Chicken recipe smothered in the most delicious Korean spicy sauce is crazy addictive, I thought it was time to give spicy Korean chicken wings a try.
Since I wanted super crispy wings but I didn't want to do any deep frying or use the popular Korean cooking method of double frying (first fry and second fry results in meat that is juicy inside with an extra crunchy exterior), I decided to use the oven method.
Instead of the deep fryer or a large frying pan full of oil, these spicy chicken wings get their crispy, crunchy coating from baking powder and high oven temperature. Super easy, flavorful and healthier too.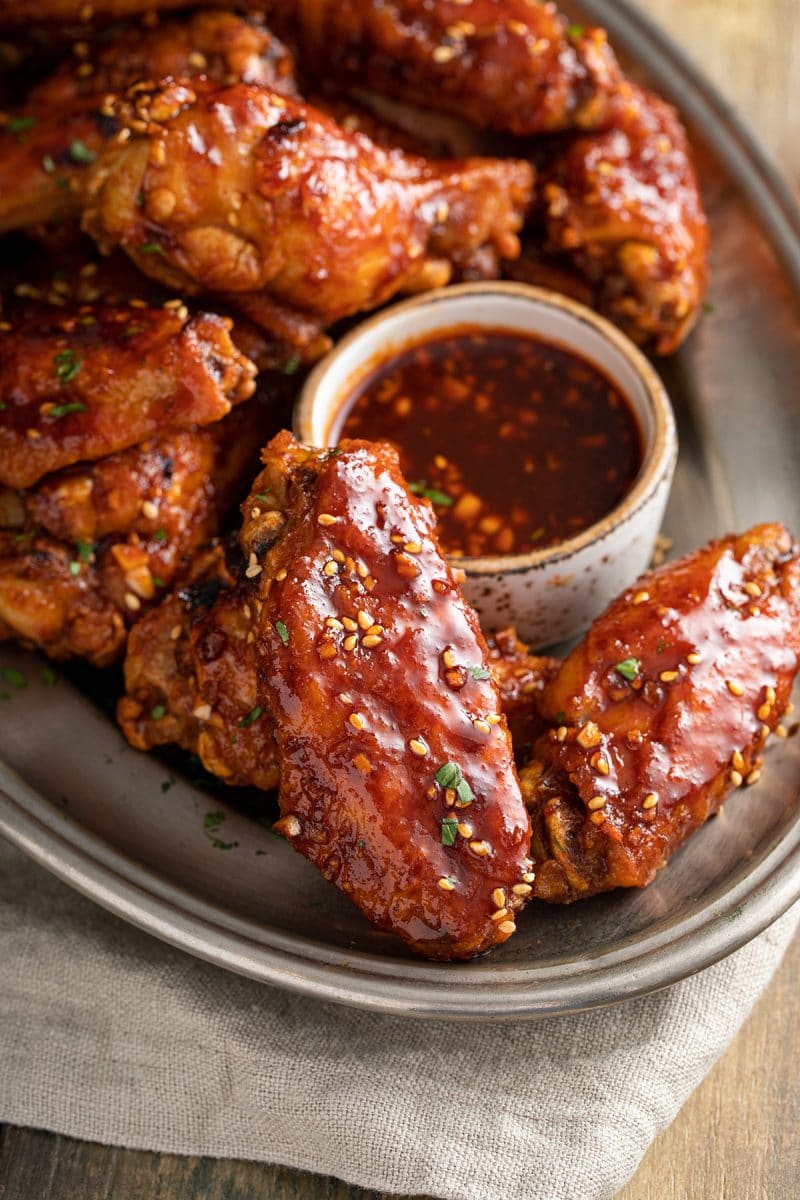 Why You Will Love This Recipe?
Flavor: The irresistibly delicious baked chicken wings have a crispy exterior and are smothered in a rich, sticky, savory, sweet and spicy Korean sauce.
Favorite Appetizer: Korean spicy wings are the perfect appetizer to serve on a weeknight family dinner, during holidays, on Super bowl Sunday or next time you have friends over. These wings are always a huge hit!
Easy with Minimum Clean Up: This baked chicken wings recipe is super easy to make and since you only use a baking sheet and a mixing bowl, cleaning up is a breeze!
Make It Ahead: Both the sauce and the crispy wings can be made ahead.
Baked: These Korean style wings are baked and not fried which make them a healthier option. Like most fried chicken wing recipes these baked wings are cooked to crispy perfection.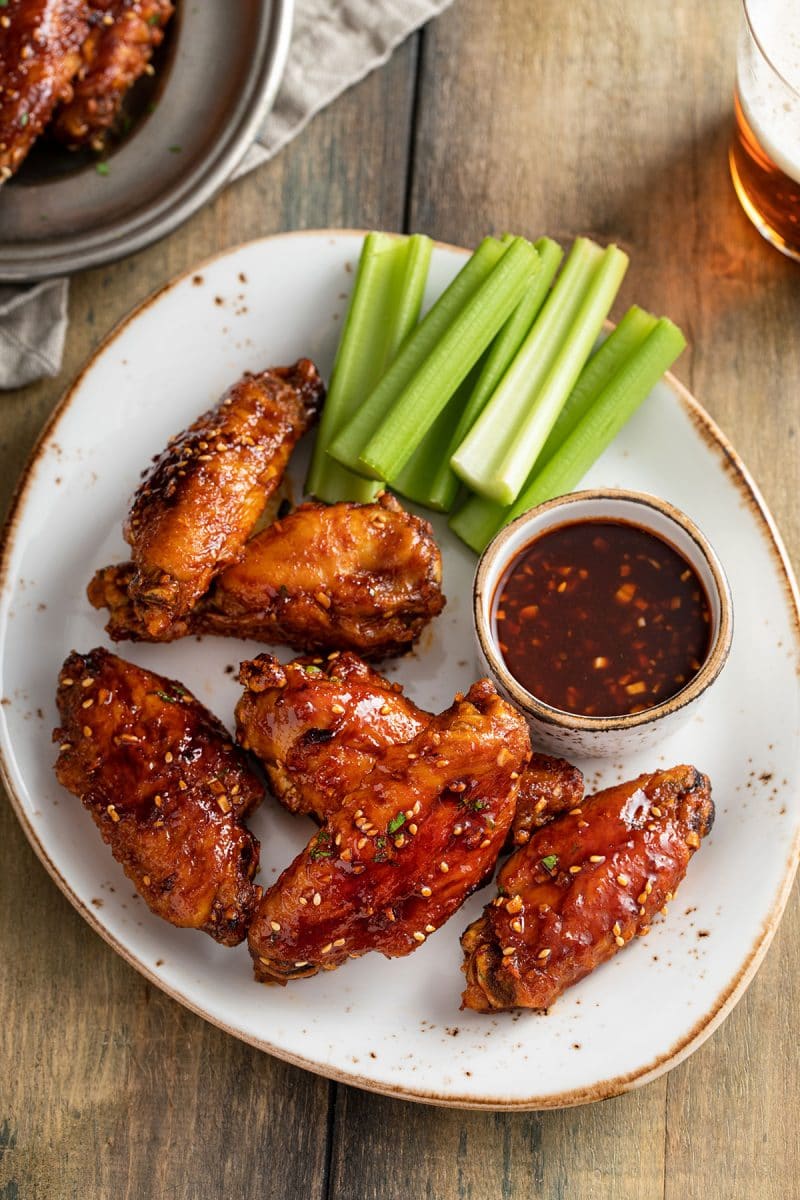 Ingredients To Make Korean Chicken Wings
Be sure to check the printable recipe card below for the complete ingredient's list and their exact quantities. Some of the sauce ingredients are not listed here.
Chicken Wings: At the grocery store you can purchase party wings which include the drummette and wingnette or flat or you can buy whole wings and cut them yourself into 3 sections (the ones mentioned above plus the wing tips) You can reserve the wing tips to make soups or discard them if preferred.
Baking Powder: Instead of using baking powder as a leavening agent for baked goods, in this recipe we use it to get extra crispy skin and accelerate browning. You won't be able to taste the baking powder at all which is great. Make sure you use baking powder and NOT baking soda.
Gochujan: This mildly sweet, savory and spicy Korean ingredient can be found in the Asian aisle of any supermarket. This red chili paste gives Korean recipes their distinct taste.
Soy Sauce: Use regular soy sauce or low sodium. For a gluten-free option use tamari.
Aromatics: Fresh garlic cloves and fresh ginger. For best flavor fresh is best.
Sesame Oil: Use roasted sesame oil which is very aromatic and has a dark honey color.
Honey: To add sweetness to the sauce you can use honey or brown sugar.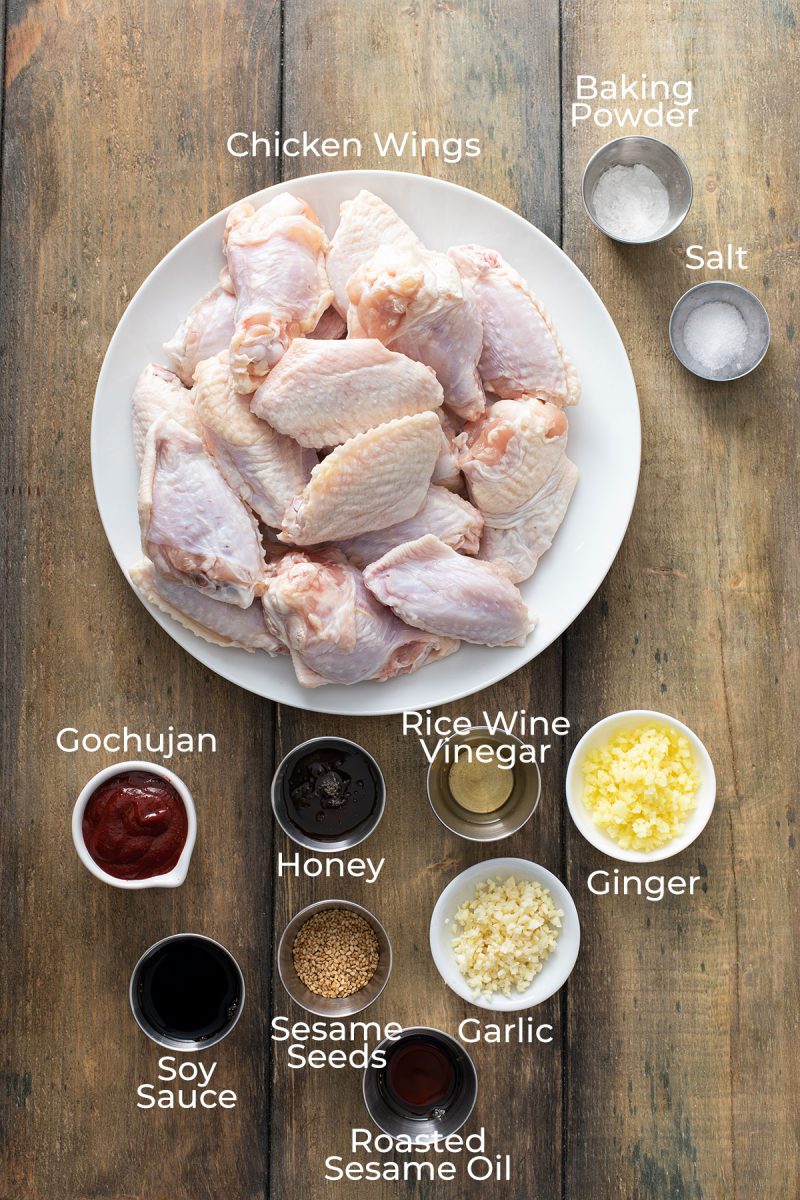 How to Make Korean Chicken Wings?
For detailed instructions and baking times, see the recipe card below.
Pat the wings dry with paper towels. In a large bowl toss the wings with baking powder and salt until evenly coated. For extra crispy skin refrigerate uncovered for 30 minutes. (You can skip this step but the wings won't be as crispy).
Preheat the oven and then place the wings on a single layer on a baking sheet. Bake the wings, flipping them to get them crispy on both sides.
Combine the sauce ingredients and then, toss the baked wings with the sauce to coat.
Broil the wings to caramelize the sauce.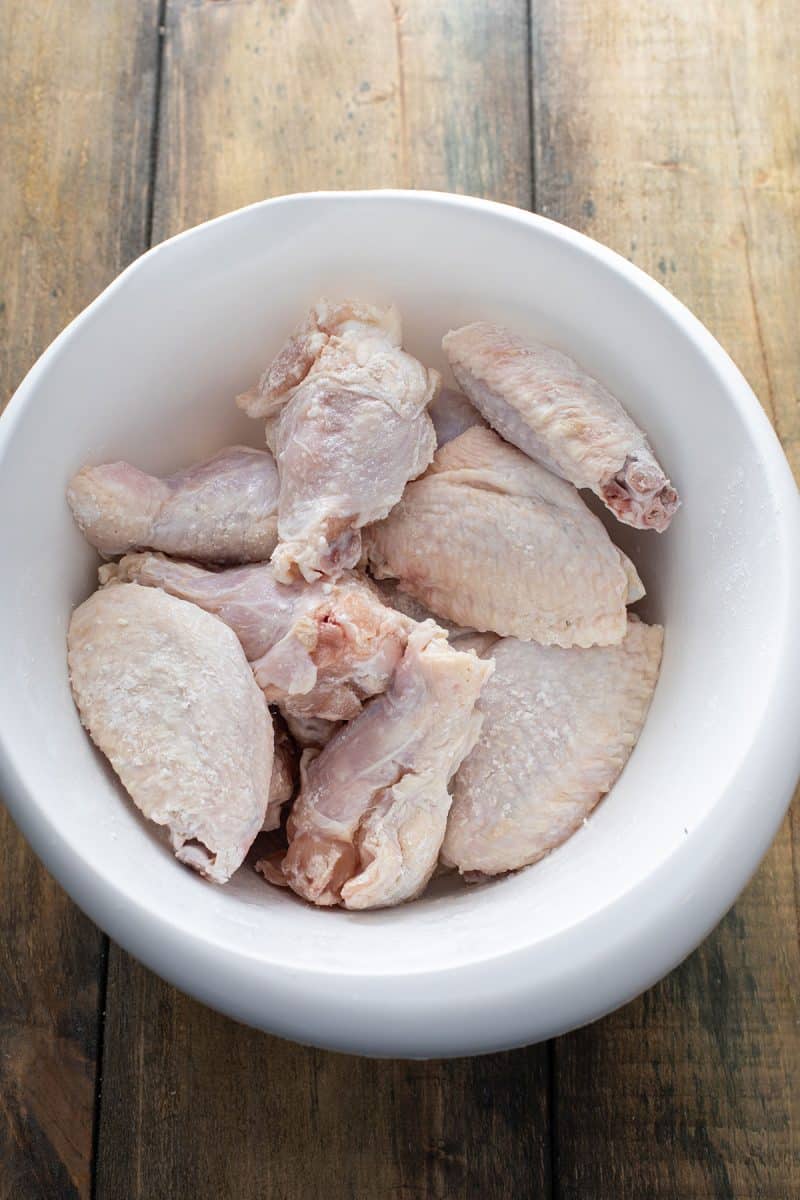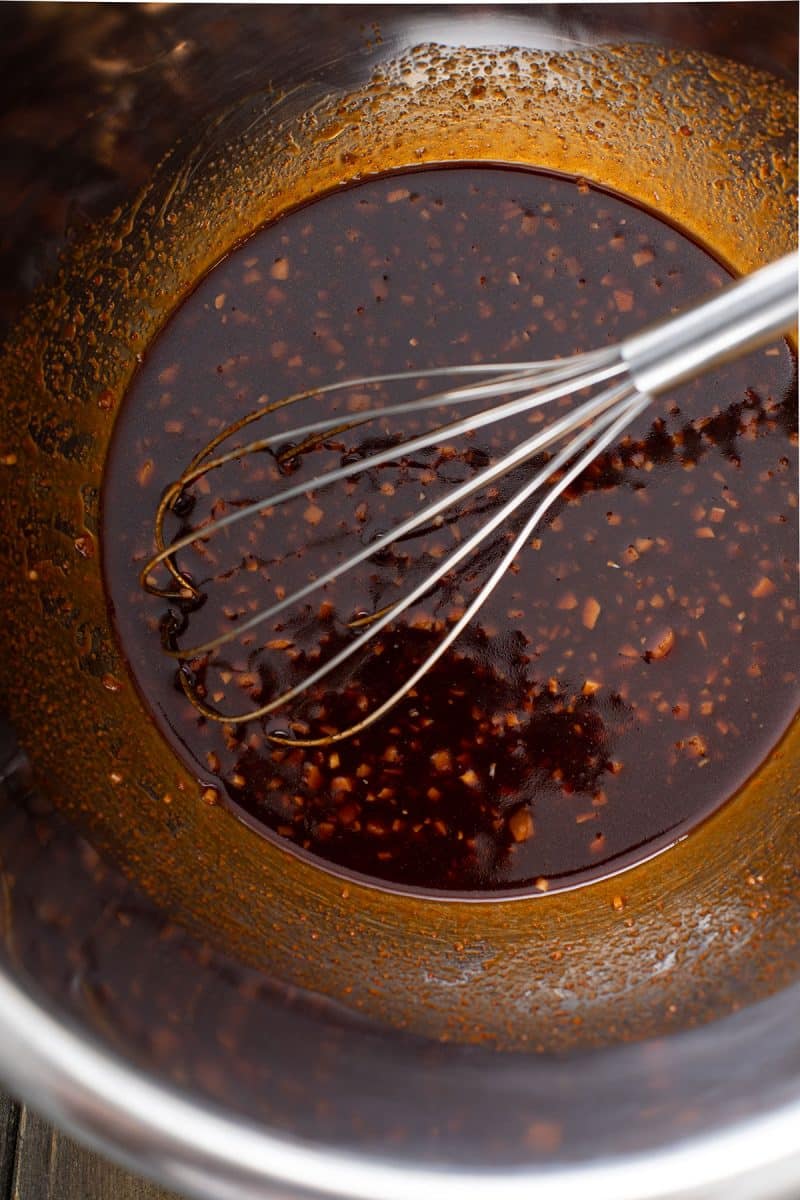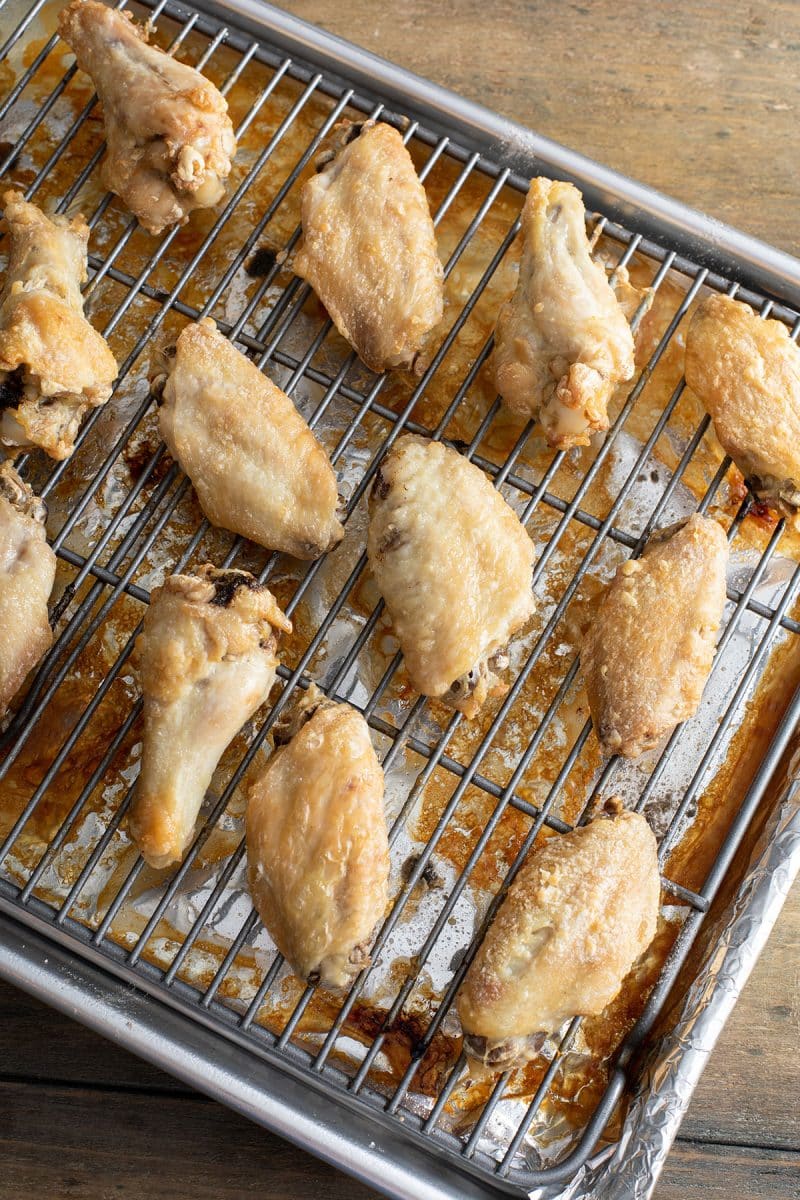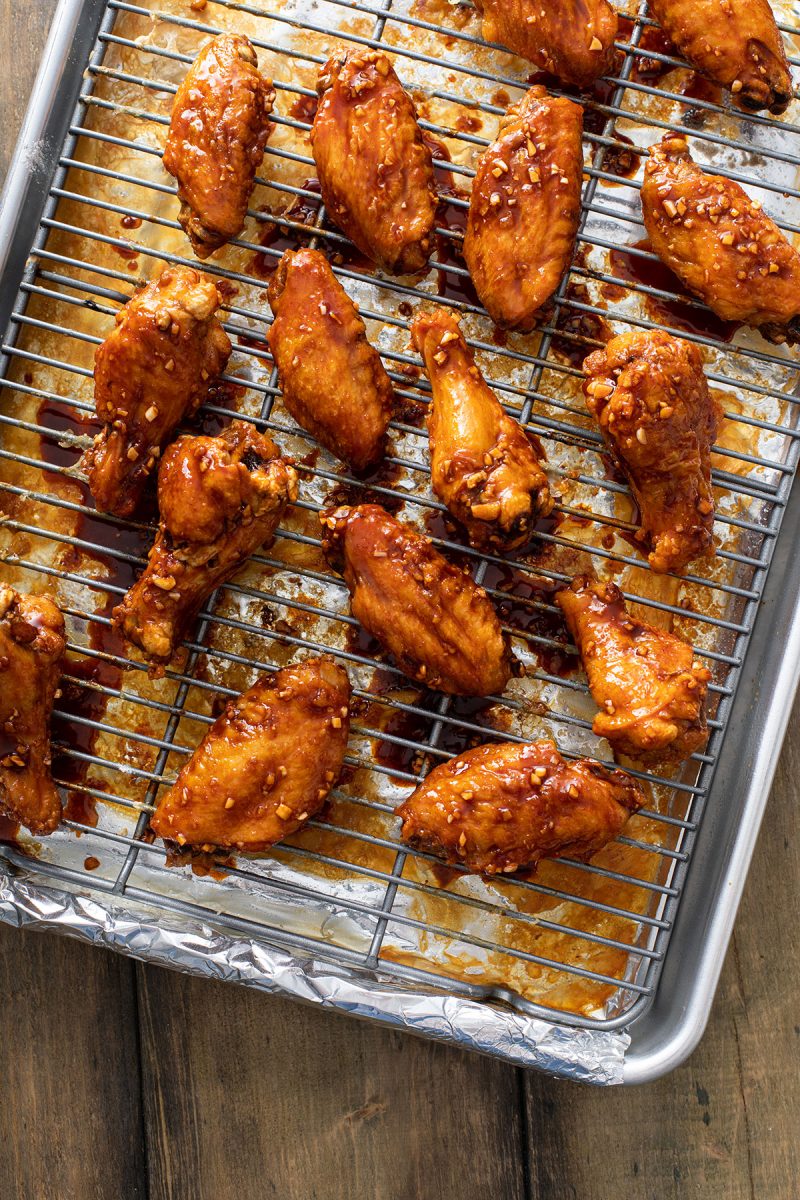 What Is Gochugan?
Gochujan is a red chili paste traditionally used in Korean cuisine. This crimson red ingredient and condiment contains red chiles, glutinous rice (sticky rice) and fermented soybeans. Gochugan paste has bold flavors that are spicy, sweet, savory and full of umami.
How Do You Make Chicken Wings Crispy In the Oven?
The key to crispy wings in the oven is to pat the wings dry with paper towels to remove as much moisture as possible. Baking the wings at high heat is also important. In this recipe the wings cook in a 425º F oven.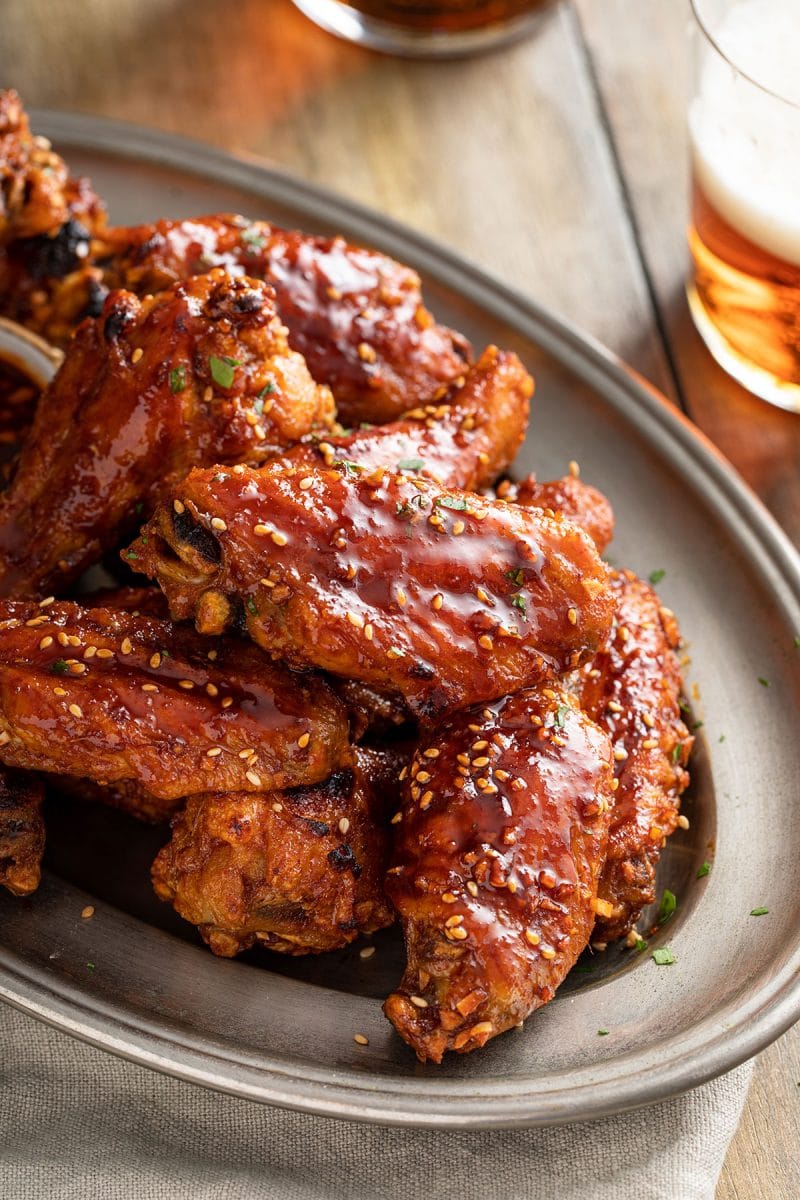 What Kind of Wings Are Best For This Recipe?
Drums (drummettes) and flats (wingnettes) are both delicious and always well received and loved by all.
Can Frozen Chicken Wings Be Used?
Yes, you can use frozen wings to make baked Korean chicken wings. Thaw the wings in the refrigerator before using them.
How Do I Know If The Wings Are Done Cooking?
The most accurate way to tell if the chicken is cooked through, is to test their internal temperature with a meat thermometer inserted into the thickest part of the wing. The chicken is ready when the internal temperature reaches 165º F.
How Spicy Are These Korean Wings?
These delicious wings have a nice kick for sure but, they are not overwhelmingly spicy. You can adjust the heat by cutting down the amount of Gochujan used.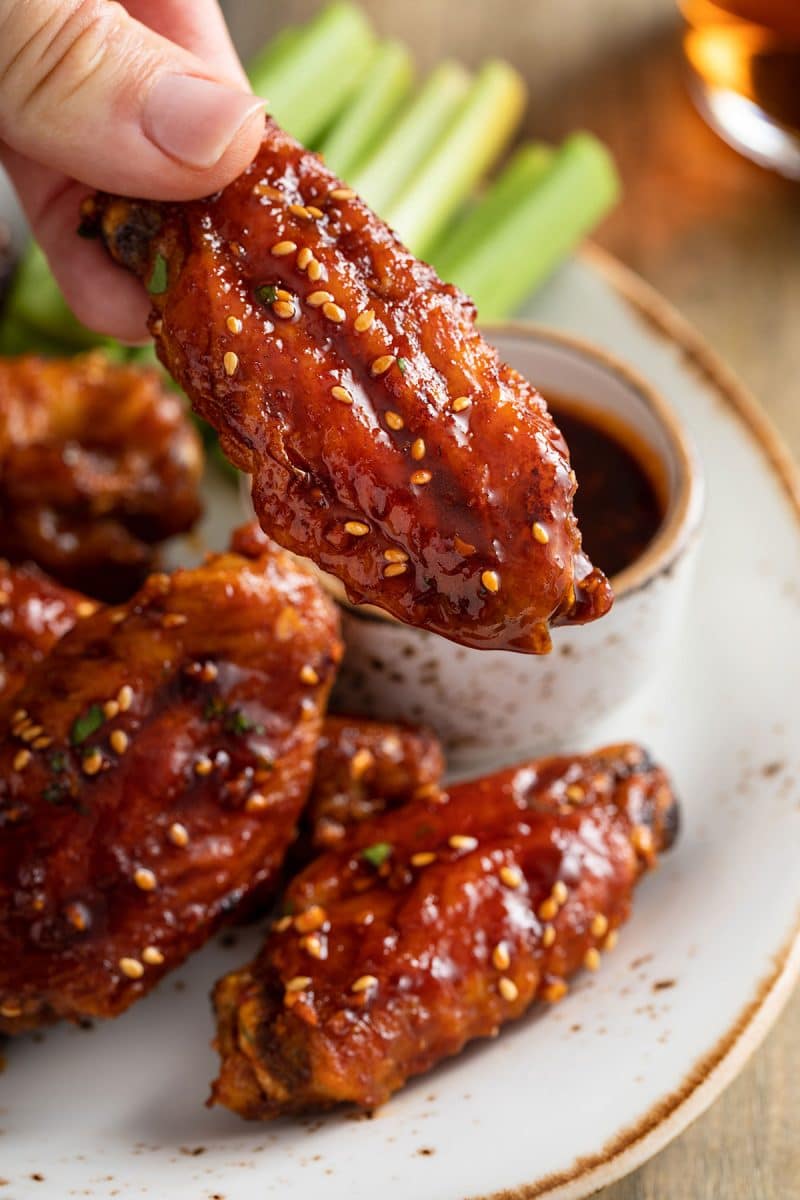 Making Ahead, Storage and Reheating
Making Ahead: Chicken wings are best when served fresh, right after they are done cooking. Try to make them as close to serving time as possible
You can make the Korean wing sauce a day ahead. Keep it stored in an airtight container in the refrigerator. Remove it from the fridge at least 30 minutes before tossing it with the baked wings.
Storage: Store leftover wings in an airtight container in the refrigerator for about 4 days.
Reheating: You can reheat these wings in a preheated oven, in the air fryer or the microwave.
Korean Chicken Wings Tips For Success
Pat dry the wings very well before tossing them with the baking powder.
Don't skip coating the chicken with baking powder. This is key to perfect crispiness.
Use a baking rack over the baking sheet. A wire rack helps with air circulation so the wings get very crispy.
After tossing the wings with the sauce, broil them to get the sauce caramelized.
Some brands of Gochugan are very thick. You can add a few tablespoons of water to the sauce if needed.
If you want your wing extra spicy, add extra Gochujan or red pepper flakes.
Follow me on social media for more recipe ideas & inspiration! Pinterest Facebook Instagram My Newsletter
Baked Korean Chicken Wings
Crispy Baked Korean Chicken Wings are coated in the best sweet and spicy, sticky sauce made with spicy gochujang sauce, soy sauce, honey and sesame oil. Garnish them with sesame seeds and scallions!
Prep: 5 minutes
Rest: 30 minutes
Cook: 1 hour
Total Time 1 hour 25 minutes
Servings 6 servings
Instructions
Line a rimmed baking sheet with aluminum foil and set a wire rack inside. Lightly spray the rack with cooking spray.

Pat the wings dry with paper towels. Place the wings in a large mixing bowl or a resealable plastic bag and add the baking powder and salt. Toss until evenly coated.

Place the wings on the wire rack, leaving a small space between them for air circulation. Refrigerate uncovered for 30 minutes to overnight (You can skip this step but the wings won't be as crispy).

Adjust the oven rack to the upper middle position and preheat the oven to 425 degrees Fahrenheit.

Bake for 25 minutes. Flip the wings and continue to cook until crispy and golden brown, about 25 minutes, flipping once again towards the end of the cooking time.



Meanwhile, combine the sauce ingredients in a mixing bowl large enough to hold the wings. Remove a small amount of sauce to a small bowl for dipping.

Remove the wings from the oven and add them to the larger mixing bowl with the sauce. Toss to coat.

Move the oven rack approximately 8-inches from broiler and broil for about 2 minutes or until desired crispiness. Remove from the oven and garnish with sesame seeds. Serve with the additional sauce for dipping.
Chef's Tips
Some brands of Gochugan are very thick. You can add a few tablespoons of water to the sauce if needed.
Pat dry the wings very well before tossing them with the baking powder.
Don't skip coating the chicken with baking powder. This is key to perfect crispiness.
Nutrition
Calories: 336kcal (17%)Carbohydrates: 13g (4%)Protein: 24g (48%)Fat: 21g (32%)Saturated Fat: 6g (38%)Polyunsaturated Fat: 5gMonounsaturated Fat: 8gTrans Fat: 0.2gCholesterol: 94mg (31%)Sodium: 595mg (26%)Potassium: 266mg (8%)Fiber: 0.2g (1%)Sugar: 10g (11%)Vitamin A: 203IU (4%)Vitamin C: 3mg (4%)Calcium: 22mg (2%)Iron: 2mg (11%)
* Please note that all nutrition information are just estimates. Values will vary among brands, so we encourage you to calculate these on your own for most accurate results.
This post has bee updated to provide better photos and additional information to the reader.