This Thai Red Curry Chicken with Vegetables is easy to make and so flavorful! Thinly sliced chicken and vegetables are simmered in a rich sauce made with creamy coconut milk and red curry paste.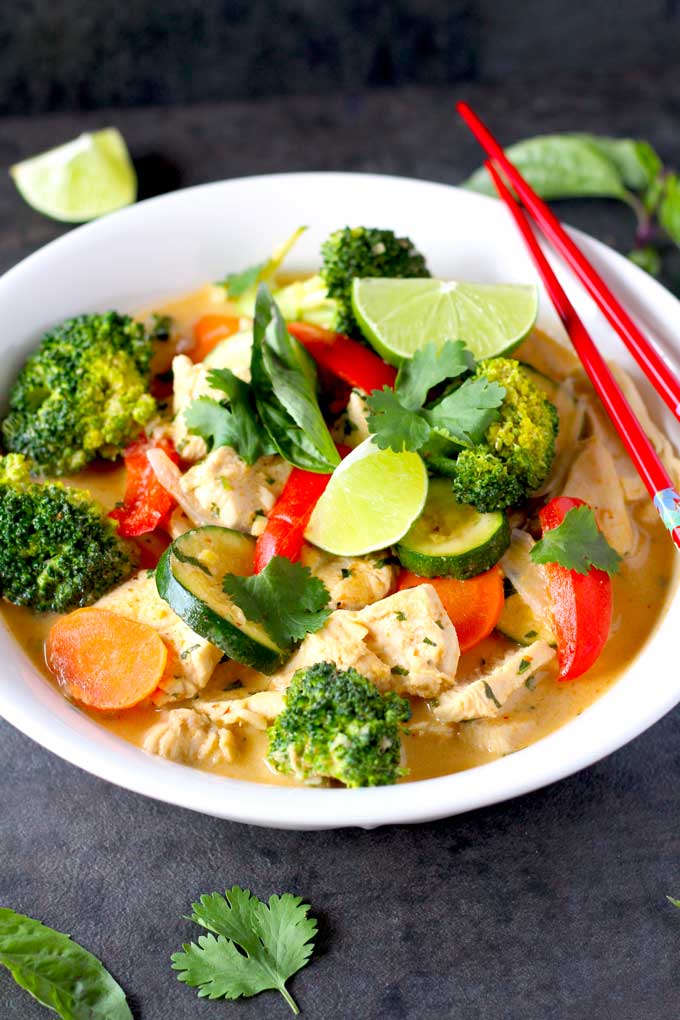 This Thai Curry recipe is one of my go-to-meals. Not only is healthy, comforting and exploding with flavor but it can also be cooked in one pot and in 30 minutes!
I fell in love with Thai food after taking a month long class on Asian cuisine. Thai food recipes were by far my favorites! I have recreated some dishes like Easy Thai Tom Yum Soup, Satay with Spicy Peanut Sauce and Thai Chicken Larb Salad at home. Great restaurant quality dishes made at home are always the best! No take-out needed!
Thai Red Curry – The Ingredients
One can get overwhelmed by the ingredients of any ethnic cuisine. However, the ingredients use on this Thai Red Curry recipe are available in the Asian area of most supermarket. Here is a list of some of the ingredients.
Thai Red Curry Paste packs a lot of flavor and some mild heat. I've been using Mae Ploy Red Curry Paste for years but it seems to me that Thai Kitchen Red Curry Paste is easier to find in most markets. They are both great.
Coconut Milk gives this red curry recipe it's creamy, silky and rich texture. Do not get the "light version" Trust me you are going to love the thick, luscious and delicious sauce you get with regular coconut milk.
Lemongrass is sold in the fresh herbs area. They also sell tubes of lemongrass paste which can be used in any Thai recipe. You can use lime or lemon zest if you can't find lemongrass. If you have a couple of mint leaves, add them too. That will get you closer to the flavor of lemongrass.
Kaffir Lime Leaves this ingredient is hard to find. If you have a local Asian market that is probably the best place to look for them. However, kaffir lime leaves are optional for this recipe.
The Vegetables, use whatever vegetables you have handy. This is a great recipe to make on "clean your fridge" days!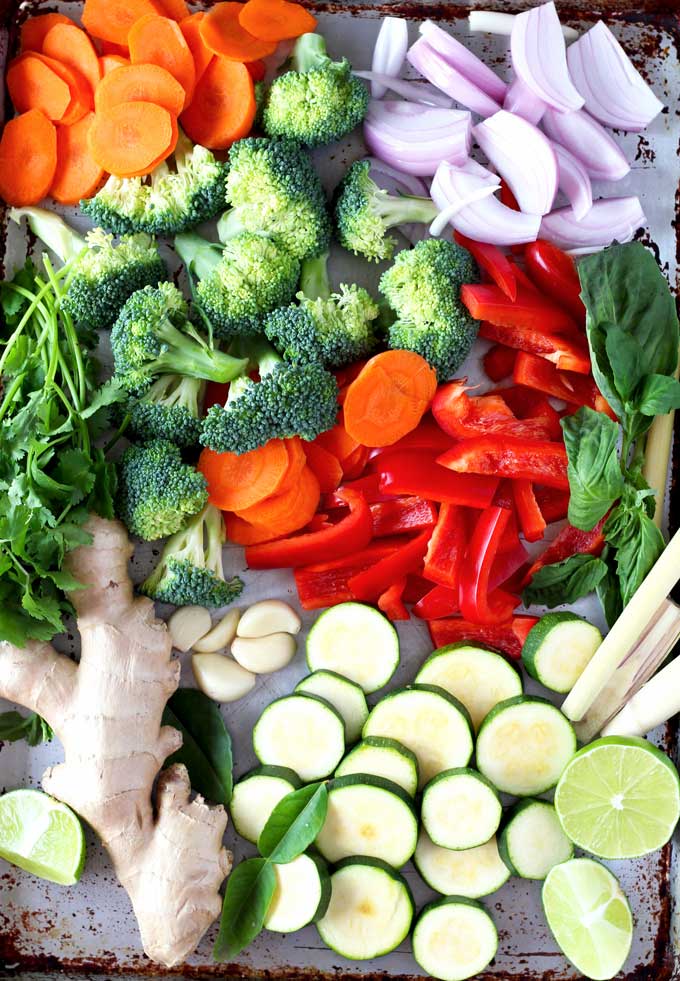 How To Make Red Curry Chicken with Vegetables
This mouthwatering and comforting red curry chicken is such a quick and easy curry recipe. Achieve rich and complex flavors with very little effort. Now that is a winning formula!
Saute the aromatics in oil (garlic, onion, ginger, lemongrass, curry paste)
Add the coconut milk, broth, fish sauce, soy sauce and brown sugar and simmer until the mixture thickens a little bit.
Add the chicken and cook for a few minutes. Add the vegetables and simmer until they are tender. Finish the dish with herbs.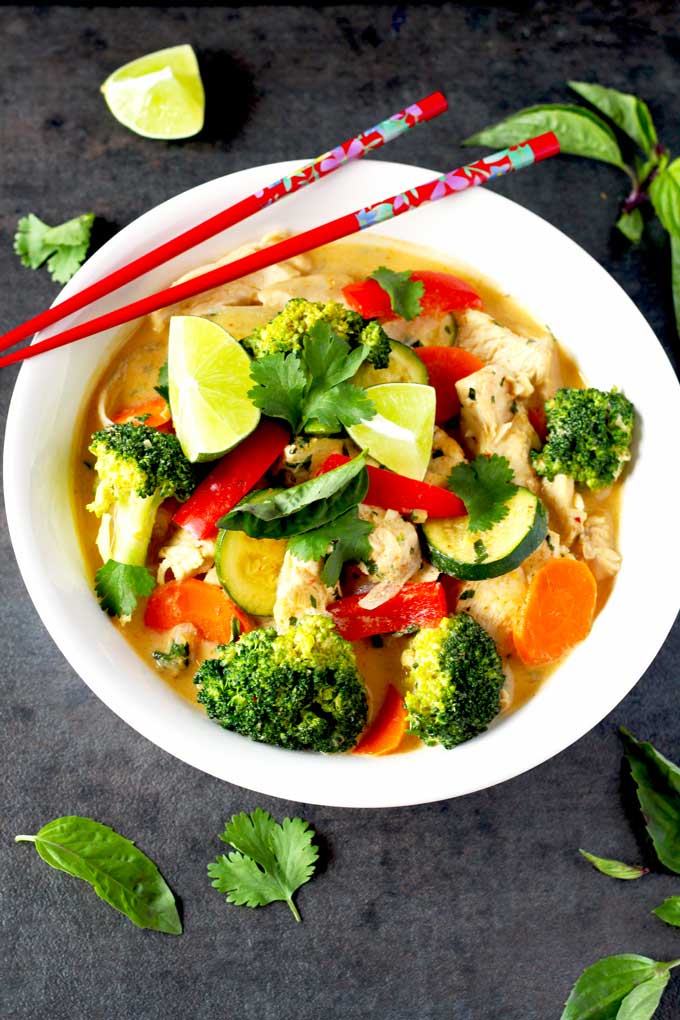 Kathy's Notes
Before serving, remove the lemongrass stalks from the curry. They are woody and not pleasant to eat unless they are very finely chopped.
Both red curry paste and fish sauce keep for a very long time in the refrigerator. Unless a date is indicated, fish sauce can last for years.
If you are not familiar with fish sauce, beware – it doesn't have a pleasant smell. Trust me your food will taste amazing!!
I always serve this curry over rice – to soak up all the deliciousness-curry-ness! (totally a word guys, no need to google it!)
WANT TO TRY THIS THAI RED CURRY CHICKEN RECIPE?
PIN IT TO YOUR DINNER, ASIAN OR CHICKEN BOARD TO MAKE IT LATER!!
FIND ME ON PINTEREST FOR MORE DELICIOUS RECIPES!
Follow me on social media for more recipe ideas & inspiration! Pinterest Facebook Instagram My Newsletter
Thai Red Curry Chicken with Vegetables
This Thai Red Curry Chicken with Vegetables is easy to make and so flavorful! Thinly sliced chicken and vegetables are simmered in a rich sauce made with creamy coconut milk and red curry paste.

Prep: 10 minutes
Cook: 30 minutes
Total Time 40 minutes
Servings 6 servings
Ingredients
1 tablespoon of coconut oil, vegetable oil or olive oil
5 garlic cloves, peeled and finely chopped
1- inch piece ginger, peeled and minced
1 small onion or shallot, sliced
2 stalks lemongrass (white parts only) pounded and bruised
1-2 tablespoons red curry paste
2 cans coconut milk
3 Kaffir lime leaves (optional)
1 cup chicken broth
3 tablespoons fish sauce
1 teaspoon soy sauce or tamari
2 tablespoons brown sugar
2 carrots, peeled and thinly sliced into ¼-inch thick rounds
4 boneless and skinless chicken breasts, cut into thin slices
1 medium red bell pepper, cut into thin strips
1 zucchini, cut into ¼-inch rounds
1-2 cups of broccoli florets
4 sprigs of Thai basil or regular basil, roughly chopped
¼ cup cilantro, chopped plus more for garnish
lime wedges for garnishing
Instructions
Heat the oil in a large heavy bottom pot over medium low heat, add the garlic, ginger, onions or shallots and lemongrass. Saute for 5 minutes stirring frequently making sure the garlic doesn't burn. Add the red curry paste and sauté for a couple of minutes.

Pour in the coconut milk, Kaffir lime leaves (optional), chicken broth, fish sauce, soy sauce and brown sugar. Mix well to combine and bring to a quick boil. Lower the heat and simmer for about 10 minutes or until the sauce thickens a bit.

Add the carrots and chicken and cook for about 5 - 8 minutes. Add the red bell pepper and zucchini and cook for another 4 minutes or until the red bell peppers and zucchini softens. Add the broccoli florets, basil and cilantro. Mix well, cover the pot and cook for a couple of minutes. The broccoli cooks pretty fast so keep an eye on it.


Before serving, remove the lemongrass. Serve garnished with extra basil and cilantro and lime wedges if desired.
Chef's Tips
If you don't have lemongrass you can use ½ teaspoon of  lime or lemon zest.
Nutrition
Calories: 169kcal (8%)Carbohydrates: 13g (4%)Protein: 18g (36%)Fat: 4g (6%)Saturated Fat: 2g (13%)Cholesterol: 48mg (16%)Sodium: 1018mg (44%)Potassium: 624mg (18%)Fiber: 2g (8%)Sugar: 8g (9%)Vitamin A: 4655IU (93%)Vitamin C: 52.1mg (63%)Calcium: 45mg (5%)Iron: 1.1mg (6%)
* Please note that all nutrition information are just estimates. Values will vary among brands, so we encourage you to calculate these on your own for most accurate results.
KEEP IN TOUCH AND NEVER MISS A RECIPE!
If you've tried this or any other of my recipes, don't forget to rate the recipe and to leave me a comment. I love hearing from you!