Steak au Poivre is a classic French recipe made with pan-seared filet mignon encrusted in crushed peppercorns and smothered in a savory and creamy cognac-infused sauce. Simple yet sophisticated, steak au poivre is a meal worthy of any date night, special occasion, or solo treat for yourself.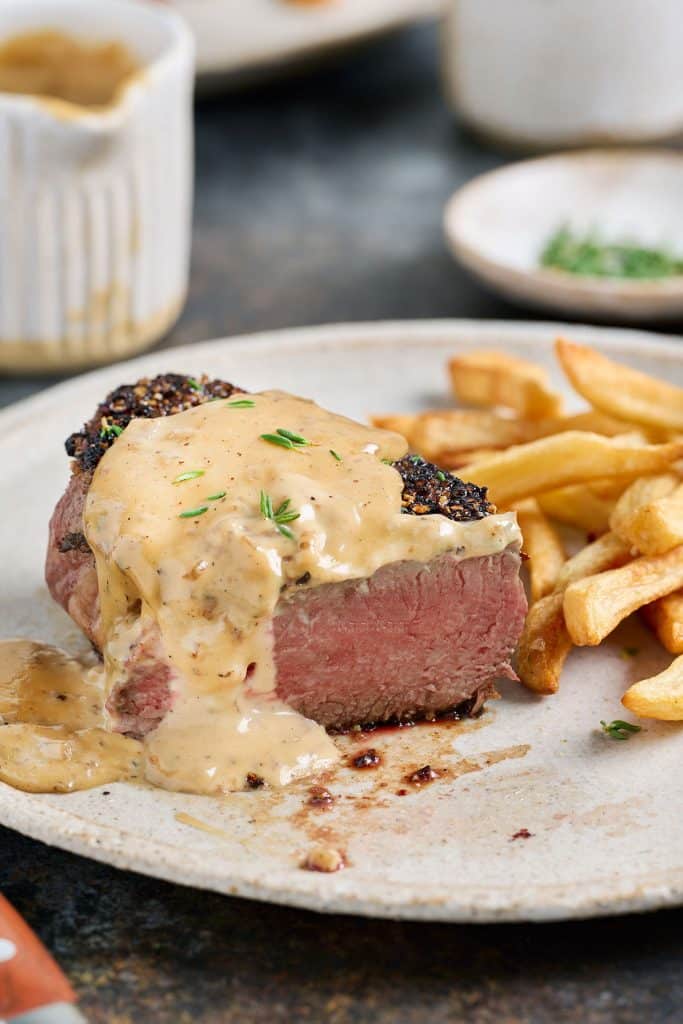 Easy Steak Au Poivre Recipe
Don't be intimidated by the name or the fact that this dish is one of the French classics. Steak Au Poivre or pepper steak looks impressive but it's quite easy to make and comes together quickly.
Beef tenderloin steaks or medallions of filet mignon is seasoned with salt and freshly cracked peppercorns and pan-fried until a nice and crunchy peppercorn crust is formed.
The silky, rich and flavorful pan sauce is made in the same skillet, using the pan juices, cognac or brandy, shallots, butter, and cream.
The flavor of the pepper encasing the steak is surprisingly subtle once paired with the rich and creamy peppercorn sauce.
What Is Steak Au Poivre?
Steak au poivre, pronounced oh pwav-ruh – is, a classic French dish of steak crusted with fresh pepper and seared to the desired doneness. Covered in a quick pan sauce, this classic French preparation is undoubtedly a restaurant-quality meal easy to make at home.
Why You Should Make This Steak Recipe?
Impressive: From the melt-in-your-mouth steak to the aromatic, velvety sauce. This elegant dinner meal is sure to impress any guest.
Easy: Despite how upscale it may seem once served, this dish is actually incredibly easy to execute.
Convenient: Outside of the cognac, the simple ingredients are easy to find at your local grocery store.
Ingredients and Substitutions
For the complete list of ingredients and quantities, check the printable recipe card below.
Filet Mignon: This lean and tender cut of beef is the perfect choice for steak au poivre. Get steaks that are about 1 to 1.5 inches thick. Other cuts like New York strip steak, rib eye and even top sirloin can be used.
Peppercorns: Crack the peppercorns coarsely with a mortar and pestle, the back of a heavy cast iron pan, a meat pounder or a pepper mill. You can use a combination of green peppercorns, white peppercorn and pink peppercorns if you wish.
Olive Oil: Olive oil aids in the searing process and helps to build a flavorful and caramelized exterior.
Butter: I use unsalted butter but salted butter can be used as well. Butter is the key to achieving a rich, velvety sauce.
Shallots: This aromatic adds a mild, sweeter onion flavor without a an onion punch. This ingredient adds depth of flavor to the sauce.
Cognac or Brandy: Definitely gives this dish its character and great flavor. The alcohol in the brandy will burn off leaving a subtle taste. If you don't usually drink, buy a small personal bottle.
Heavy cream: Heavy cream helps to create the rich, luxurious texture of the flavorful cream sauce. Creme fraîche can also be used, although it will add a tangy taste to the sauce. Another option is half and half although which doesn't give the sauce the same richness that heavy cream provides.
Garnish options: Finely chopped parsley or fresh thyme add a pop of color and freshness to the dish.
How Do You Make Steak Au Poivre?
Here's the quick version of how to make this simple au poivre recipe. Find all of the details on the printable recipe card below
Pat the steak dry with paper towels and season steaks with Kosher salt or sea salt.
Coarsely crush the black peppercorns and spread them on a plate. Press the crushed pepper onto both sides of the steaks
Heat oil and butter in a large skillet over medium-high heat. Place the steaks in the hot skillet and cook the first side for about four minutes.
Flip the steaks and cook the second side until you reach the desired internal temperature. Transfer to a plate or cutting board to rest tented with foil.
To make the creamy pan sauce, lower the heat and add the remaining butter.
Sauté the shallots and deglaze the pan with the cognac.
Carefully return the skillet to the heat (the mixture could briefly ignite then, reduce mixture to a glaze .
Add the heavy cream and bring to a boil stirring, until the sauce thickens.
Transfer steak to serving plates and spoon the sauce over top. Garnish and serve.
Make Steak Au Poivre Like a Pro!
Steak: Choose steaks that are 1 to 1.5 inches thick.
Peppercorns: Cracking pepper isn't one of the most exciting kitchen tasks but I promise, it will be worth it. The pepper should be crashed into halves and quarters and obviously you will get a bunch of smaller pieces.
No alcohol: After adding the cognac, allow the sauce to simmer and reduce. This will burn off the alcohol.
A must have: The best way to test steak for doneness is by using an instant-read thermometer.
Carryover Cooking: Remove the steak from the heat once the internal temperature reaches 5 degrees less than the desired temperature for doneness. While resting, the steak's temperature will continue to increase by 5-8 degrees.

Resting: Rest the meat before serving or slicing.

Ready set go: The sauce is ready when it is thick enough to coat the back of a spoon.
Common Questions About Steak Au Poivre
What Does Steak au Poivre Taste Like?
This succulent peppercorn-crusted steak in its creamy sauce laced with cognac melts in your mouth. While the meat is covered in a generous amount of pepper, it is not overly spicy, thanks to the balance of the scrumptious sauce.
What's Au Poivre Sauce Made Of?
The sauce in this classic French dish is made with cracked peppercorns, shallots, butter, cognac and heavy cream.
What Does Au Poivre Means?
The French term "au poivre" refers to a preparation that relies on the inclusion of a large amount of coarsely ground black pepper.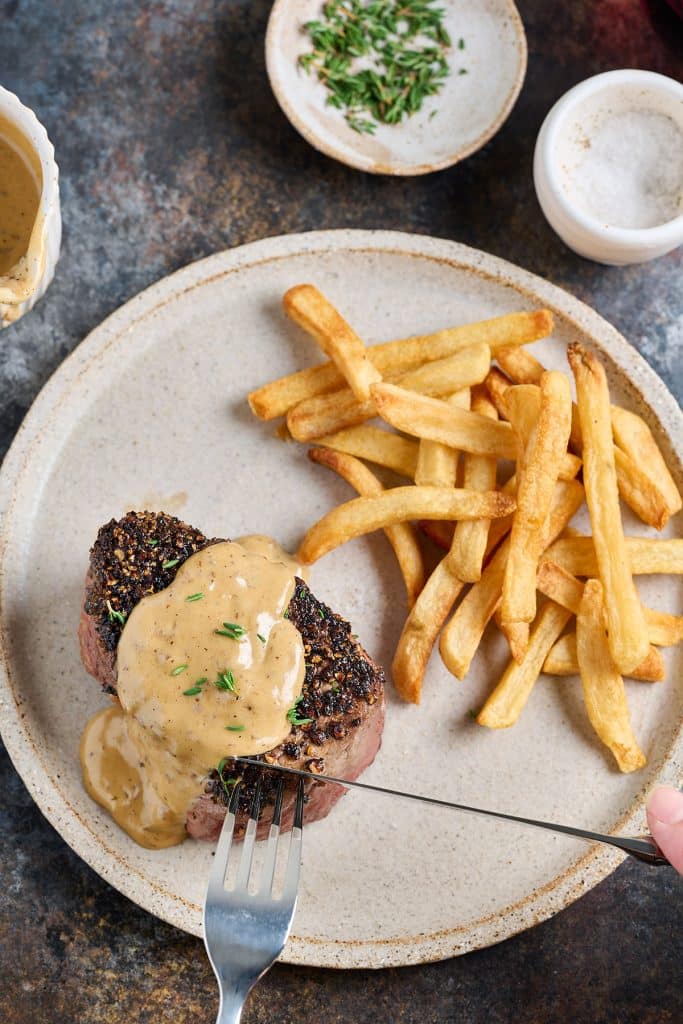 What To Serve With Steak Au Poivre
There are so many savory sides that pair well with steak au poivre. Starches that will complement the steak range from creamy mac and cheese carbonara or cheesy cauliflower gratin to smashed potatoes seasoned with garlic and herbs and creamy mashed potatoes.
In my house, no steak is complete without a generous side of sauteed mushrooms, but you can also add roasted parmesan cauliflower, brussels sprouts with balsamic and bacon, or sauteed peas with prosciutto and shallots to your plate. Or, serve with thin-cut french fries to make steak frites.
And if you enjoy indulging in an adult beverage with your meal, a quality red wine will pair perfectly.
Storing and Freezing Steak Au Poivre
Refrigerator: Once it has come to room temperature, store leftover steak in an airtight container for up to 3 days in the refrigerator.
Freezer: After wrapping the cooked steak tightly in plastic wrap, store in the freezer for up to 3 months.
Follow me on social media for more recipe ideas & inspiration! Pinterest Facebook Instagram My Newsletter
Steak Au Poivre
Steak au Poivre is a classic French recipe made with pan-seared filet mignon encrusted in crushed peppercorns and smothered in a savory and creamy cognac-infused sauce.
Prep: 10 minutes
Cook: 15 minutes
Total Time 25 minutes
Servings 4 servings
Ingredients
4 (6-8 ounces) filet mignon, no more than 1 1/2-inch thick
1 tablespoon whole peppercorns (heaping tbsp)
1 tablespoon olive oil
2 tablespoon unsalted butter divided
1 large garlic clove, smashed (optional)
2 sprigs fresh rosemary or thyme (optional
1 medium shallot finely chopped
1/3 cup cognac or brandy
1 cup heavy cream
Garnish with finely chopped parsley or with fresh thyme leaves optional
Instructions
Pat the steak dry with paper towels and season with salt. Coarsely crush the peppercorns in a mortar and pestle or alternatively, place the peppercorns in a small resealable bag and crush them with a meat mallet or the bottom of a cast iron skillet.

Spread the peppercorns on a plate then, press the crushed pepper onto both sides of each steak evenly.

Add the oil and 1 tablespoon of butter to a large skillet (cast iron work well), and heat over medium-high heat. When the oil is hot and shimmering, place the steaks in the pan and cook undisturbed for about 4 minutes or until a nice golden crust has formed. Flip the steak to cook the other side.

Optional: Lower the heat to medium and add the garlic and fresh rosemary. With a spoon, baste the steak pouring the oil butter mixture over it.

Cook for about 3-4 minutes for medium-rare (135ºF) removing the steak from the pan when it reaches an internal temperature of 130ºF when checked with an instant-read thermometer. (please see chef's notes). Transfer the steak to a plate or cutting board to rest, tented with aluminum foil.

Pour off any excess fat but don't wipe the skillet clean. Lower the heat to medium-low and add the remaining butter. As soon as the butter melts, add the shallots. Cook the shallots, stirring constantly with a wooden spoon, scrapping up the brown bits until the shallots become soft, about 2 – 3 minutes.

Off the heat, pour the cognac and return the skillet to the stove (be careful it may ignite) and boil once again scrapping up the brown bits stuck at the bottom. Cook until the liquid is mostly absorbed by the shallots and reduced to a glaze.

Stir in the heavy cream and bring to a gentle boil, stirring frequently until thickened to sauce consistency, about 4 minutes. Season with salt to taste and stir in any meat juices that accumulated on the plate.
Transfer the steaks to serving plates and serve with sauce pour on top. Garnish with chopped parsley or thyme leaves (optional). Serve immediately.
Chef's Tips
Due to carryover cooking, the filet mignon's internal temperature will rise 5 to 8 degrees while resting, for this reason, remove the steak from the heat when the internal temperature reaches 5 degrees less than the desire temperature. For example, for a medium-rare steak, remove the meat from the heat when it reaches 130ºF.Transfer the meat to a plate and tent it with foil. After resting, the meat should reach 135ºF for perfect medium-rare.
For accuracy, always check the meat's internal temperature with an instant read thermometer.
Nutrition
Calories: 343kcal (17%)Carbohydrates: 4g (1%)Protein: 2g (4%)Fat: 31g (48%)Saturated Fat: 18g (113%)Polyunsaturated Fat: 2gMonounsaturated Fat: 10gTrans Fat: 0.2gCholesterol: 83mg (28%)Sodium: 19mg (1%)Potassium: 116mg (3%)Fiber: 1g (4%)Sugar: 2g (2%)Vitamin A: 1064IU (21%)Vitamin C: 1mg (1%)Calcium: 54mg (5%)Iron: 0.4mg (2%)
* Please note that all nutrition information are just estimates. Values will vary among brands, so we encourage you to calculate these on your own for most accurate results.