Irresistibly creamy Pumpkin Cheesecake Bars made with a layer of rich cheesecake swirled with spiced pumpkin butter and topped with brown sugar oat streusel. A crowd pleasing fall dessert perfect for the holiday season!
Swirl Pumpkin Cheesecake Bars with Oat Streusel
Pumpkin desserts are a sure sign that the fall season has arrived! Colorful leaves, a chill in the air and everything pumpkin spice mark the beginning of one of my favorite seasons, pumpkin season!
These pumpkin bars have a smooth and decadent creamy cheesecake filling swirled with a pre-made pumpkin mixture flavored with warming pumpkin pie spice.
But what makes these easy cheesecake bars a bit different and even more delicious is the crust! Instead of the traditional and buttery graham cracker crust, we use a brown sugar-oats and pecan crust which also serves as a streusel topping.
As much as I like the flavor of graham crackers mixed with melted butter, these delicious pumpkin cheesecake bars are like a combination of pumpkin flavor cheesecake and oatmeal cookies with a bit of crunch from caramelized pecans. I have the feeling these dessert bars will become one of your favorite pumpkin recipes!
Why You'll Love This Pumpkin Recipe
Easy Recipe: You don't need mad baker skills to make these easy pumpkin cheesecake bars! As a bonus, this recipe uses simple ingredients and even shortcut!
Delicious: The scrumptious crunchy streusel or crumb topping with oats and pecans, makes this great recipe even more amazing.
Make Ahead: This recipe can be made ahead which makes it a great thanksgiving dessert and sweet treat to bring to potlucks or bake sales.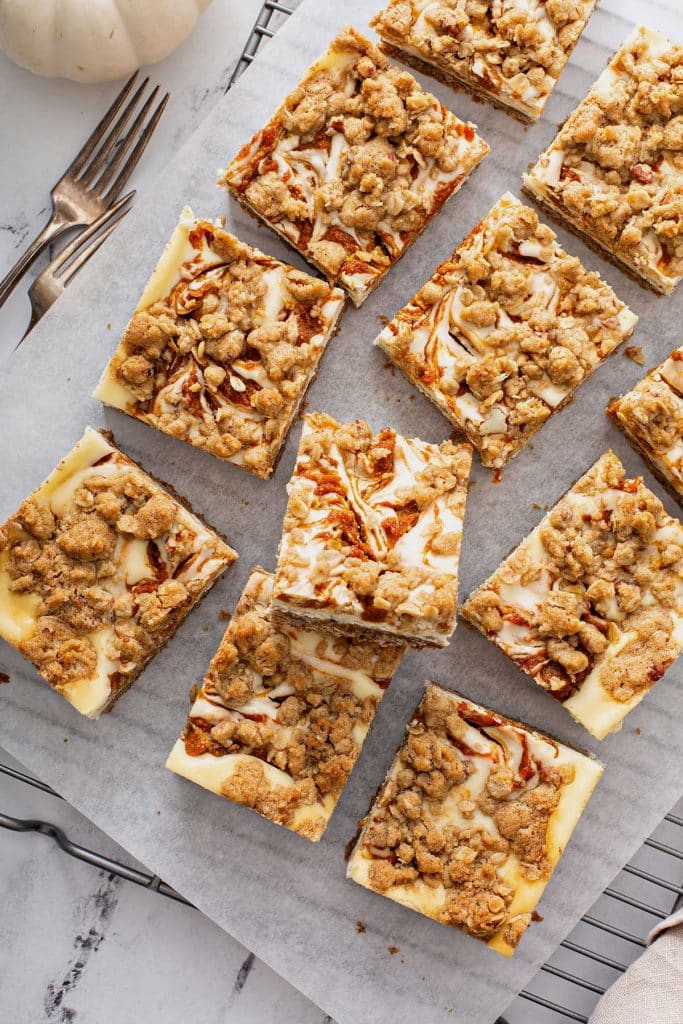 Cheesecake Pumpkin Bar Ingredients and Substitutions
This is not a complete list of ingredients. Be sure to check the printable recipe card below for the complete ingredient's list and their exact quantities.
Flour: I use all purpose flour.
Sugar: Two types of sugar are used in this dessert recipe. Brown sugar gives the crust and crumb mixture a more robust flavor because of the sweet taste of molasses. Granulated white sugar is used on the cheesecake layer.
Pumpkin Butter: Instead of using pumpkin puree or pumpkin pie filling, the cream cheese mixture gets a swirl of pumpkin butter. You can make homemade pumpkin butter or store-bought. This simple shortcut saves time and additional ingredients.
Cream Cheese: For best results use bricks of full-fat regular cream cheese. For a smooth cream cheese filling that combines quickly, use room temperature cream cheese (not cheese spread!)
Oats: I use old fashioned oats.
Flavorings: We use pumpkin pie spice, vanilla extract and sea salt or Kosher salt to flavor these dessert bars.
Pecans: You can use other nuts such as walnuts or almonds.
Butter: This recipe uses unsalted butter at room temperature.
How To Make These Cheesecake Pumpkin Bars?
For specific instructions and times, please check the printable recipe card below.
Make the crust: Instead of using graham cracker crumbs or gingersnap cookies to make the crust, we make a quick batter with flour, oats, brown sugar, salt, baking soda, pumpkin pie spice, chopped pecans and butter. Mix with a mixer until crumbly.
Pre-bake the crust: Reserve some of the oat mixture to use for the crumb topping. Press the rest of the oat mixture in an even layer, into the baking pan.
Mix the cheesecake filling: Beat the cream cheese, granulated sugar, heavy cream and a tablespoon of flour in a stand mixer or using a hand mixer. Add the eggs one at a time mixing after each addition. Pour the cheesecake mixture onto the baked crust.
Pumpkin Swirl: To save some time, pumpkin butter (store-bought or homemade) is swirl through the rich cheesecake. You can use a knife, skewer or a fork to make the swirl.
Sprinkle the oat / pecan streusel topping: Sprinkle the remaining oat batter over the pumpkin swirled cheesecake.
Bake: Bake until golden brown. Cool completely before serving.
How To Know If Cheesecake Bars Are Done?
In this recipe is easier to see if the cheesecake because of the streusel. The cheesecake should be set but not dried. A little jiggle is normal. Also, the streusel will look golden brown and not as if the mixture is raw.
How To Soften Cream Cheese for Baking?
For a smooth cheesecake, mixing the cream cheese when its softened is a must! The best and easiest way to soften cream cheese is to let it sit at room temperature for a couple of hours.
For quicker results you can cut the cream cheese into small cubes. Spread the cubes on a plate or cutting board and let them sit at room temperature for one hour.
You can also use the microwave to soften cream cheese but, just like when microwaving butter, you must make sure you don't let it heat up too much or you'll end up with a pool of cheese.
How To Cut Cheesecake Bars Cleanly?
For nice and neat slices chill the cheesecake for at least 6 hours and cut them with a sharp knife that is a bit warm. To get the knife warm, run it through or dip it into very hot water. Quickly dry the knife with a kitchen towel and cut the cheesecake into squares.
Storage and Freezing
These easy cheesecake bars should be kept in the refrigerator, tightly covered or in an airtight container, for up to 5 days.
For long term storage, freeze the bars for 2 months. I like to portion the bars and individually wrap them. This makes defrosting them easier. Wrap them tightly and place them in a freezer safe resealable bag. Thaw them in the refrigerator overnight. Allow them to sit at room temperature for an hour before eating them.
Recipe adapted from Paula Deen's magazine.
Swirled Pumpkin Cheesecake Oat Bars
To make this swirled pumpkin cheesecake recipe rich and absolutely delicious,, use bricks of full-fat cream cheese. Cream cheese spread should not be used.
For a smooth cheesecake filling, make sure your cream cheese is soften.
You can use homemade or store-bought pumpkin butter.
Cool the cheesecake well before serving.
Take A Look At These Other Pumpkin Recipes:
Follow me on social media for more recipe ideas & inspiration! Pinterest Facebook Instagram My Newsletter
Swirled Pumpkin Cheesecake Bars
Irresistibly creamy Pumpkin Cheesecake Bars made with a layer of rich cheesecake swirled with spiced pumpkin butter and topped with brown sugar oat streusel. A crowd pleasing fall dessert perfect for the holiday season!
Prep: 15 minutes
Cook: 20 minutes
Total Time 35 minutes
Servings 15 bars
Ingredients
2 cups plus 1 tablespoon all-purpose flour
2 cups old-fashioned oats
¾ cups chopped pecans
1/2 teaspoon salt
1 ¼ teaspoons pumpkin pie spice
¾ teaspoon baking soda
1 ¼ cups unsalted butter softened
2 8 ounce packages cream cheese softened
2/3 cup granulated sugar
2 tablespoons heavy whipping cream
2 large eggs
9 ounces pumpkin butter store bought or homemade
Instructions
Preheat the oven to 350 degrees Fahrenheit. Line a 13×9 inch baking pan with parchment paper allowing excess to extend over the sides of the pan. Spray with cooking spray.

In a large bowl stir together 2 cups of flour, oats, brown sugar, pecans, salt, pumpkin pie spice and baking soda. Add the butter and with a mixer at medium low speed beat until crumbly.

Reserve 1 ½ cup of the mixture in a separate bowl. Press the rest of the oat mixture evenly into the prepared baking pan. Bake for about 20 minutes or until lightly brown.

Into a large bowl add the cream cheese, sugar, heavy whipping cream and the remaining 1 tablespoon of flour. With a mixer at medium speed, beat the mixture for about 2 to 3 minutes. Scrape the sides of the bowl and beat again until creamy.

Add the eggs one at a time, mixing well after each addition. Pour the mixture on top of the baked crust. Spoon the pumpkin butter onto the cream cheese mixture. Using a knife swirl them together.

Sprinkle the reserved oat mixture on top.

Bake for about 30 to 35 minutes or until the top is golden brown.

Remove from the oven and let cool completely. When cool, lift the baked bar using the excess parchment paper as handles.

Remove from the pan and cut into bars. Cover and refrigerate for up to 3 days.
Nutrition
Calories: 355kcal (18%)Carbohydrates: 47g (16%)Protein: 6g (12%)Fat: 16g (25%)Saturated Fat: 6g (38%)Cholesterol: 57mg (19%)Sodium: 321mg (14%)Potassium: 208mg (6%)Fiber: 2g (8%)Sugar: 24g (27%)Vitamin A: 2275IU (46%)Vitamin C: 3.6mg (4%)Calcium: 67mg (7%)Iron: 1.8mg (10%)
* Please note that all nutrition information are just estimates. Values will vary among brands, so we encourage you to calculate these on your own for most accurate results.