Snickerdoodles are soft, chewy and buttery cookies covered in cinnamon sugar! This Old Fashioned Snickerdoodle recipe is the absolute best!
Snickerdoodles are my husband's favorite cookie. I always have to bake an extra batch just for him. These soft-baked sugar cookies are dusted in cinnamon sugar goodness and melt in your mouth delicious!
Snickerdoodles is such a timeless and classic cookie recipe that can be served any time of the year. It is also such a great addition to any holiday cookie exchange or bake sales. I usually enlist the help of my little one to make them and he always has a blast forming the little dough balls and rolling them in cinnamon sugar.
Snickerdoodle Recipe Ingredients
Cream of tartar and baking soda combined act as leavening and also give snickerdoodles their distinct and amazing flavor.
All-Purpose Flour
Baking Soda
Cream of Tartar
Butter
Egg
Granulated Sugar
Ground Cinnamon
Vanilla Extract
Salt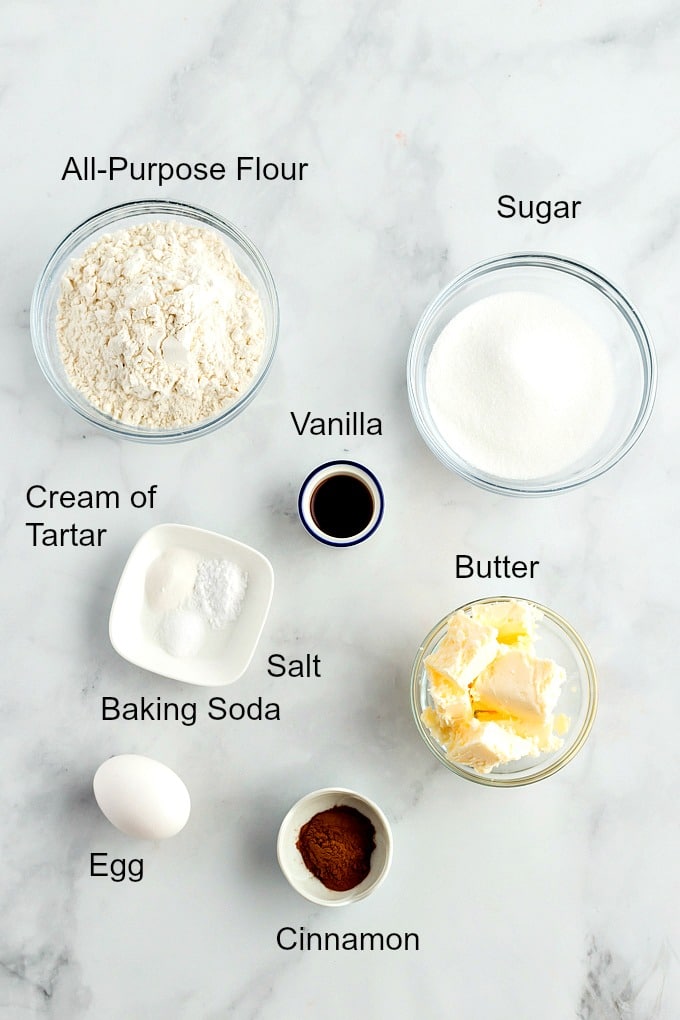 How To Make Snickerdoodles
Sift together the flour, baking soda and cream of tartar.
Cream the butter until light, fluffy and pale yellow.
Add some of the sugar, cinnamon and salt and mix until incorporated.
Add the egg and mix on low. Then slowly add the flour mixture until well incorporated.
Remove the dough from the bowl and make it into a disk. Wrap it with plastic wrap and refrigerate for 30 minutes. Meanwhile, preheat the oven.
Combine the remaining sugar and cinnamon.
Remove the dough from the fridge. Pinch off pieces of dough and roll them into small balls (about 1-inch each).
Roll the dough balls into the cinnamon sugar until nicely coated.
Place the cookie dough balls on a lined baking sheet and bake.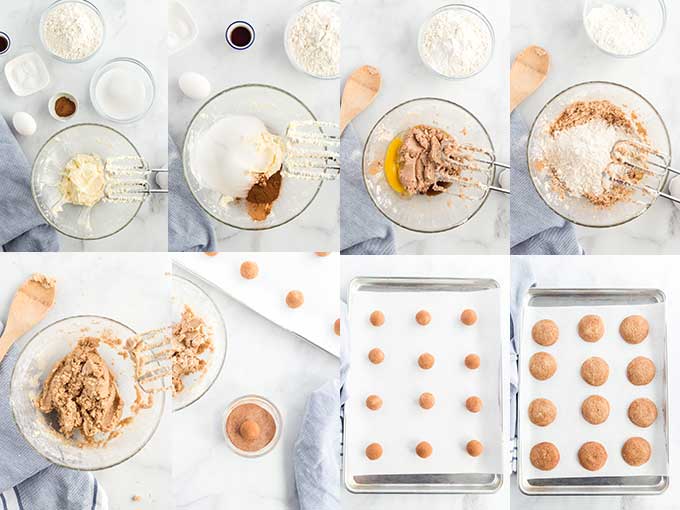 Do You Need Cream of Tartar For Snickerdoodles?
Cream of Tartar gives snickerdoodles it's distinct flavor and incredible texture. These simple cookies are soft and chewy inside, yet they have crispy edges and a crinkly top which make them very unique. Without cream of tartar, these cookies will taste and look more like regular sugar cookies.

However, if you find yourself out of this ingredient, simply use about 2 teaspoons of baking powder and omit both the baking powder and cream of tartar.
Can I Make Snickerdoodles Ahead Of Time? Can I Freeze Them?
Absolutely! You can make the dough ahead of time and keep it wrapped tightly in the refrigerator for about a week. You can also freeze the dough for about 2 months. Make sure you wrap the dough with plastic wrap and place it in a resealable freezer bag or airtight container to prevent freezer burn.
Snickerdoodles are best eaten fresh and they sure never last at my house long enough for me to freeze them. However, yes you can freeze the baked cookies for a month. Make sure you store them in a sealed container or in a freezer bag. Thaw out in the fridge overnight.
Did you know?
Before baking powder was available, bakers made their own leavening agent by mixing baking soda and cream of tartar. The baking soda gets activated by the acidic properties of the cream of tartar creating carbon dioxide. The result is a product like baking powder that has the flavors of authentic old fashion baking.
Tips for Making The Best Snickerdoodles
When it comes to snickerdoodle recipes, the debate is whether you need to chill the dough before baking them. I believe you get better cookies – ones that are thick and wonderfully soft in the middle when you chill your dough. In the past, when I have skipped the chilling part, I had issues with cookies going bit flat. If you don't have 30 minutes to let the dough rest and chill, try to do at least 15 minutes.
If you want the traditional texture of classic snickerdoodles, do not over bake the cookies.
Adjust baking times to get softer or crispier cookies.
I put more than one sheet pan in the oven to bake at a time; (we do that in restaurant kitchens). I just make sure I rotate them throughout the cooking time (the one on top goes to the bottom and the front to the back – rotating 180 degrees)
This is my favorite standing mixer, it comes in all sorts of fun colors A great investment that will last you a lifetime!
Take a look at these brownie-like decadent Double Chocolate Cookies.
Check out these cookie recipes:
Follow me on social media for more recipe ideas & inspiration! Pinterest Facebook Instagram My Newsletter
Snickerdoodles
Snickerdoodles are soft, chewy and buttery cookies covered in cinnamon sugar! This Old Fashioned Snickerdoodle recipe is the absolute best!


Prep: 10 minutes
Cook: 15 minutes
Servings 24 cookies
Ingredients
1 ½ cups all-purpose flour
½ teaspoon baking soda
½ teaspoon cream of tartar
¼ pound 1 stick cold unsalted butter, cut into pieces
¾ cup sugar plus ¼ cup for dusting
1 ½ teaspoons cinnamon plus 1 tablespoon for dusting
1/8 teaspoon salt
1 ½ teaspoon vanilla extract
1 large egg
Instructions
Sift together the flour, baking soda and cream of tartar into a medium bowl. Set aside.

Using a

standing mixer

fitted with the paddle attachment or a

hand mixer

, cream the butter for about 2 minutes or until pale yellow. Scrape down the sides of the bowl. Add the ¾ cups sugar, 1 ½ teaspoons of cinnamon and the salt. Mix on medium speed until well incorporated and smooth. Stop the mixer and scrape down the sides of the bowl.

On low speed, add the egg and mix until well incorporated. Do not over mix. Slowly, add the flour mixture. Mix until all the dry ingredients are well incorporated. Scrape down the sides of the bowl and mix for an additional 30 seconds.

Remove the dough from the mixer and cover it in plastic wrap. Chill in the refrigerator for at least 30 minutes.

Preheat the oven to 350 degrees F. Adjust the rack to the lower third of the oven. Line 2

baking sheets

with

baking mats

or parchment paper.

In a plate or medium bowl, combine the remaining ¼ cup of sugar and the remaining 1 tablespoon of cinnamon. Remove the chilled dough from the refrigerator. Pinch off pieces of dough and form them into 1 – inch balls.

Roll the balls of dough into the cinnamon sugar until nicely coated. Place them in the baking sheet 2 inches apart from each other. They will expand.

Bake for 12 to 15 minutes or until the cookies look firm and dry, turning the

baking sheet

front to back halfway through the baking. Remove from the oven and carefully with a baking spatula place the cookies in a cooling rack. Cool for at least 5 minutes before serving and 25 minutes before storing in an airtight container.
Chef's Tips
The dough will keep well in the refrigerator for up to a week. Just make sure is properly wrapped in plastic. You can freeze the dough for up to 1 month, tightly wrapped in plastic wrap and place inside a freezer zip top bag.
Nutrition
Calories: 48kcal (2%)Carbohydrates: 5g (2%)Fat: 3g (5%)Saturated Fat: 1g (6%)Cholesterol: 13mg (4%)Sodium: 57mg (2%)Potassium: 10mgSugar: 4g (4%)Vitamin A: 100IU (2%)Calcium: 2mg
* Please note that all nutrition information are just estimates. Values will vary among brands, so we encourage you to calculate these on your own for most accurate results.