This Chickpea Salad is loaded with crisp cucumbers, juicy tomatoes, tasty onions, Kalamata olives, green bell peppers and creamy Feta cheese. Tossed in a simple Greek Salad Dressing, this Mediterranean Chickpea Salad is fresh and super easy to make.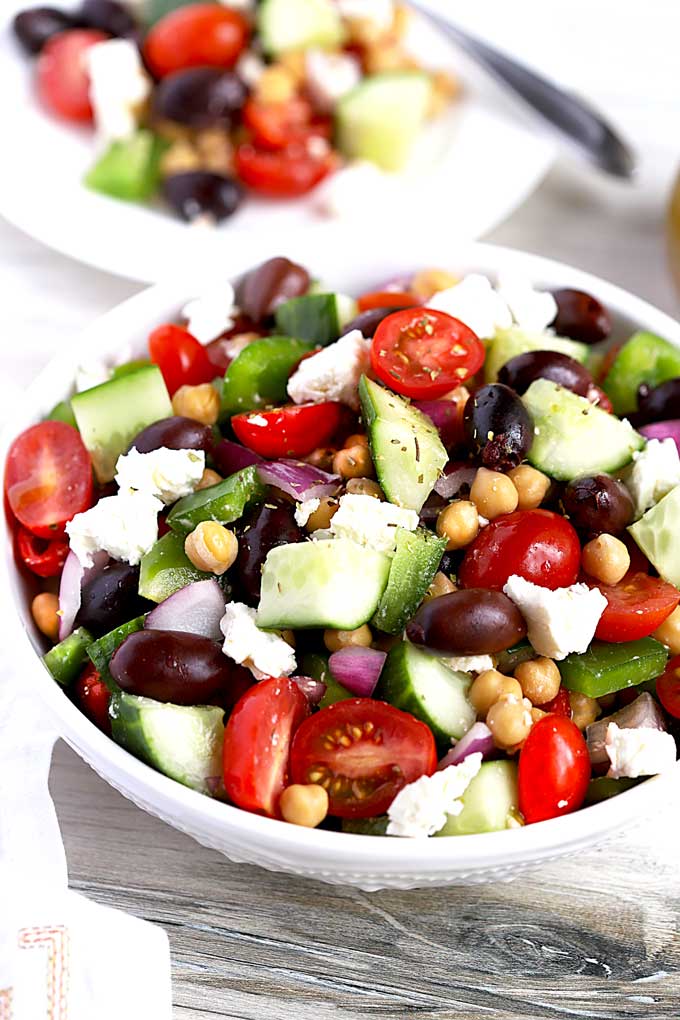 Chickpea Salad or Garbanzo Bean Salad is one of our favorite salad recipes. This simple salad is nutritious, rich in protein, fresh, vibrant and can be made in very little time without much effort. That pretty much covers all the requirements for an amazing healthy salad!
Ingredients to Make Mediterranean Chickpea Salad
In the spirit of an authentic Mediterranean or Greek Salad, I like to cut the vegetables into big bite size pieces or large diced. You can choose to dice your veggies smaller if you prefer, but honestly the only thing I keep on a smaller size is the red onions because my kids complain when I serve them big chunks of onion.
Canned Chickpeas (Grabanzo Beans), drained
Cherry or Grape Tomatoes, if using cherry tomatoes, I like to cut them in half. You can keep tiny tomatoes whole.
Seedless Cucumbers, also known as English cucumbers. This type of cucumber has very thin and tender skin so peeling them isn't necessary.
Green Bell Pepper, traditional in Greek salads, use any other color if you wish.
Red Onions, these onions are so tasty and add such beautiful color to the salad.
Kalamata Olives, pitted. You can keep them whole or cut them in half lengthwise.
Feta Cheese, I prefer buying a chunk of cheese than buying the cheese already crumbled. I think pre-crumbled cheese tends to get dry.
Greek Salad Dressing, this Mediterranean style dressing is super easy to make and so flavorful.
How To Make Chickpea Salad
Gather all your ingredients and place them in a large bowl. Drizzle the vinaigrette, toss and you are done! This delicious chick pea salad is ready to serve or to store in the refrigerator to be used for meal prep, lunches, etc.
Frequently Asked Questions, Tips and Notes about this Garbanzo Bean Salad
Are chickpeas and garbanzo beans the same thing?
Yes. This legume is known in the US as chickpeas and in Europe as garbanzo beans. Garbanzo beans and chickpeas are a legume from the same plant.
Are chickpeas good for you?
Chickpeas are full of nutrients, vitamins and minerals. Garbanzo beans or chickpeas are a great source of plant-based protein. Experts say that they help control sugar levels and protect against heart disease and cancer. Chickpeas also make you feel full so they are great help when trying to lose weight.
Is this a Make-Ahead Salad?
Yes, you can make this salad ahead of time. Cover it and store it in the refrigerator for 3 – 4 days.
This salad is so versatile that I often make changes and use some of the ingredients I have handy. I like to add avocados, roasted red peppers (instead of green bell peppers), parsley, cooked quinoa, cooked pearl couscous or cooked farro. By adding grains or pasta, you guarantee a filling and healthy dinner salad for everyone!
Serve this healthy and delicious salad with Tzatziki Sauce, pita bread or pita chips as an appetizer at your next game day or dinner party, or making it a dinner by adding these amazing Baked Greek Meatballs.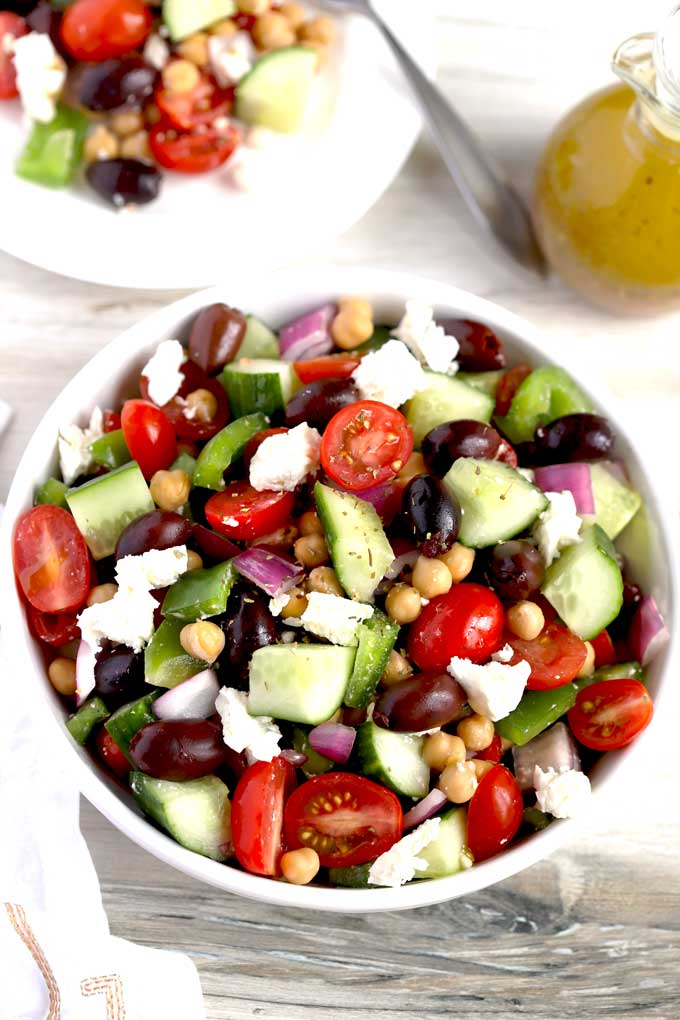 ---
WANT TO TRY THIS MEDITERRANEAN CHICKPEA SALAD RECIPE?
PIN IT TO YOUR SALAD BOARD TO MAKE IT LATER!!
FIND ME ON PINTEREST FOR MORE DELICIOUS RECIPES!
Follow me on social for more recipe ideas & inspiration! Pinterest Facebook Instagram My Newsletter
Greek Chickpea Salad
This Chickpea Salad is loaded with crisp cucumbers, juicy tomatoes, tasty onions, Kalamata olives, green bell peppers and creamy Feta cheese. Tossed in a simple Greek Salad Dressing, this Mediterranean Chickpea Salad is fresh and super easy to make.
Prep: 15 minutes
Total Time 15 minutes
Servings 6 servings
Ingredients
1 (15 ounces) can chickpeas (garbanzo beans), drained
1 cucumber, unpeeled large-diced *see notes
1 pint cherry or grape tomatoes, halved
1 green bell pepper, seeded and large-diced
1/3 cup red onion, diced *see notes
1/2 cup Kalamata olives, pitted and cut in half
4-6 ounces Feta cheese
1 recipe Greek Salad Dressing
Instructions
Place all the ingredients, except the salad dressing in a large bowl.

Drizzle the vinaigrette over the salad and toss. Serve.
Chef's Tips
Seedless cucumbers (English/hothouse) have thin skin and can be left unpeeled. 
Usually I can only find huge red onions at the market. I usually use 1/4 of an onion for this recipe (in case you don't want to measure.
I buy feta cheese whole (usually 4-5 ounces container) and crumble it myself. I enjoy big crumbles for this salad.
You can store the salad covered in the refrigerator up to 3-4 days.
Nutrition
Calories: 121kcal (6%)Carbohydrates: 8g (3%)Protein: 4g (8%)Fat: 8g (12%)Saturated Fat: 3g (19%)Cholesterol: 16mg (5%)Sodium: 396mg (17%)Potassium: 304mg (9%)Fiber: 1g (4%)Sugar: 4g (4%)Vitamin A: 635IU (13%)Vitamin C: 36mg (44%)Calcium: 120mg (12%)Iron: 0.9mg (5%)
* Please note that all nutrition information are just estimates. Values will vary among brands, so we encourage you to calculate these on your own for most accurate results.
NEVER MISS A RECIPE!
If you've tried this or any other of my recipes, don't forget to rate the recipe and to leave me a comment. I love hearing from you!