Last updated on October 1st, 2019 at 10:17 pm
These Stuffed Crescent Rolls got a spooky makeover right in time for your next Halloween dinner party! These Halloween Icky Intestines are insanely tasty and ghoulishly fun!
These icky intestines are made with crescent rolls filled with turkey, marinara and cheese. They taste a lot like pizza which makes them kid-friendly and a crowd pleaser.
My family loves celebrating Halloween. As much as I love cutesy decorations, my husband and boys think Halloween is all about scary and gory. No cute pumpkins with witch hats at my house. Instead, you will find skeletons, gross creatures, creepy crawlers, scary masks and ugly witches hanging from the ceiling!
To keep the boys happy, I decided to make a Halloween recipe that looks eerie and gory. These Stuffed Crescent Rolls shaped like icky intestines are the perfect Halloween food to serve for a fun dinner or Halloween party.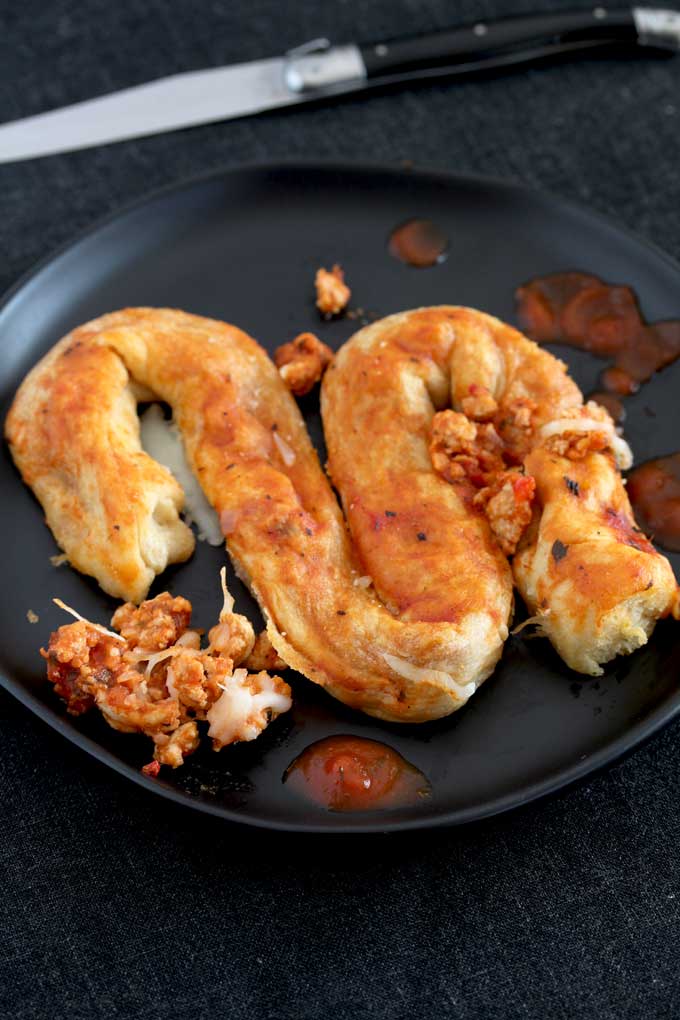 How To Make This Halloween Recipe
This Halloween recipe is very tasty. The ingredients were chosen because of the way "they look" more than anything. Feel free to switch things around as you please.
For these stuffed crescent rolls, I use crescent dough sheets.
I decided to use ground turkey because the light color of the meat looks more like "guts". Feel free to use ground chicken, ground pork or ground beef.
I also added finely chopped red onion and red bell peppers, because when cooked they look like chunky blood.
The filling is so easy to make. Saute the onions and bell pepper, add the ground turkey and brown until cooked through.
Add seasonings and the marinara sauce.
Cut the crescent dough sheets into 3 strips. This doesn't have to be perfect! I didn't measure anything. We are making fun Halloween intestines!!
Place a little bit of cheese in the middle of the crescent roll strip. Top with the ground turkey mixture.
Fold and pinch the dough together.
Don't add a lot of filling so you can easily seal the "intestine tubes"
Now the fun part! Shape the stuffed crescent rolls like intestines (I actually pulled Google photos for inspiration).
Pinch the rolls together to create a long looking intestine.
The dough will expand when it bakes so give the roll room to grow.
Before baking them, I brush the crescent rolls with garlic butter for extra flavor.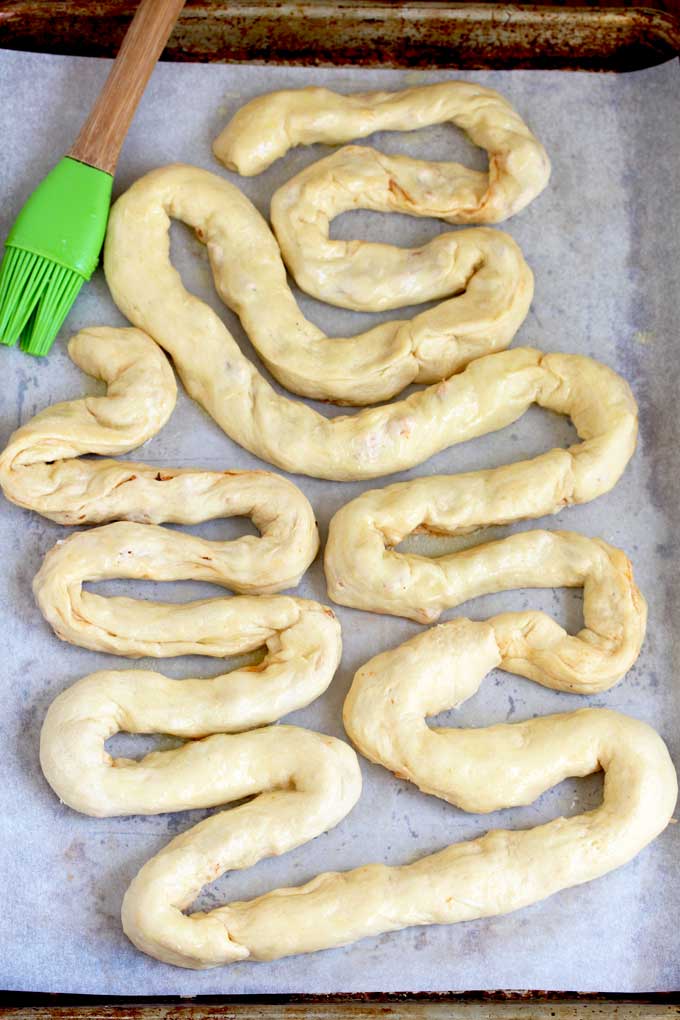 A few minutes before the baking is done, I brush the rolls with some marinara (for a bloody look) and arrange the leftover turkey mixture around the puffed baked "intestines" (guts) and top it with some mozzarella (pus).
The most important thing to remember about this Halloween recipe is to have FUN! Enlist the help of family members and just go for it! It doesn't have to be perfect but I can guarantee it will be delicious!
---
And if you are looking for a sweet treat check out this fun recipe for "Zombie Guts" Halloween Cinnamon Rolls they are the most delicious and spooky red velvet cinnamon rolls ever!
---
Kathy's Notes
---
WANT TO TRY THIS HALLOWEEN ICKY INTESTINES RECIPE?
PIN IT TO YOUR HALLOWEEN BOARD!!
FIND ME ON PINTEREST FOR MORE DELICIOUS RECIPES!
The inspiration for this recipe came from this post
KEEP IN TOUCH AND NEVER MISS A RECIPE!
If you've tried this or any other of my recipes, don't forget to rate the recipe and to leave me a comment. I love hearing from you!