Last updated on October 23rd, 2019 at 08:26 pm
This Coconut Curry Soup is infused with ginger, garlic, red curry paste and coconut milk. Loaded with succulent shrimp and vegetables, this tasty Thai soup is easy to make and ready in under 30 minutes!
I love easy soup recipes like this Coconut Curry soup. This simple Thai soup is bursting with flavor and tastes just like soup from a Thai restaurant – no need for takeout when you can make this delicious Thai Coconut soup at home.
I wish I could take complete credit for this recipe but the truth is, I found it at Lisa's Dinner Time Dish.  I was given Lisa's website for the Fall version of Freaky Friday. As soon as I saw this rich and creamy Thai Coconut soup, I knew I had to make it!
So what is Freaky Friday? It's a super fun blog hop that my friend Michaela from An Affair from the Heart organizes once a season.  Michaela secretly assigns each one of the participants a food blog to cook or bake from.
Then on one selected Friday, all of our posts go live at the same time. That is when we all discovered what foodie friend everyone got! Getting to cook a friend's recipe is so exciting and keeping it a secret is sometimes so hard – especially when all you want to say is "OMG your recipe is awesome!!"
If it wasn't for my absolute love for Thai recipes, the task of finding just one recipe to make from Lisa's Dinner Time Dish would have been almost impossible! Her site is full of delicious recipes that are easy to make and also budget friendly.
Lisa's simple approach and passion for cooking makes you want to jump into the kitchen and start cooking! Take a look at her Beer Braised Pot Roast and these amazing Perfect Dinner Rolls. I seriously want that for dinner!
Although I haven't met Lisa personally (yet), I can tell she loves what she does because it shows in her delicious recipes.  I am so excited we will get to meet in a few months, I cannot wait to see her and shout – Lisa, this Coconut Curry Soup is the best soup ever!
---
TAKE A LOOK AT ONE OF MY MOST POPULAR THAI RECIPES –  THAI TOM YUM SOUP (HOT AND SOUR SOUP)
---
Ingredients for this Thai Coconut Soup
This soup is made with very simple ingredients readily available in any supermarket. Check the Asian food isle for some ingredients.
OIL: I love using coconut oil in recipes that include coconut milk however, peanut or vegetable oil can be used. The amount is so little that even olive oil will work.
MUSHROOMS: I used button white mushrooms, however Lisa's recipe calls for shitake mushrooms. Both are good options.
GARLIC: Fresh minced garlic is a must.
GINGER: Minced or grated fresh ginger or ginger paste work well.
RED CURRY PASTE: Thai Red curry paste packs a lot of flavor and some mild heat. I've been using Mae Ploy Red Curry Paste for years but it seems to me that Thai Kitchen Red Curry Paste is easier to find in most markets. They are both great.
COCONUT MILK: This gives this seafood soup it's creamy, silky, rich texture. Do not get the "light version". Using regular coconut milk is a must.
FISH SAUCE: Do not get turned off by the smell of fish sauce! It is a strong and unpleasant smell but – oh boy does that stuff deliver flavor!
BROTH: Chicken or seafood broth are good options for this Asian soup.
SHRIMP: Medium or large peel and deveined shrimp are perfect for this recipe. Remove the tails for easy slurping!!
How To Make Coconut Curry Soup with Shrimp
In a large pot or Dutch oven, saute red bell peppers and mushrooms.
Add the minced garlic and ginger and cook until they become aromatic (about a minute).
Add the red curry paste.
Add the broth, soy sauce, fish sauce, coconut milk, pepper and brown sugar. Mix well and bring to a simmer.
Add the shrimp and cook for about 3 to 4 minutes or until the shrimp turns pink. Shrimp cooks very fast, keep an eye on it. Overcooked shrimp turns rubbery. You definitely don't want that.
Remove the pot from the heat and stir in the lime juice, sliced onions and chopped basil. Enjoy!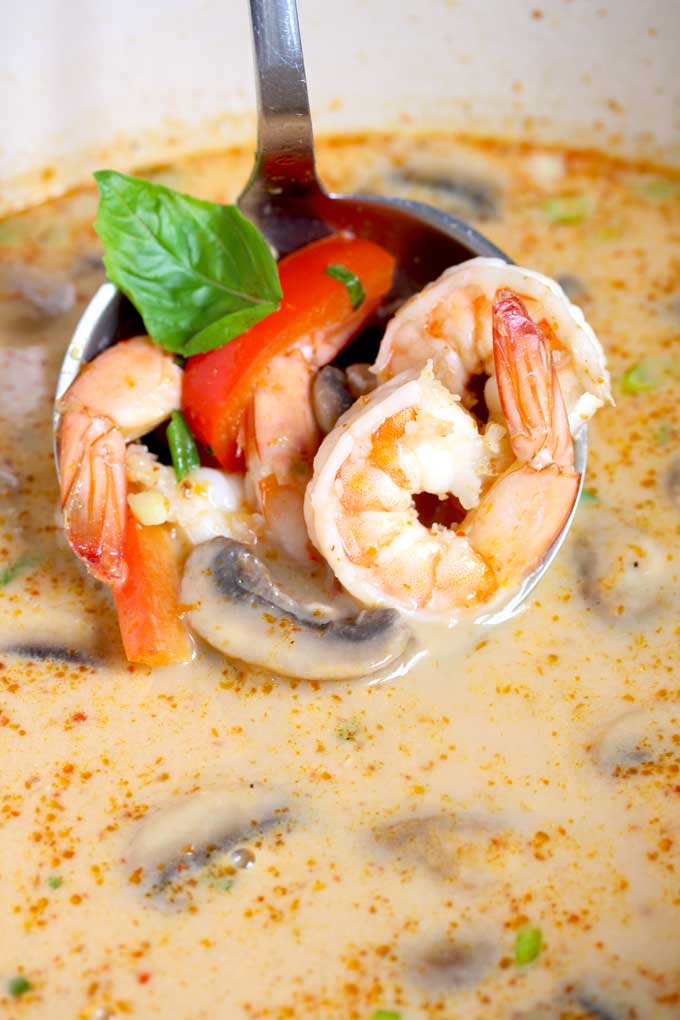 Kathy's Notes:
Be sure and check out all the other recipes for the Fall Edition of Freaky Friday!! Deliciousness guaranteed!
---
WANT TO TRY THIS COCONUT CURRY SOUP RECIPE?
PIN IT TO YOUR SOUP, ASIAN OR DINNER BOARD TO MAKE IT LATER!!
FIND ME ON PINTEREST FOR MORE DELICIOUS RECIPES!
---
Print Recipe
Coconut Curry Soup with Shrimp
This Coconut Curry Soup is infused with ginger, garlic, red curry paste and coconut milk. Loaded with succulent shrimp and vegetables, this tasty Thai soup is easy to make and ready in under 30 minutes!
Prep Time10 mins
Cook Time15 mins
Total Time25 mins
Servings: 4 servings
Calories: 305kcal
Ingredients
2 tbsp coconut oil (vegetable or peanut oil can be use)
1 red bell pepper, thinly sliced
5 oz white button mushrooms, stems removed and sliced
2 tbsp garlic, minced
2 tsp ginger, minced or grated
2 tbsp red curry paste
4 cups chicken stock (or fish stock)
2 tbsp soy sauce
3 tsp fish sauce
1 (14 ounces) can regular coconut milk
1/4 tsp pepper
1 teaspoon brown sugar
1 lb large shrimp, deveined and peeled
1 tablespoon lime juice
¼ cup green onions, sliced
2 tbsp fresh basil, chopped
Instructions
Heat oil in a large soup pot over medium heat.

Add red bell pepper and saute for about 2 minutes. Add the mushrooms and saute for about 3 minutes.

Add garlic and ginger and saute just until fragrant. Stir in the red curry paste.

Stir in chicken stock, soy sauce, fish sauce, coconut milk, brown sugar ground and black pepper. Bring to a simmer.

Add the shrimp and cook just until the shrimp turns pink. This should take about 3 - 4 minutes. Do not overcook the shrimp or it will be rubbery!

Remove from the heat and stir in lime juice, green onions and basil. Serve immediately.
Nutrition
Calories: 305kcal | Carbohydrates: 16g | Protein: 32g | Fat: 12g | Saturated Fat: 7g | Cholesterol: 292mg | Sodium: 2085mg | Potassium: 583mg | Fiber: 1g | Sugar: 7g | Vitamin A: 2245IU | Vitamin C: 48.3mg | Calcium: 194mg | Iron: 3.8mg
KEEP IN TOUCH AND NEVER MISS A RECIPE!
If you've tried this or any other of my recipes, don't forget to rate the recipe and to leave me a comment. I love hearing from you!