Chicken Stroganoff is an incredibly tasty comfort food recipe that can be on your dinner table in about 40 minutes! This quick and easy recipe features tender and juicy chicken pieces smothered in a super creamy, rich and decadent mushroom and sour cream sauce.
If you are always looking for chicken recipes, Baked Chicken Drumsticks and Chicken with Mushroom Sauce are always a favorite!
Stroganoff Chicken
There's nothing better than a creamy chicken and noodle dish. This hearty Chicken Stroganoff recipe delivers so much flavor and is always a big hit at dinner time. I totally get why everyone loves it.
Bite size pieces of boneless chicken breast (or if you prefer dark meat, use chicken thighs) are perfectly seasoned and quickly pan seared until golden brown and then smothered in an easy to make onion and mushroom gravy made with tangy sour cream. Although not your traditional stroganoff, this recipe is one you will be making for years to come.
Why This Recipe Works
Beef stroganoff is made with either stew meat which takes a long time to cook or is made with steak which is pricey. We use boneless chicken breast (or thighs) which solves both problems. Chicken cooks faster and is more affordable than steak.
This is a straightforward recipe made with simple ingredients in one skillet.
Chicken stroganoff is a hearty and filling dinner option especially if served with egg noodles (or any pasta), rice or polenta.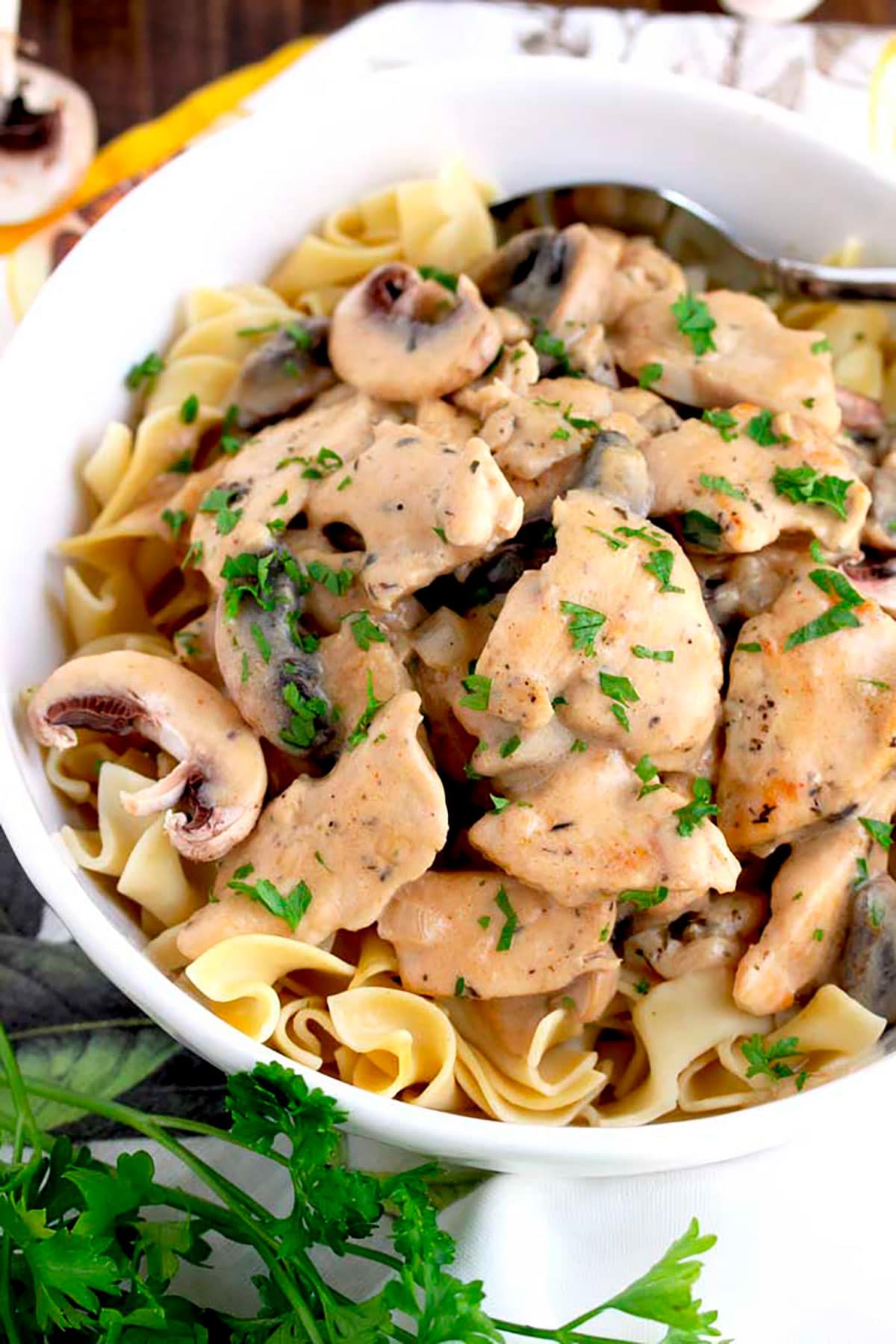 Chicken Stroganoff Recipe Ingredients
Be sure to check the detailed ingredient's list on the recipe card below.
Chicken: I always have skinless and boneless chicken breast in my freezer so that is what I used. Boneless chicken thighs (without skin) are a good option as well.
Seasonings: Dried thyme, paprika, garlic powder, salt and pepper.
Oil: I use olive oil, but any mild oil can be used as well.
Butter: You can use salted or unsalted butter. Butter gives the sauce a rich taste and is the base for the sour cream sauce.
Aromatics: Onions and fresh garlic. You can use brown or yellow onions.
Mushrooms: I think that cremini and baby bellas have a lot more flavor than white mushrooms but any of those can be used.
Flour: Combined with the butter, it forms a roux that helps the sauce thicken.
Wine: I use white wine. You can substitute wine with broth.
Chicken Broth: Homemade or store bought.
Dijon Mustard: Balances flavors while adding a nice tang.
Worcestershire Sauce: Gives the sauce it's remarkable distinct taste so it actually tastes very similar to the classic stroganoff.
Sour Cream: I use full-fat sour cream. Light sour creams works too, but the sauce won't be as rich and decadent.
For serving: Egg noodles and chopped parsley
How To Make This Stroganoff Recipe
For specific instructions, check the recipe card below.
Season: Season the chicken.
Sauté chicken: In a large skillet, quickly sauté the chicken and then remove it from the skillet and set aside.
Sauté onions and mushrooms: In the same skillet, sauté the onions, garlic and mushrooms in some melted butter. Add the remaining butter and the flour to make a roux.
Deglaze: Using white wine (or broth), deglaze the pan.
Add seasonings: Stir in the broth, mustard and Worcestershire sauce. Return the chicken to the skillet and simmer.
Add Sour Cream: Add the sour cream to the sauce and season to taste. Serve with egg noodles or any other pasta, rice, polenta or grits.
What Is Chicken Stroganoff Sauce Made Of?
This chicken stroganoff recipe is made from scratch using simple ingredients like fresh garlic, chopped onions, mushrooms, broth and sour cream. Although sometimes I use shortcuts for certain recipes (like using a can of mushroom soup or any other shortcut product), making the chicken stroganoff sauce is so easy and it tastes so much better than pre-made. I see no advantage to using canned soup.
What Type Of Mushrooms Should I Use?
You can use any type of fresh mushrooms. I usually use cremini or baby bellas which in my opinion are more flavorful than white mushrooms. Choose your favorite or what is available and fresh.
What Goes Well With Chicken Stroganoff?
I like serving this creamy chicken dish over wide egg noodles although any type of pasta will work. Mashed potatoes, rice, polenta and grits also make a nice dinner.
Can I Use Greek Yogurt Instead of Sour Cream
Classic stroganoff gets it's distinct flavor from sour cream, but if you prefer a healthiesh version, you can certainly use Greek yogurt. I recommend using Greek yogurt with 2% fat so it melts into the sauce properly.
How To Thicken Chicken Stroganoff
This recipes uses a roux (a mixture of flour and butter) to thicken the sauce. For a thicker sauce, mash together a tablespoon of room temperature butter with a tablespoon of flour. Try to mix it well so it becomes like a paste. Stir the mixture into the hot sauce a bit at a time (I usually divide it in thirds) while whisking constantly. Simmer the sauce for 2-3 minutes so the flour has time to incorporate and lose its raw taste.
Storage and Reheating
Storage:
This recipe will keep stored in an airtight container in the fridge for 3 days.
Reheating:
This chicken stroganoff recipe reheats well so you can make this dinner ahead of time. Reheat the chicken and sauce in the microwave or stove top, stirring as needed until heated through. If you have leftovers that are already tossed with the noodles, you may need to add a little bit of broth as the noodles tend to absorb the sauce so your dish could be a bit dry.
Can You Freeze Chicken Stroganoff?
You can freeze the recipe before adding the sour cream. If you make the sauce completely with the sour cream, then I don't recommend freezing it. Sauces made with sour cream don't reheat well after thawed out as they separate and their texture becomes very unpleasant.
Recipe Tips for Success
If you prefer not to cook with wine, substitute it with extra broth.
Use any white wine you would drink. Chardonnay and Pinot Grigio are some good options.
Cut the chicken pieces at about the same size so they cook uniformly.
To keep the sauce from curdling, use room temperature sour cream and don't boil the sauce after the sour cream is added.
Take A Look At These Other Chicken Recipes:
Follow me on social media for more recipe ideas & inspiration! Pinterest Facebook Instagram My Newsletter
Chicken Stroganoff
Chicken Stroganoff is made with tender chicken and mushrooms cooked in a creamy and decadent sauce. This mouthwatering Stroganoff recipe takes about 40 minutes to make and it's the perfect comfort food dish for a weeknight meal!
Prep: 10 minutes
Cook: 28 minutes
Total Time 38 minutes
Servings 4 serving
Instructions
Place the chicken into a bowl. Season the chicken with salt, pepper, thyme, paprika and garlic powder. Set aside.

Heat 1 tablespoon of oil in a large skillet over medium – high heat. Working in two batches, add the chicken and cook for about 5 minutes or until they start to turn golden brown, stirring as needed. Add the remaining oil as needed through the cooking process. Remove the chicken from the skillet.

In the same skillet, melt 2 tablespoons of butter. Add the onion and cook until slightly soft, about 2 minutes. Add the garlic and cook for about a minute. Add the mushrooms and saute, stirring until they begin to brown, about 4 minutes.

Add the remaining 1 tablespoon of butter to the skillet. When melted, stir in the flour. Stir until all the ingredients seem incorporated. Cook the mixture for about 1 – 2 minutes.

Pour the wine and with a spoon (I use a wooden spoon) scrape down the brown bits collected at the bottom of the skillet. Reduce the wine for about 2 minutes.

Add half of the broth slowly while stirring. When incorporated, add the remaining broth. Stir in the mustard and Worcestershire sauce. Return the chicken to the pan and bring to a gentle simmer. Cook for about 5 – 6 minutes, or until the chicken is cooked through. The sauce will thicken as you simmer.

Add the sour cream and stir well to combine. Simmer for an additional 2 minutes, making sure the sauce doesn't boil. Add salt and pepper to taste and remove from the heat. Serve over hot egg noodles and garnish with chopped parsley.
Nutrition
Calories: 631kcal (32%)Carbohydrates: 51g (17%)Protein: 36g (72%)Fat: 29g (45%)Saturated Fat: 12g (75%)Cholesterol: 162mg (54%)Sodium: 608mg (26%)Potassium: 940mg (27%)Fiber: 3g (13%)Sugar: 4g (4%)Vitamin A: 695IU (14%)Vitamin C: 10.3mg (12%)Calcium: 89mg (9%)Iron: 2.7mg (15%)
* Please note that all nutrition information are just estimates. Values will vary among brands, so we encourage you to calculate these on your own for most accurate results.