Tender, creamy, full of flavor Smoky Pulled Pork "Chile Verde Style" wrapped in a tortilla and topped with a fresh and crisp slaw that has just a hint of sweetness from fresh pineapple! What can be better than that? A recipe so simple you can just dump your ingredients in a pot and forget about it!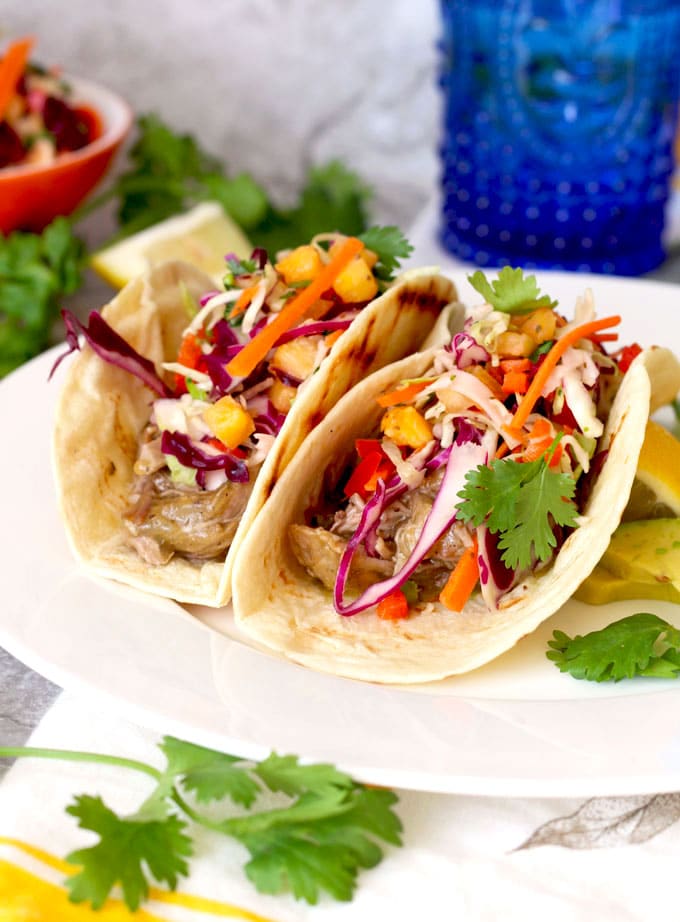 Throughout my years living in America, I have acquired an – "adopted" – cuz we are not really blood related – type of family. Wonderful loving friends have become adopted parents, big sisters, uncles and grandparent figures. God has blessed me with their unconditional love and in return I drive them crazy as much as possible (just like I do with my real Peruvian familia).
My adopted Grandmother, Grandma Betty is a sweet lady who looks like Mrs. Claus. She is witty, funny and full of wisdom. She also thinks that the only gadget needed in a kitchen is a can opener! She loves food but she is not a big fan of cooking!
This recipe is for her – OK I may have to make the slaw for her, but I can guarantee she would not mind making this smoky pulled pork "chile verde style"!
For this smoky pulled pork, all you need to do is dump all the ingredients in a baking pan or Dutch oven and wait while the magic happens. Grab a book and a glass of wine while you wait – or you can do the laundry, it's up to you! (I like my idea better though). You can also make it in a slow cooker – in that case you can turn the crock pot on and go about your day.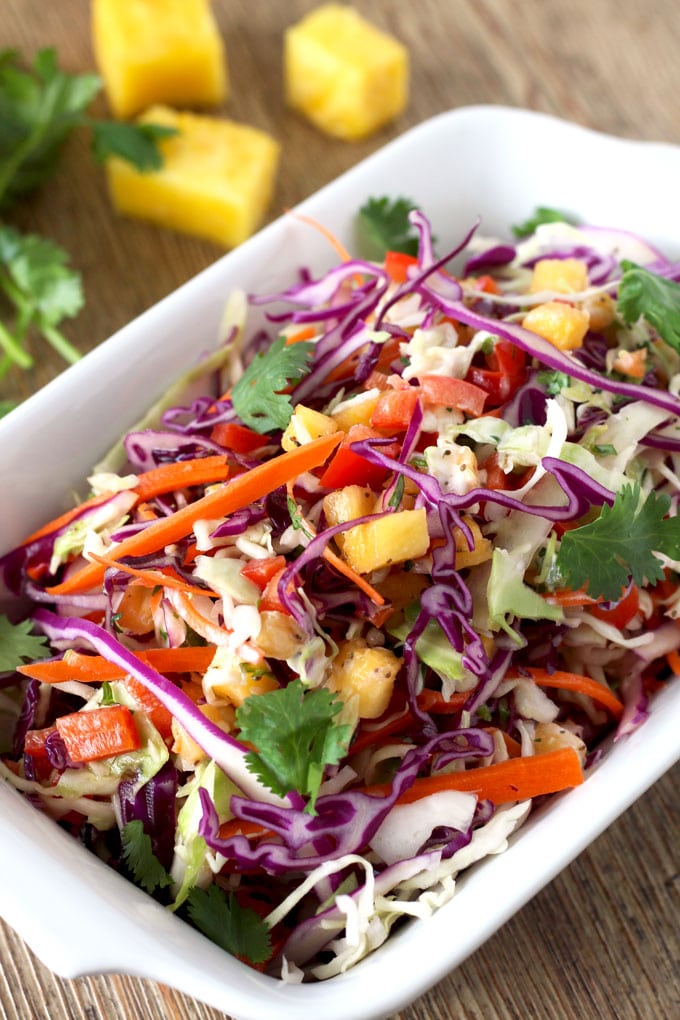 The slaw adds a fresh, cool and crunchy element that is so satisfying. It really goes perfect with the pork even if you don't make it into a taco. The fresh pineapple adds a hint of sweetness that pairs perfectly with the pork.
Shortcut Alert: I know that unless I make the slaw; Grandma Betty would buy bagged coleslaw and add canned pineapple chunks to it (hey there is nothing wrong with that!) In a pinch, I would do the same (there I said it! More time to read my book)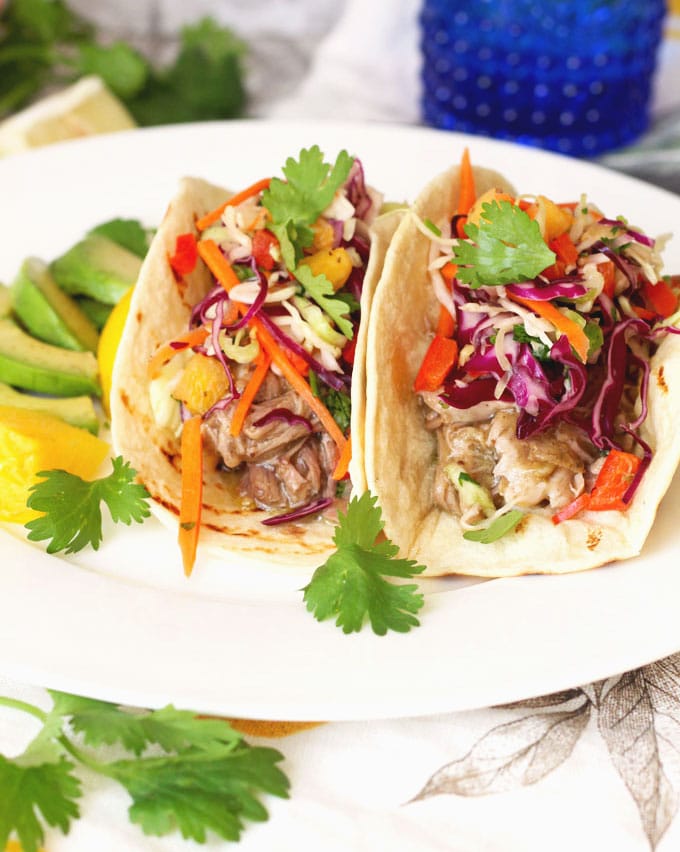 Kathy's Notes:
I use Las Palmas Green Enchilada Sauce (medium heat) on this recipe. Make sure you taste the salt level of the enchilada sauce before seasoning the pork with salt and pepper. You want to make sure you don't over/under season.
The Pineapple Cole Slaw is crunchy (not super creamy) because the pork is saucy and creamy. You want the contrast between the two. However, feel free to add more mayonnaise, if you wish.
I diced the pineapple very small for this slaw because I like the little bursts of sweetness in every bite.
Have a fiesta! Serve these tacos with some Mexican Green Chile Rice Casserole!
Follow me on social media for more recipe ideas & inspiration! Pinterest Facebook Instagram My Newsletter
Smoky Pulled Pork "Chile Verde Style" Tacos
Fork tender Smoky Pulled Pork "Chile Verde Style" is wrapped in a warm tortilla and top with a fresh and crisp slaw that has a hint of sweetness from fresh pineapple
Prep: 10 minutes
Cook: 2 hours 30 minutes
Total Time 2 hours 40 minutes
Servings 6 servings
Ingredients
For the Pork:
1 3 pound pork butt
1 ½ teaspoon ground cumin
1 ½ teaspoon dried oregano
4 cloves of garlic chopped
1 onion, chopped
2 18 ounces cans green enchilada sauce
1 ½ teaspoon liquid smoke
For the Slaw:
1 cup purple cabbage, shredded
2 cups green cabbage, shredded
1 carrot, cut into matchsticks
½ red bell pepper, cut into thin strips
1 jalapeno pepper, seeded and chopped
1 cup fresh pineapple, diced
3 tablespoons fresh cilantro, chopped
½ lemon juiced
1 tablespoon mayonnaise
Pinch of sugar
Flour Tortillas
Avocado sliced (optional)
Instructions
To Prepare the Pork
Preheat the oven to 350 degrees F. Place the pork butt in a roasting pan or

Dutch oven

. Season with cumin, oregano, salt and pepper. Add the garlic, onion, green enchilada sauce and liquid smoke. Cover and cook in the oven for 1 ½ hours.

Remove from the oven and baste. Return to the oven and cook covered for about 1 hour or until fork tender. Remove from the oven and shred with a fork.
To Make the Slaw
Combine the purple and green cabbage, carrot, red bell pepper, jalapenos and diced pineapple in a medium bowl. Add the cilantro, lemon juice, mayonnaise and a pinch of sugar. Season with salt and pepper to taste.
Pile it up!
Warm up the tortillas. Add the shredded pork and top with the slaw. Serve with avocado slices (optional).
Chef's Tips
To Cook in the Crockpot: Place the pork butt in the crock pot. Season with cumin, oregano, salt and pepper. Add the garlic, onion, green enchilada sauce and liquid smoke. Cover and cook on low for about 7 - 8 hours or on high for 4 - 5 hours.
Nutrition
Calories: 426kcal (21%)Carbohydrates: 24g (8%)Protein: 46g (92%)Fat: 14g (22%)Saturated Fat: 4g (25%)Cholesterol: 137mg (46%)Sodium: 1654mg (72%)Potassium: 962mg (27%)Fiber: 5g (21%)Sugar: 17g (19%)Vitamin A: 3385IU (68%)Vitamin C: 52.6mg (64%)Calcium: 63mg (6%)Iron: 4.2mg (23%)
* Please note that all nutrition information are just estimates. Values will vary among brands, so we encourage you to calculate these on your own for most accurate results.