Last updated on July 7th, 2018 at 12:51 am
Game Day Foods are as important as the big game! Whether you are hosting a big party or just enjoying the game at home, these two easy and delicious recipes plus my tips for stress-free entertaining will turn any game day into a victory!
My Game Day Recipes
What Game Day Foods to serve? I have two recipes to share with you! Both are a breeze to make thanks to the help of Tyson Foods, Inc.  The first is Southwest Style Bacon Wrapped Hot Dogs. Crispy Wright® Brand Bacon and a spicy and tasty black bean and roasted corn relish topping takes this hot dog to the next level. No boring hot dogs at my party!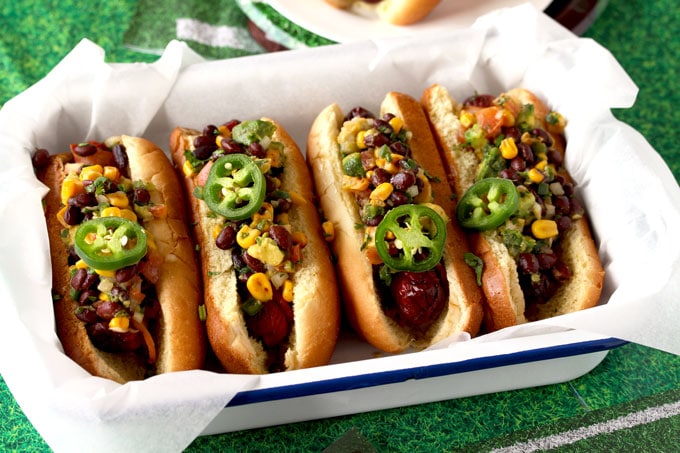 The second recipe is a warm, cheesy and melty Pesto Turkey and Mozzarella Slider. Quick and easy is the name of the game here! This one comes together in minutes and I'm sure it will become a favorite at your house too!
My Tips for Easy Entertaining
Having a game plan is key for success. Plan ahead, plan smart and use online resources. I actually like grocery shopping but it takes too much time and when I go into the store – with a shopping list in my hand, I always leave the store with a cart filled with all sorts of things I didn't need in the first place!
To save time and money I use Walmart's Online Grocery Pick-up. They make shopping for all your grocery needs so easy and convenient. You order online and pick up the same day! Fast, easy and I didn't even need to get out of the car!
Just like me you can find all these products HERE and be the MVP of the Big Game Foods!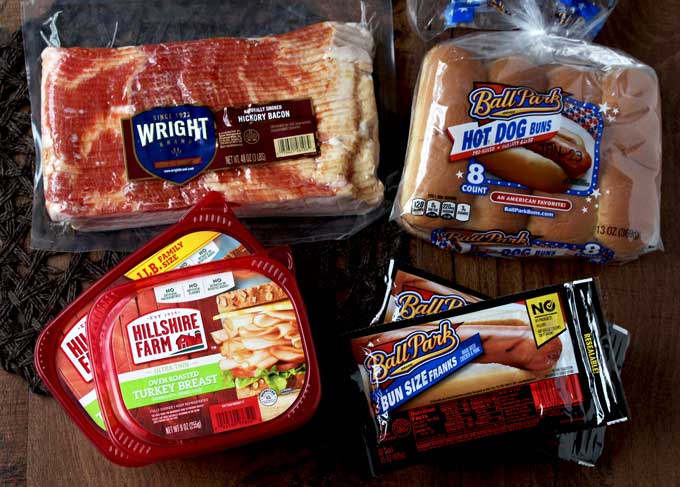 ---
WANT TO TRY THESE EASY AND TASTY GAME DAY RECIPES?
PIN IT TO YOUR APPETIZER OR GAME DAY BOARD!!
FIND ME ON PINTEREST FOR MORE DELICIOUS RECIPES!
Print Recipe
Southwest Style Bacon Wrapped Hot Dogs
Crispy bacon and a spicy and tasty black bean and roasted corn relish topping takes this hot dog to the next level. Easy, quick and fun.
Prep Time15 mins
Cook Time20 mins
Total Time35 mins
Servings: 8 servings
Calories: 465kcal
Ingredients
For the Southwest Style Relish
1 15-ounce can black beans, rinsed and drained
8 ounces roasted corn, canned fresh or frozen (drained if canned, thaw if frozen)
1/4 cup diced onion
1 tomato seeded and diced
1 avocado peeled and diced
1 jalapeno, seeded and diced
2 tablespoons chopped cilantro
2 tablespoons lime juice, freshly squeezed
2 teaspoons olive oil
1/4 teaspoon ground cayenne pepper
Salt and ground black pepper to taste
Bacon Wrapped Hot Dogs
1 8-pack Ball Park Hot Dogs
8 slices Wright Brand bacon
1 8-pack Ball Park Hot Dog buns, toasted if desired
Instructions
To Make the Southwest Style Relish
In a medium bowl combine all the ingredients. Season with salt and pepper and mix well to combine. Let it sit at room temperature while preparing the hot dogs. You can also make ahead it and refrigerate until ready to serve.
The Hot Dogs
Preheat the oven to 400 degrees Fahrenheit. Line a baking sheet with aluminum foil and place a cooling rack on top.

Wrap the bacon tightly around the hot dogs, tucking in ends of bacon slices to secure (you can use tooth picks).

Bake for 20 - 25 minutes or until the bacon has reached your desired crispiness.

Put the bacon wrapped hot dog in the bun and top with the Southwest Style Relish.
Notes
You can warm up/toast the hot dog buns in the oven. Right after you remove the bacon wrapped hot dogs from the oven, place the buns on a baking sheet pan. Place them in the oven for 3-5 minutes or until the buns are toasty.
Nutrition
Calories: 465kcal | Carbohydrates: 52g | Protein: 18g | Fat: 21g | Saturated Fat: 6g | Cholesterol: 34mg | Sodium: 669mg | Potassium: 587mg | Fiber: 8g | Sugar: 4g | Vitamin A: 325IU | Vitamin C: 10.1mg | Calcium: 104mg | Iron: 4.1mg
Pesto Turkey Sliders
Warm and cheesy Pesto Turkey Sliders baked in a baking pan. Sliced turkey, pesto, roasted red bell peppers and lots of Mozzarella cheese on slider rolls.
Prep Time10 mins
Cook Time20 mins
Total Time30 mins
Servings: 12 sliders
Calories: 254kcal
Ingredients
5 tablespoons butter, melted
12 slider rolls, cut in half lengthwise but not pulled apart
1/2 cup pesto (homemade or store bought)
1 pound Hillshire Farms sliced oven roasted turkey
8 ounces sliced roasted red peppers
8 ounces Mozzarella cheese, shredded
1/2 teaspoon garlic powder
Instructions
Preheat the oven to 350 degrees Fahrenheit. Brush the bottom of a 9 x 13 baking dish with melted butter (you will use the rest of the butter later)

Arrange the bottom halves of the sliders in the baking pan. Spread the pesto evenly over the bottom halves. Top with the sliced turkey and roasted red peppers. Top with the mozzarella cheese and place the remaining bread halves on top.

Mix the remaining melted butter with the garlic powder. Spread the butter mixture evenly over the rolls. Cover with foil and bake for 10 minutes. Uncover and bake for an additional 10 minutes or until the tops are golden and the cheese is melted. Remove from the oven and serve warm.
Nutrition
Calories: 254kcal | Carbohydrates: 18g | Protein: 13g | Fat: 13g | Saturated Fat: 6g | Cholesterol: 47mg | Sodium: 1048mg | Potassium: 120mg | Sugar: 5g | Vitamin A: 545IU | Vitamin C: 8.8mg | Calcium: 178mg | Iron: 0.7mg
---
KEEP IN TOUCH AND NEVER MISS A RECIPE!
If you've tried this or any other of my recipes, don't forget to rate the recipe and to leave me a comment. I love hearing from you!