We have rounded up some of the best Asparagus recipes so you are ready for asparagus season! Enjoy this healthy spring vegetable any time of the day, as a main dish, delicious side dish and even for breakfast!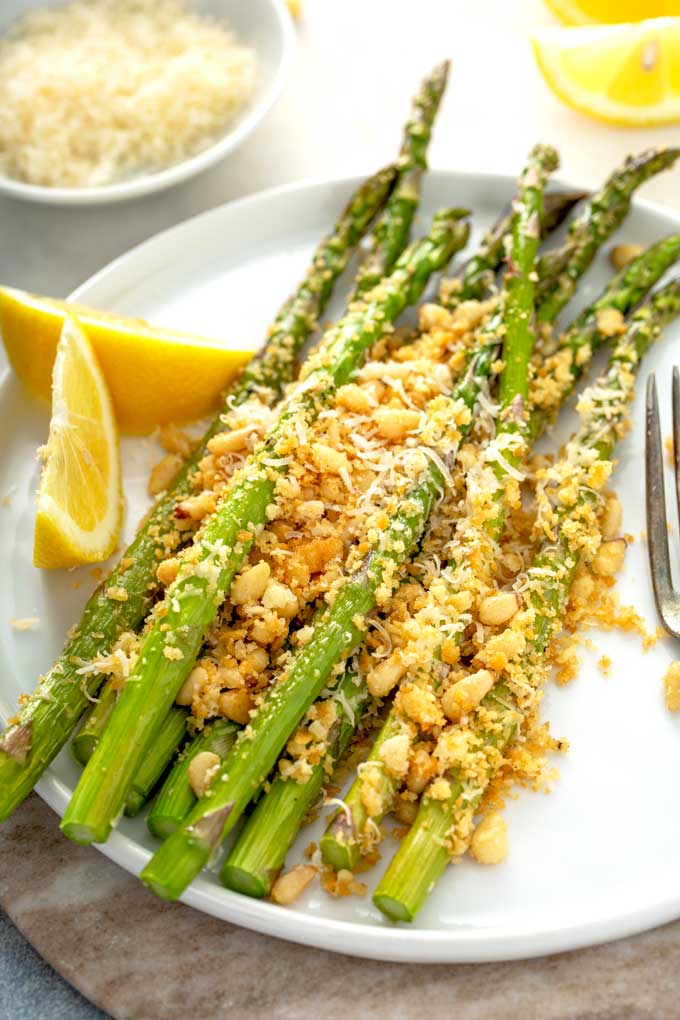 Easy Fresh Asparagus Recipe
It's that time of year when stalls of farmers market are lined with fresh asparagus spears, and every grocery store has sale signs showcasing the beautiful green stalks standing tall, ready to be picked.
We want to show you the easiest way to pick and prep fresh asparagus plus, we want to share with you some of the best, quick and easy asparagus recipes.
How to Choose Asparagus
Although asparagus are available throughout the year, their peak season is from April through June. Seasonal fresh produce always taste better than off season produce.
Choose a bunch of asparagus that look fresh and vibrant in color.
Choose crisp asparagus stalks that are firm and smooth with tightly closed tips.
Thick asparagus have a milder flavor and are meatier than thinner ones.. Check the bottom of the spears as thicker asparagus tend to have dry, woody ends.
Pencil-thin or thinner asparagus are crisp, tender and have a more intense flavor.
Depending on their age, the ends of asparagus can be fibrous, woody and tough.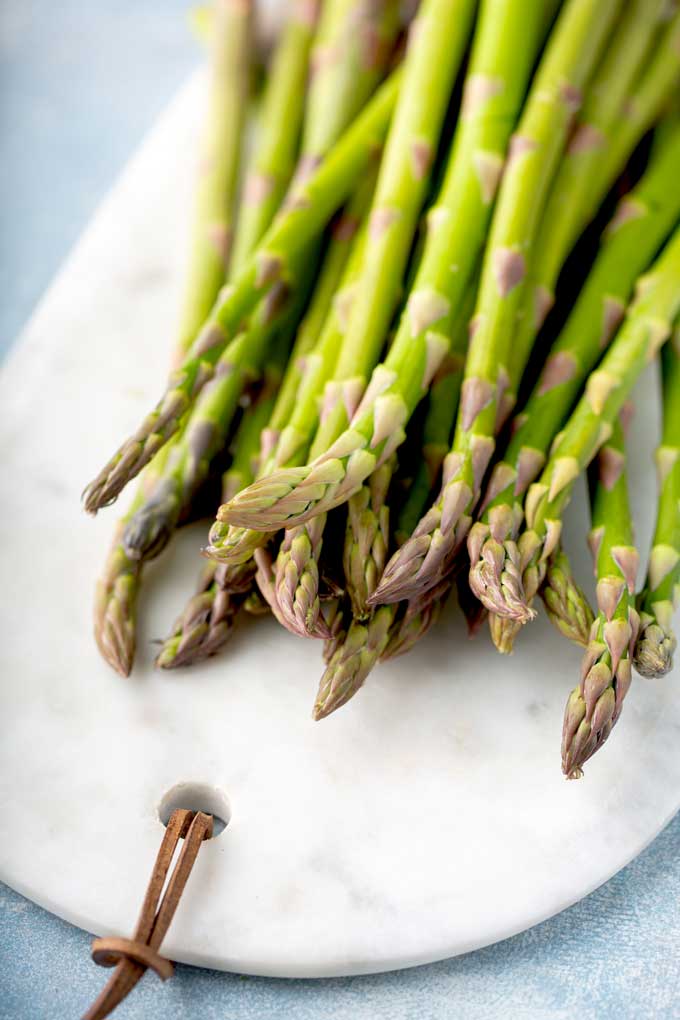 How to Trim Asparagus?
There are two ways to trim the woody stem ends of a stalk of asparagus. Snapping or cutting the ends with a knife.
To snap, find the natural breaking point of each asparagus stalk by holding the center and bottom of the stalk and snapping it in half.
The other method for trimming asparagus is to line them up on a cutting board and cut their bottom part with a knife.
If the outer layer looks thick and a dry, peel it off with a vegetable peeler.
Cooking Asparagus
There are several ways to cook asparagus and you can also eat them raw. You can read about how to cook asparagus in six different ways! Make an easy vegetable side dish whether you are having a daily meal or a dinner party on a special occasion.
Boiled Asparagus Recipes (Blanched Asparagus)
Pasta with Asparagus in Lemon Cream Sauce, This quick and easy Pasta with Asparagus and peas tossed in a bright and delicious lemon cream sauce will knock your socks off!
Spring Asparagus Salad, the perfect way to eat your green veggies. This salad is perfect for spring season and a great dinner side during holidays like Easter.
Pesto Pasta Salad with Asparagus Loaded with asparagus, peas, tomatoes, mozzarella and Parmesan, this pasta salad recipe is perfect for any occasion, especially during spring and summer.
Roasted Asparagus Recipes:
One of my favorite ways to cook them is at high heat in the oven. To roast asparagus, all you need is a hot oven, a baking sheet, a drizzle of olive oil, salt and black pepper. Enjoy a simple and healthy side dish sure to satisfy even picky eaters. Of course there are many ways to embellish any easy roasted asparagus recipes with simple ingredients like fresh lemon juice, lemon zest, Parmesan cheese, fresh garlic, soy sauce, fresh garlic and more. This Parmesan Asparagus Recipe, from Home Cooked Harvest is amazing!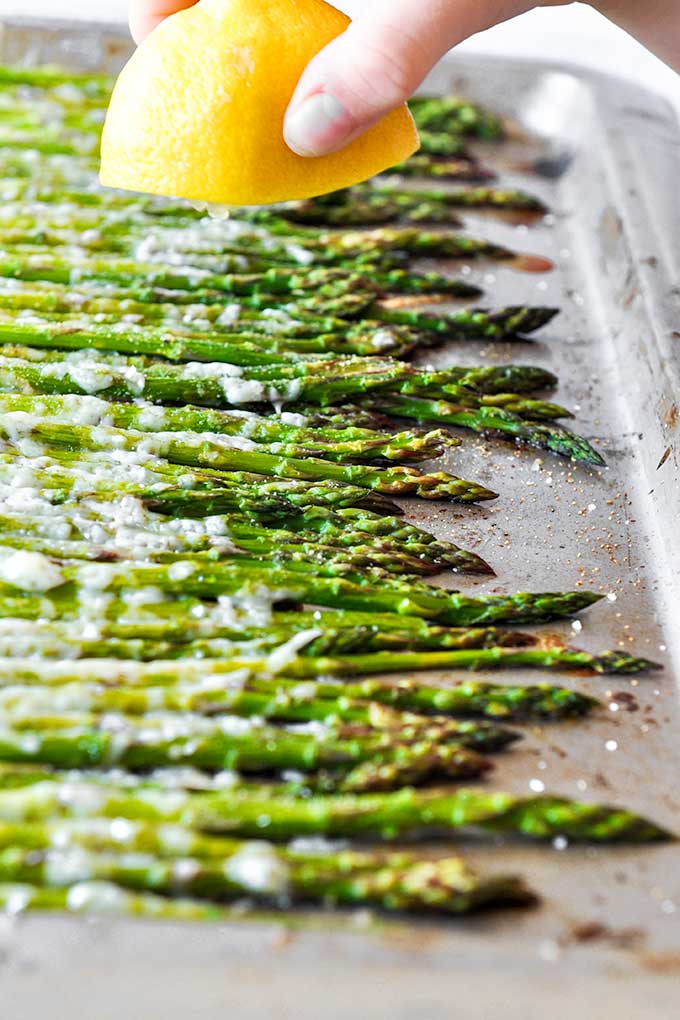 Baked Chicken Thighs and Asparagus:
Bathed in a garlicky white wine-dijon sauce and cooked with kalamata olives and cherry tomatoes, these crispy-skinned baked chicken thighs with asparagus are all gussied up for spring.
Asparagus and Prosciutto Puff Pastry Bundles:
From Brittney Breaks Bread, these Asparagus and Prosciutto Puff Pastry Bundles are the perfect appetizers for brunch or any party! Asparagus, prosciutto, and cheese wrapped together inside of a puff pastry and cooked until perfectly golden.
Chorizo, Asparagus and Goat Cheese Pizza:
Chorizo, asparagus and goat's cheese make a perfect trio to top pizza. The spiciness from the meat, the cooling sensation from the cheese and the pop of green from the asparagus makes this pizza irresistible.
Sautéed Asparagus Recipes
Asparagus Frittata, this simple Asparagus Frittata is the ultimate quick and easy savory breakfast or lunch recipe.
Parmesan, Peas and Asparagus Risotto creamy, rich, decadent and full of delicate flavors. Made in the oven so you don't have to keep stirring.
Asparagus Omelette Soufflé light and fluffy and bursting with fresh spring ingredients like asparagus, green onions and optional creamy tart goat cheese.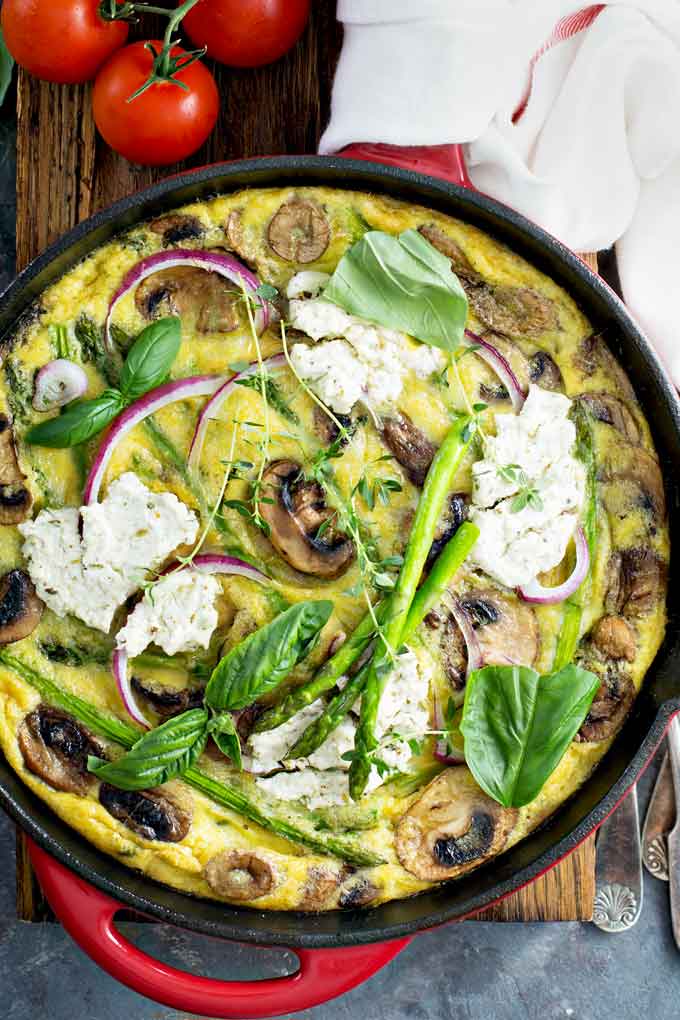 Grilled Asparagus
Grilled Asparagus with Lemon Garlic Butter Crisp tender Grilled Asparagus are tossed with lemon garlic butter and finished with a sprinkle of Parmesan cheese
Grilled Asparagus and Prosciutto Cobb Salad In this fresh take on the classic Cobb, a little smoky char adds depth to asparagus and green onions, and the grill turns prosciutto into crisp shards.
Grilled Asparagus with Lemon and Feta Perfect for lunch or a light bite, this grilled asparagus salad should be served with a hunk of warm bread to sop up the lemon-scented olive oil and feta.
Raw Asparagus Recipes:
Shaved Asparagus Salad, this simple recipe makes the most stunning and elegant salad. Fresh herbs and spring vegetables are served with creamy burrata cheese and a simple vinaigrette.
Shaved asparagus pizza is a quick and healthy dinner option perfect for spring time. This easy pizza is made with baked naan flatbread, topped with shaved asparagus salad and a drizzle of white truffle oil!
Last but not least, a white asparagus recipe. Restaurant worthy yet simple and easy to make at home. Enjoy!
White Asparagus with Hollandaise and Herbs