This German Potato Salad Recipe is made with tender red potatoes and crispy bacon tossed with the best vinegar-mustard dressing. This easy and tasty German Potato Salad can be served warm or cold.
If you are looking for potato salad recipes, look no further! This recipe for German Potato Salad is light, tangy, full of crispy bacon goodness and a great addition to any meal.
I love serving this easy side dish every time we have a cookout, picnic or need to bring a crowd pleasing dish to a potluck. This homemade potato salad is always a big hit.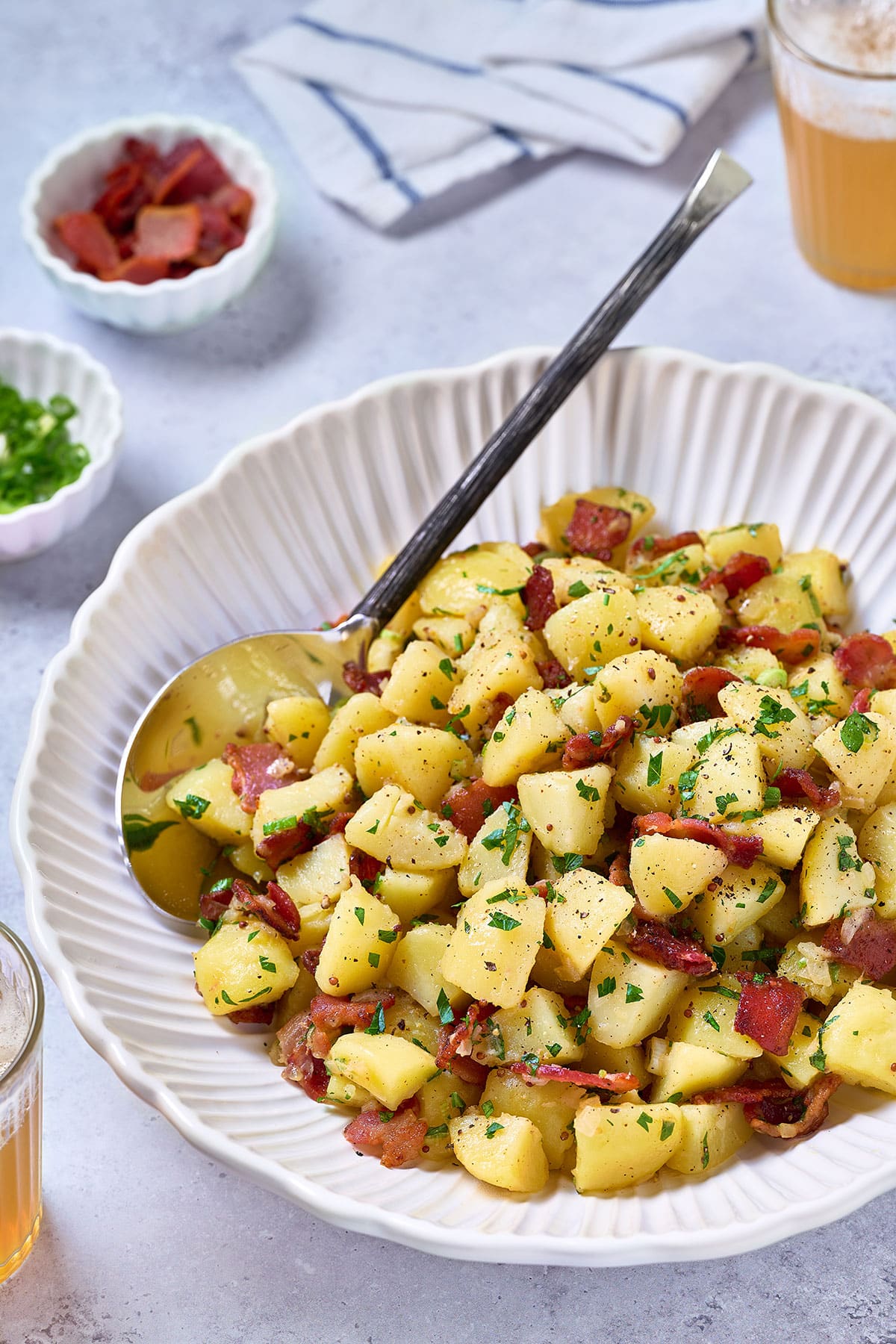 Best like Grandma's
This recipe is by far the closest to my Grandmother's fabulous German Potato Salad. Have tried others, this is the BEST! Barb
★★★★★
What is German Potato Salad?
There are many different types of German Potato Salad depending on the region where they come from. However, most German potato salad recipes are prepared with a lighter dressing made with vinegar and mustard. This particular recipe from the Southern Bavarian region is vinegar based. In case you are wondering, the name of this salad in German is Kartoffelsalat.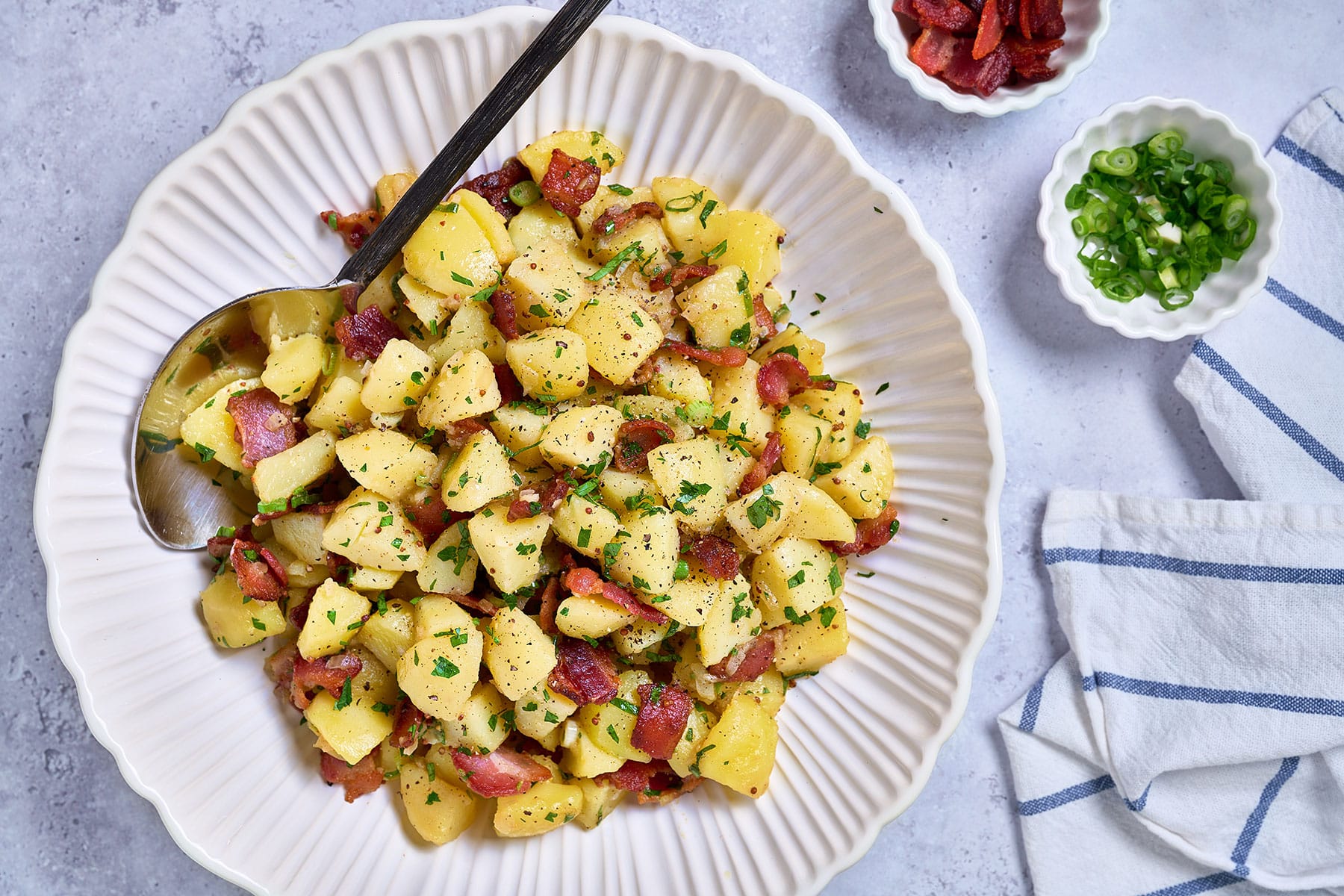 German Potato Salad Recipe Ingredients
Cooked Potatoes: I used red potatoes peeled. You can keep the skin if you prefer.
Bacon: Pork bacon, any type works.
Oil: I used olive oil but any mild salad oil works.
Cider Vinegar: For this recipe I didn't use the really good apple cider vinegar with the mother as it has such a strong flavor. I actually used the supermarket brand apple cider vinegar and it was perfect.
Diced Onions: Use whatever onion type you prefer or have at home.
Dijon Mustard and Whole Grain Mustard: I love whole grain mustard for this German potato dish.
Sugar: You really need a bit of sugar to balance the tartness of the vinegar.
Scallions and Parsley: Both add freshness and color to the potatoes.
Salt and Ground Black Pepper: I always use sea salt or Kosher salt but any type of salt will work.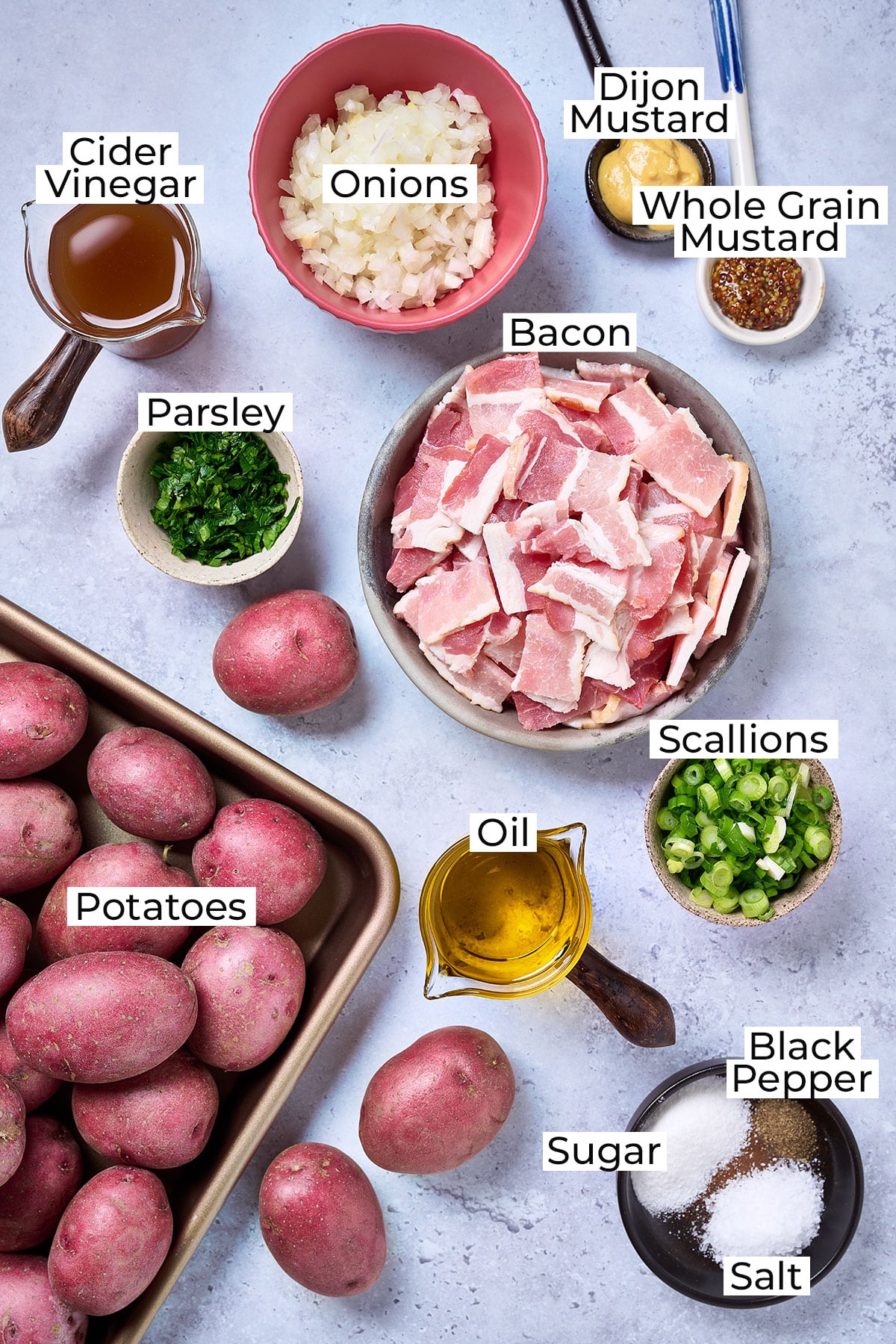 How To Make German Potato Salad
Since this is such an easy potato salad to make, I am only including step by step photographs on how to make the vinegar based dressing. I didn't think you want a photo of potatoes boiling!
Gather all your ingredients and start by making the potato salad dressing. In a skillet cook the bacon until crispy.
Remove the bacon from the skillet and place it on a plate lined with paper towels (to drain any excess grease).
Pour off some of the rendered bacon fat from the skillet leaving about 3 tablespoons to cook the onions. Add the onions to the skillet and cook them until soft and translucent.
Whisk in all the dressing ingredients until well combined. Remove from the stove.
Combine the potatoes, bacon, scallions and parsley in a large bowl. Pour over the hot dressing and gently mix to combine.
You have questions? We have answers!
What are the best potatoes for potato salad?
Any kind of waxy potatoes are best for making potato salad. Red potatoes hold their shape well and are creamy in texture making them perfect for salads. Yukon Gold and a more all-purpose potato will work also.
What Is The Difference Between A German Potato Salad and An American Potato Salad?
In a German Potato Salad (from the Southern Germany area), the dressing is made with bacon drippings and vinegar. Authentic German Potato Salad can be served hot, warm or cold. Your traditional American classic Potato Salad is made with a dressing that is mayonnaise based and it is served cold.
How Long Do You Boil Potatoes For A Potato Salad?
When boiling potatoes for a potato salad, I prefer to boil the potatoes peeled and cut. If you cut the potato into even-sized bite size pieces (about 1.5 to 2 inch cubes), it should take between 10 and 15 minutes for the potatoes to become tender. Test for tenderness by piercing a piece of potato with a fork.
Is German Style Potato Salad Served Warm Or Cold?
German Potato Salad can be served hot, warm or cold. It all depends on your preference. I like this particular salad served warm or at room temperature.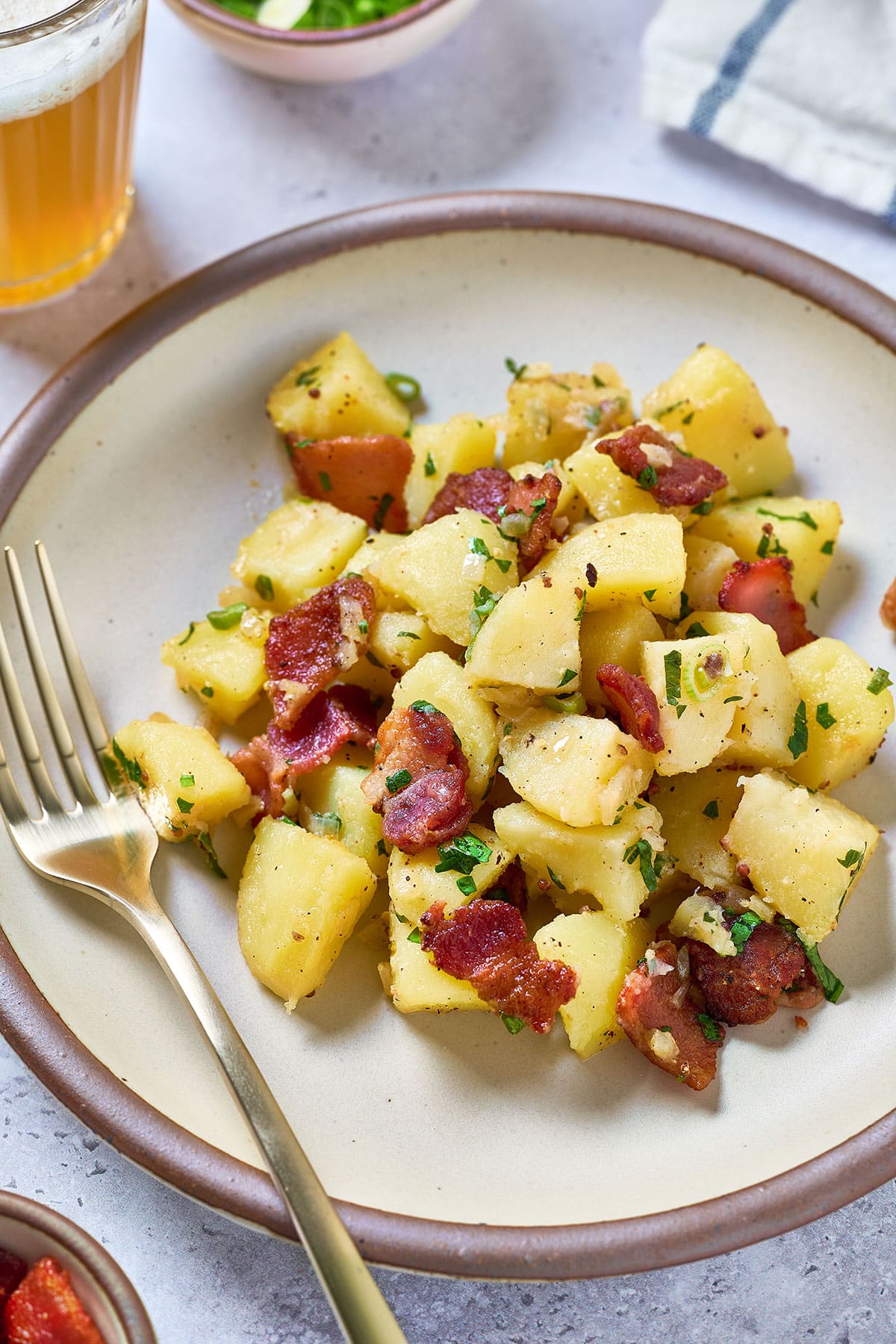 German Salad Recipe Tips
Start cooking the potatoes in cold water.
Salt the cooking water. This adds flavor from the beginning!
Whole mustard is a must for this potato salad dressing. You can skip the Dijon if you prefer!
When mixing the potato salad with the dressing, be gentle. Potatoes are soft and delicate. Too much stirring will turned them into mashed potatoes.
Take A Look At These Other German Recipes:
Wondering what to serve with Potato Salad? Here are some ideas:
Follow me on social media for more recipe ideas & inspiration! Pinterest Facebook Instagram My Newsletter
German Potato Salad Recipe
This German Potato Salad Recipe is made with tender red potatoes and crispy bacon tossed with the best vinegar-mustard dressing. This easy and tasty German Potato Salad can be served warm or cold.
Prep: 10 minutes
Cook: 25 minutes
Total Time 35 minutes
Servings 8 servings
Ingredients
3 pounds potatoes red potatoes or Yukon gold
1 pound bacon, cut into large dice (uncooked)
1/2 cup onion, finely diced
1/4 cup fresh parsley chopped (flat-leaf or Italian parsley works best)
1/3 cup cider vinegar
2 teaspoons Dijon mustard
1 teaspoon whole grain mustard
2 teaspoon sugar
1/3 cup olive oil (or canola oil)
1 teaspoon salt
1/4 teaspoon ground black pepper
2 scallions, sliced
Instructions
Peel and cut the potatoes into bite size pieces and place them in a pot with enough lightly salted water to cover them by 1 inch. Bring to a boil over medium-high heat. Reduce the heat to medium and simmer uncovered, for about 10 -15 minutes or until tender but not falling apart. Drain and transfer the potatoes to a medium bowl.

Meanwhile, place the bacon in a large skillet and cook until crisp. Remove the crispy bacon from the skillet and place on a paper towel-lined plate.

Pour off some of the rendered bacon fat from the skillet, reserving about 3 tablespoons. Add the onion to the skillet and cook, over medium-low heat for about 4-5 minutes or until the onions are soft and translucent but not browned.

Whisk in the vinegar, Dijon mustard, whole grain mustard, sugar, oil, salt and pepper and stir until heated through and a bubbly.

Pour the dressing over the potatoes and toss gently with the crispy bacon, parsley and scallions. Season to taste and serve warm or at room temperature.
Chef's Tips
You can leave the potatoes unpeeled.
Nutrition
Calories: 460kcal (23%)Carbohydrates: 33g (11%)Protein: 11g (22%)Fat: 32g (49%)Saturated Fat: 9g (56%)Cholesterol: 37mg (12%)Sodium: 700mg (30%)Potassium: 869mg (25%)Fiber: 4g (17%)Sugar: 3g (3%)Vitamin A: 209IU (4%)Vitamin C: 37mg (45%)Calcium: 30mg (3%)Iron: 2mg (11%)
* Please note that all nutrition information are just estimates. Values will vary among brands, so we encourage you to calculate these on your own for most accurate results.